groom
Bebo drops vanity van shots from 'The Crew'
Siri, play Kareena Kapoor's 'Yeh Ishq Hai' already, please…
Published 10.06.23, 09:09 AM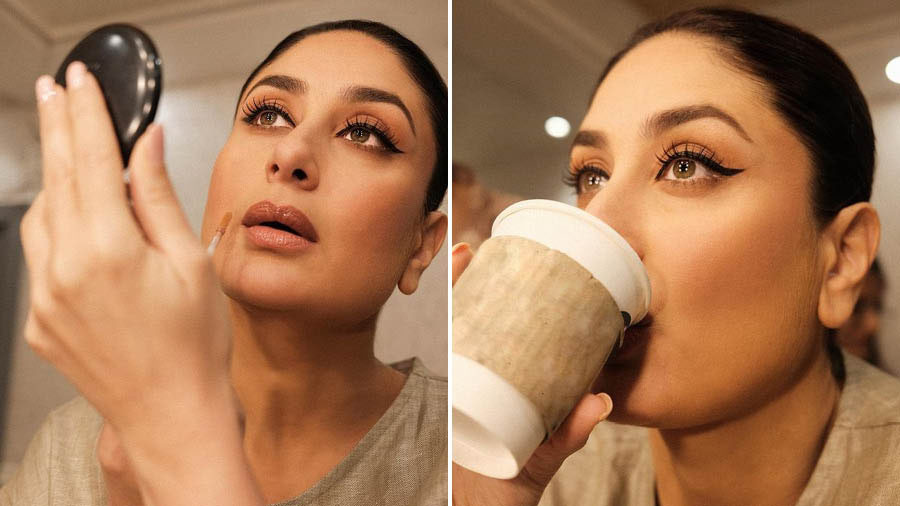 Image courtesy: @kareenakapoorkhan/Instagram
It might have been one of her most famous lines, but "kaun hai woh jisne mudke dobara mujhe nahin dekha" is not a line Kareena Kapoor Khan would ever have to say. An Instagram sensation, when Bebo drops something on social media, you drop everything to watch her and fall in love with her all over again.
The actress recently Instagrammed photos of her getting her makeup done by ace makeup artist Mickey Contractor. The series of shots showed the process — from the tissue on her face to Contractor adding the final touches, to the end result. She also shared a photo of the biscottis (yum!) she had with her cup of coffee. And all of this happened on the vanity van of her upcoming film The Crew. If you are wondering who papped her — popular hair stylist Mike Desir did.
The Crew is directed by Rajesh Krishnan and also stars Tabu, Diljit Dosanjh and Kriti Sanon. Now scroll down, click on the link and marvel over Kareena's perfect pictures!
By: Pooja Mitra