Neena Pradhan of Neena's Kitchen shot to fame overnight when actress Kareena Kapoor, who was shooting in the small town of Kalimpong in north Bengal, posted about her food. In particular, about the chef and hospitality consultant's Italian dessert Tiramisu and Burmese dish Khow Suey.
My Kolkata visited Neena Pradhan at her beautiful home at 12 ½ miles, Mahesh Kutir, Kalimpong, where she spoke about the starry experience, and the food she prepared for the crew of Sujoy Ghosh's Devotion of Suspect X.
"Kareena called me and said, 'You know, I've heard about you. I saw your menu and I want to eat everything that's on the menu!'" said Neena, who is well-known in the hills for curating menus for reputed tea estates like Glenburn, Sourenee Tea Estate, Ging Tea House and even Margaret's Deck. 
Every evening, dinner would go from Neena's Kitchen and Bebo "enjoyed all the meals" from ethnic food like dal, rice, pork curry and potato pickle, to Continental dishes like Sangria Fish. But it was Khow Suey and Tiramisu that won her heart, which fans are calling the 'Kareenamisu'.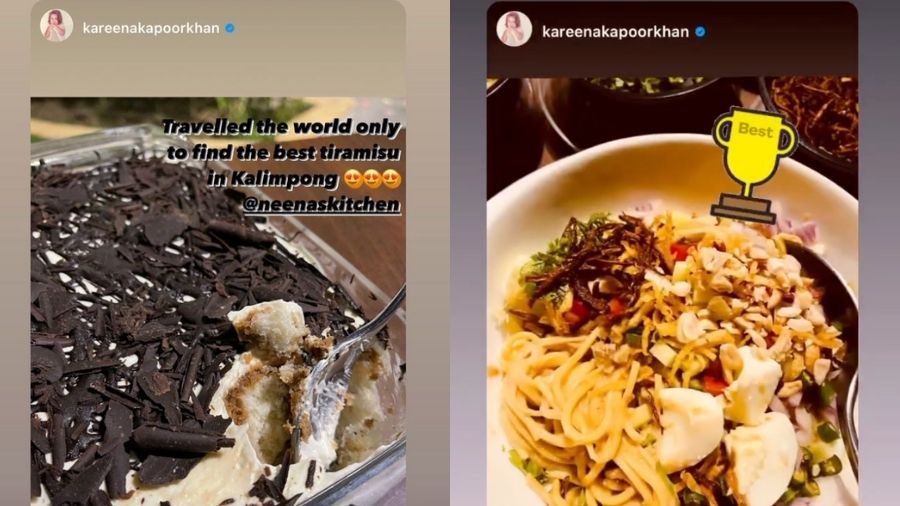 "Travelled the world only to find the best tiramisu in Kalimpong," shared Kareena on her Instagram story
From the mascarpone to the chocolate, the Tiramisu at Neena's Kitchen is crafted from scratch. Roasted handcrafted beans by local coffee brand @bermiokcoffee are used in the Italian dessert. 
How many orders for Tiramisu have poured in since it went viral? "I don't even… I think I've lost count!" laughs Neena, sitting in the scenic verandah of her bungalow in Kalimpong. 
In the time that My Kolkata spent with Neena pottering about in the kitchen, a group of tourists dropped in, requesting to try the Tiramisu, something that Neena's team is having to deal with on a regular basis. "Do you think we should keep extra jars ready in the fridge so that unexpected guests are not disappointed?" she asks her sister Reena.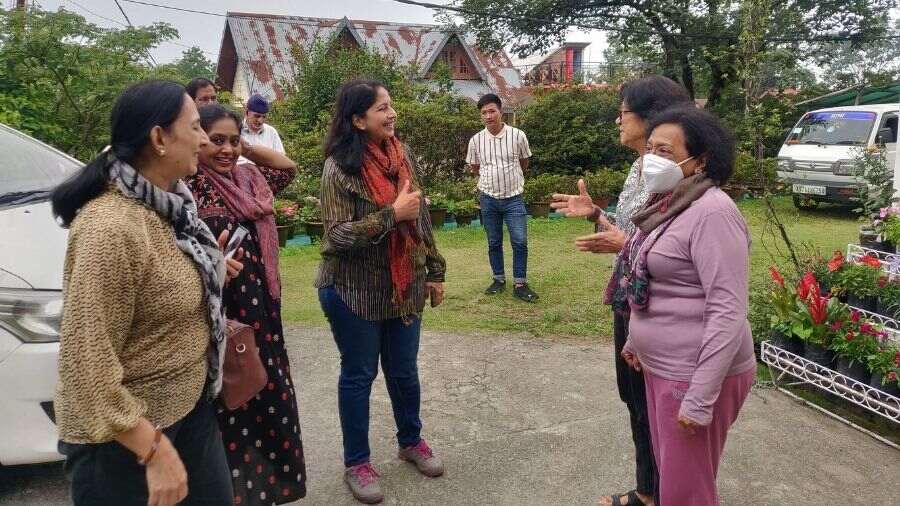 Tourists dropped into Neena's home on May 20 requesting a taste of 'Kareenamisu' and went home happy after a portion of the dessert was packed for take-away. A private-dining experience at Neena's Kitchen is by appointment only.
Karo Christine Kumar
A private-dining experience at Neena's Kitchen is by appointment only. Large groups of 20 can be accommodated on the lawns by booking a few weeks in advance, while a 24-hour window is advisable for up to two-three individuals. 
Cooking was something Neena developed an interest in when she was in tea. "First, I had to learn, soon it became an interest and then it became a passion," says the chef and hospitality consultant, who spends her time gardening when she's not stirring up a Mulligatawny Soup, a slow-cooked Sunday Roast, Chicken Cutlet or seasonal salads.
What are some of the best-sellers on the menu? Neena's Lasagna, flat pasta filled with sage, melted cheese, veggies/ chicken, and The Quiche Lorraine, a pastry crust filled with savoury custard, cheese and veggies/ chicken. "And now, Tiramisu, which has become a hot favourite with everybody!" 
But like every chef worth his or her salt, Neena is safely guarding her recipes. Ask her what goes into the 'Kareenamisu' that makes it so special and pat comes the reply, "Well, that's a trade secret!"