eat
Celebrate Panchami with a traditional Burmese spread
The Steamed Rice Paper Parcels and Samosa Soup from Burma Burma are to die for!
Published 30.09.22, 05:42 AM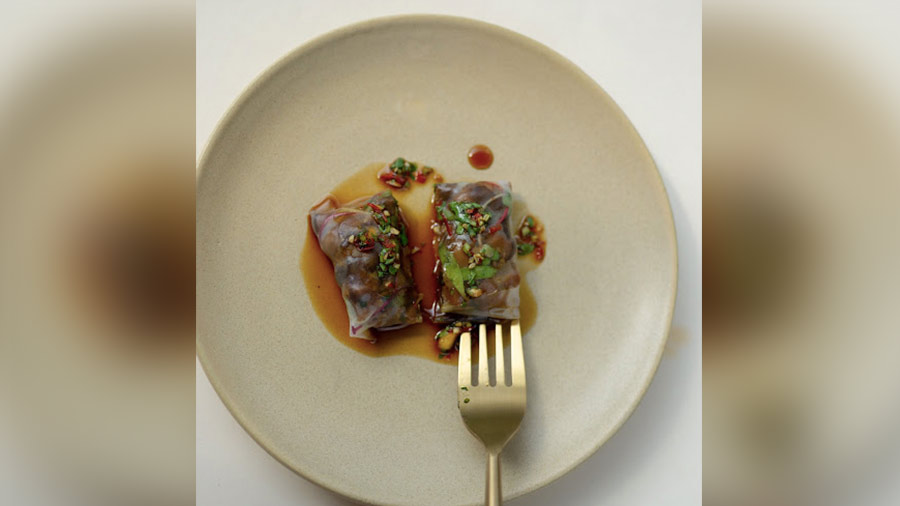 Image courtesy: Instagram
Start the festive season on a spicy note with an authentic Burmese meal at Burma Burma.
We're bound to indulge in Bengali delicacies towards the latter half of the festive week, so set Panchami aside for the nuanced flavours of Burmese food. The eatery offers a vegetarian spread that has all the traditional delights — from Samosa Soup and Asparagus and Long Beans Salad to Roasted Poppy Potato with Brussels Sprouts and Steamed Rice Paper Parcels.
Along with the Khow Suey, try Burma Burma's signature dishes — Mandalay Curry Noodles and Shiitake and Pok Choy Burmese Ramen. The Mandalay Curry Noodles is a coconut-y broth of flat noodles, green tomatoes and shallots topped with crispy fried noodles while the Shiitake and Pok Choy Burmese Ramen is a flavour-packed medley of crumbled tofu, shiitake, crunchy greens, and rice noodles, served with roasted chilli and red bean relish. Dig in!
Where: 18M, Ground Floor, Stephen Court, Park Street Kolkata - 700071
When: October 1 to 5
For reservations, call: 7506061460 or 9920240097
— Lygeia Gomes