cook
Have you ever made a bacon onion relish?
This recipe is Porkaddict-approved!
Published 13.08.22, 06:08 AM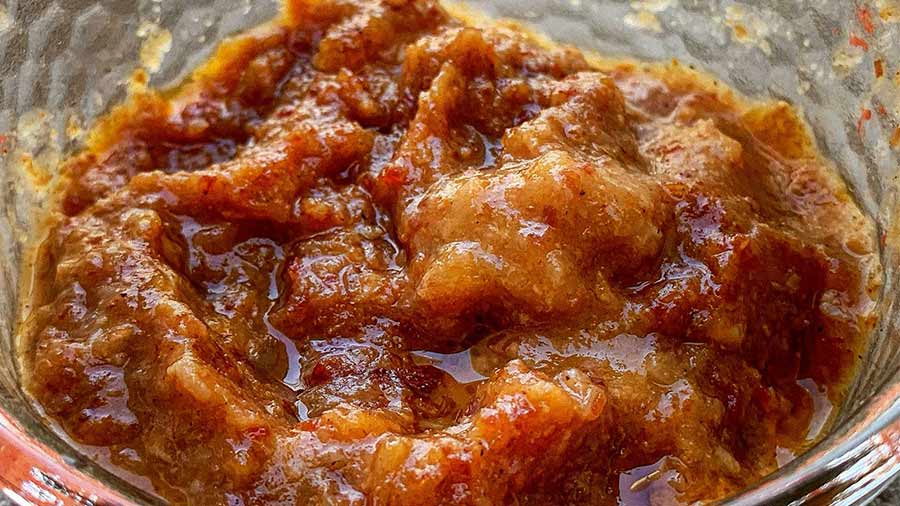 Image courtesy: Instagram
Wary of pre-bottled bacon relish? Dr. Niladri Haldar of the Calcutta Porkaddicts spills the beans on his favourite homemade bacon relish recipe!
Ingredients:
Bacon: 6 long strips

Unsalted butter: 2 tbsp

White onion: 2 large or 3 medium

White wine: 1/2 cup

Balsamic vinegar: 1 tbsp

Jaggery or brown sugar: 2-3 tbsp as per your liking

Hickory Bbq Seasoning: 2 tbsp

Dried herbs (thyme, basil): 1 tsp each

Black pepper - 1 tsp

Salt to taste (use minimal as bacon is already salty)
Method:
Cut bacon into bite-sized pieces and add to a cold pan. Keep the pan up on medium heat.

Sweat out the bacon until the fat renders down completely, the bacon bits are nice and crispy and start foaming.

Remove the bacon crisps from the pan and set them aside.

In the pan you fried the bacon in, add the onions and stir. Next, add jaggery or brown sugar, bar-b-que powder and dried herbs.

Sweat the onions until they are soft and translucent. Keep the lid closed, stirring occasionally. This helps retain the sweetness from the onions.

Add balsamic vinegar. If possible use a truffle oil flavoured balsamic vinegar for added depth in taste.

After around 5-7 mins of this return the bacon to the pan and stir it in.

Add the white wine. Use a good white wine. Turn up the heat to medium and let it come to a boil.

Once the alcohol dries out of the cooking liquid, add a cup of hot water

Lower the flame and cook for about 45 mins to 1 hour. Add a splash of hot water and stir, when necessary.

When the desired consistency is reached, turn the gas off and let it rest for a few minutes.

Next, transfer it all to a blender and roughly blitz it for about 6-8 seconds.
Spread this on toast, eat it as a condiment or simply spoon it out of the jar and devour it!
- Lygeia Gomes