cook
Team this easy prawn recipe with fried rice and enjoy your foodcoma!
Sunday main course sorted…
Published 09.07.23, 09:59 AM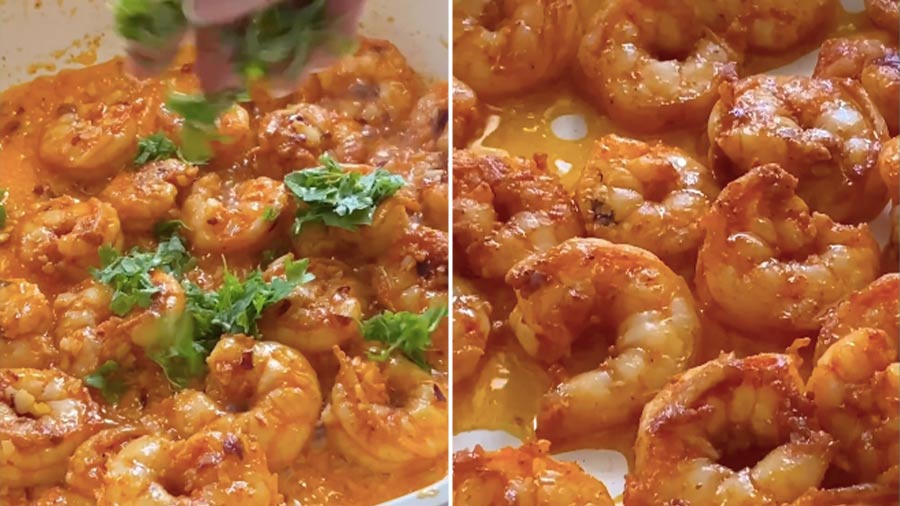 Image courtesy: @thethirtyonemiles/Instagram
If you love prawns, and can't get enough of them, here's a new recipe to enjoy them. This Instagram-approved Chilli Garlic Prawn recipe is not only quick to make, but delicious too! Since it's Sunday today, add chingri to your robibarer bajar list and check if you also have garlic, pepper, paprika, chilli powder, butter, chilli flakes, lemon and fresh coriander leaves in stock. If not, the trip to the market will fill up the pantry-blanks. Check out the recipe (the link is right below) and pair this prawn beauty with some egg fried rice, and have a simple but yummy Sunday spread.
Tips:
Make some extra for the Monday office lunch bag!
Make just the sauce and store it in the fridge in an airtight container. Cut boneless chicken, pork or beef in small pieces, or take some beef, mutton or chicken keema and cook in this spice base for a humble but rich flavour riot. The sauce can be easily stored for 2-3 days
This prawn recipe can also be made with shrimps and jumbo prawns- Pooja Mitra
Want to get featured in the Try This Today section of My Kolkata? Mail us at trythistoday@tt-mykolkata.com