cook
Go healthy with this filling egg white omelette
Pour a nice cuppa of coffee or tea, and your brekkie is sorted!
Published 18.09.23, 09:15 AM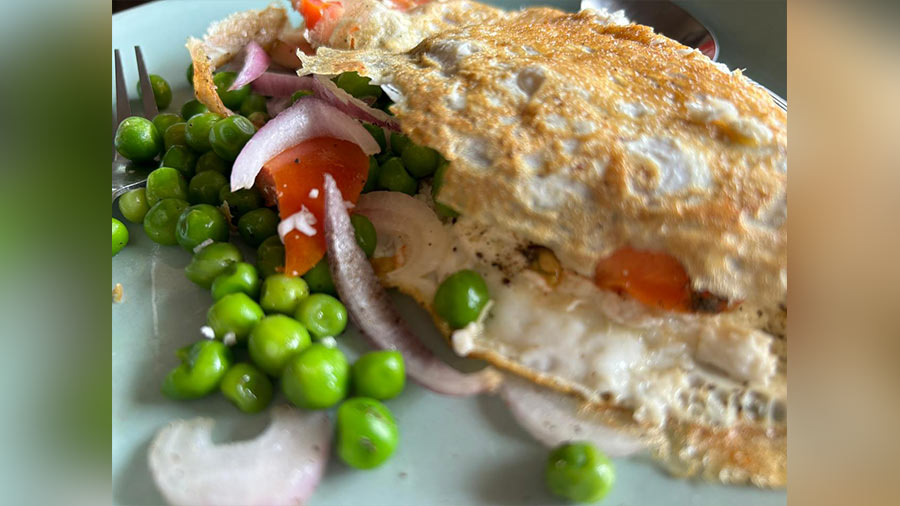 Image courtesy: Pooja Mitra
It's the start of the week and breakfast calls for something that's high on protein, filling, easy to make and tasty. And what's better than making an omelette with loads of fillings?
Ingredients:
Egg whites: Of 3 eggs
Milk: 5 tablespoons
Grated paneer: 4 tablespoons
Chopped sausages: 2 tablespoons
Sliced onion: 1 tablespoon
Sliced tomato: 2 tablespoons
Boiled peas: 3-4 tablespoons
Finely chopped green chillies: ½ teaspoon
Black pepper powder: 1 teaspoon
Salt: To taste
Olive oil: 1 tablespoon
Recipe:
Beat egg whites, milk, salt and pepper together with an electric or manual beater or in a mixer for about 2 minutes
Add olive oil to a nonstick pan and heat well
Keep the flame low and pour the egg batter. Cover and cook for 1 minute
Now add the vegetables, paneer and sausages and sprinkle some salt and pepper
Cover and cook for 2-3 minutes on low flame
Uncover, fold gently and place on a plate. Dig in!
Tip:
If you want to add a cheese and salami slice, go ahead!
Want to get featured in the Try This Today section of My Kolkata? Mail us at trythistoday@tt-mykolkata.com