cook
Have you tried 'Daal-Chingri Bhaate' with steamed rice?
Simple, humble, mouth-watering and easy to make
Published 06.07.23, 09:10 AM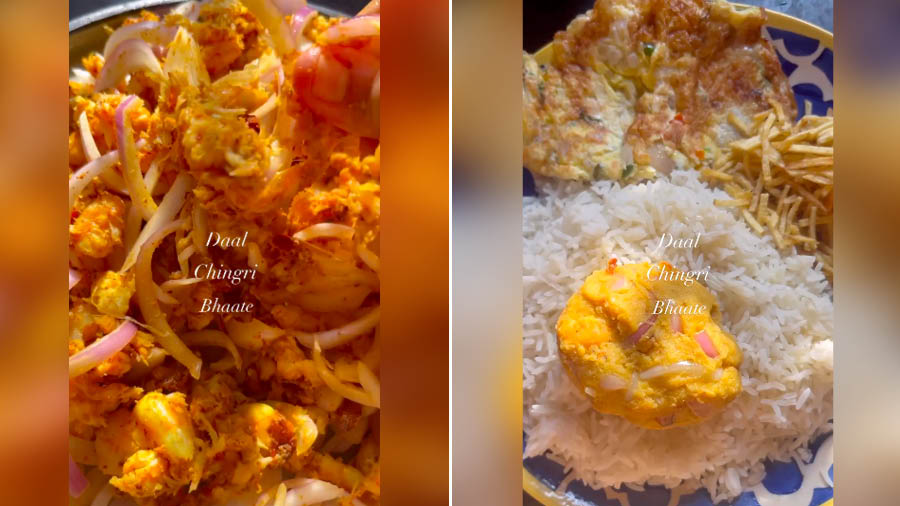 Image courtesy: @thebongcan/Instagram
We often have Daal Bhaate (mashed lentil), preferably with masoor dal or moong dal. And this is one of the simplest soul foods ever. Daal Bhaate, paired with Aloo Bhaate (mashed potatoes), Ghee or Shorsher Tel (mustard oil), Dim Sheddho (boiled egg) and a kancha lanka (green chilli) is a plate full of happiness like no other. But, have you tried making Daal Chingri Bhaate? The recipe is very simple, and requires two key ingredients: boiled Daal (moong or masoor we suggest) and Chingri (prawns). Along with that, you will need some finely sliced onions, mustard oil, salt and fried whole red chilli. Mash the sauteed prawns first and then add all the ingredients together. Follow the recipe link shared below for the order of ingredients and process, and you have the yummiest recipe ready in no time.
— Pooja Mitra
Want to get featured in the Try This Today section of My Kolkata? Mail us at trythistoday@tt-mykolkata.com