Panta bhaat is a hug in a bowl. A summer staple, panta bhaat often is the key to bringing back appetite in summer. If you team it up with the right condiments, chances are you will be repeating the platter often. Since it's peak summer, you've probably already stocked up on your aam tel supply, and kancha aam is already in your pantry. So, make panta bhaat and with some delicious accompaniments like aam tel diye aloo makha, dal sheddho, shutki bharta, bori bharta and kancha aam makha, and enjoy the coming together of diverse flavours in one plate.
P.S.: The quickest way to make panta bhat is take cooked rice and cold water ratio in a 1:2 ratio, add a few lime leaves, cover and leave outside for 6-8 hours or overnight. If it is too warm, leave it outside for 3-4 hours and put it in the fridge for a couple of more hours.
Aam tel diye aloo makha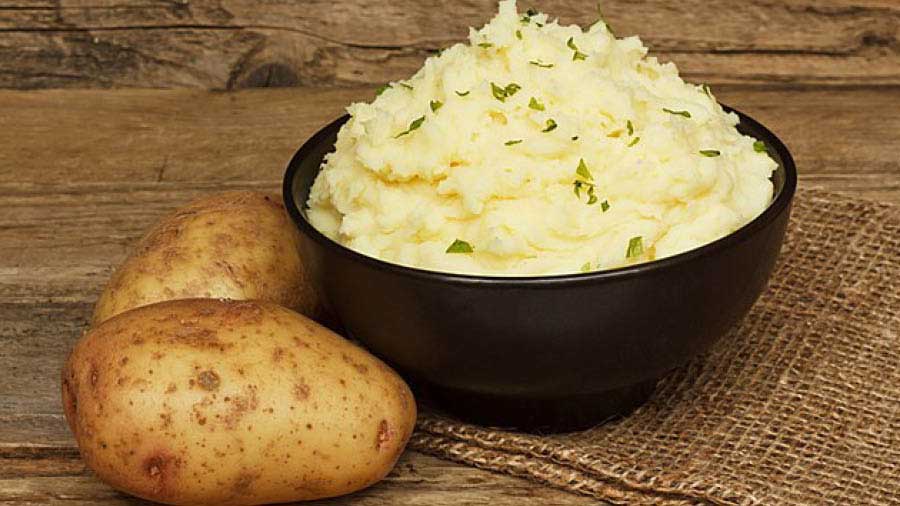 Representative image
Wikimedia Commons
A mashed potato recipe with the summer staple mango pickle, this recipe is easy to make and is highly recommended with panta bhaat.
Ingredients:
Mashed potatoes: 4 pieces
Mango pickle: 1 teaspoon
Oil from mango pickle: 2 tablespoons
Finely chopped green chilli: 1
Finely chopped onion: 1 medium
Finely chopped coriander leaves: 1 teaspoon
Salt: To taste
Recipe:
Mash the potatoes until lump free
Add all the ingredients and mix very well
Check seasoning and enjoy with panta bhaat
Tip:
If you have bacon at home, fry some until crispy, give a rough chop and mix with the mashed potatoes. Go for a tablespoon of mango pickle oil and one tablespoon of bacon fat
Kalo masoor sheddho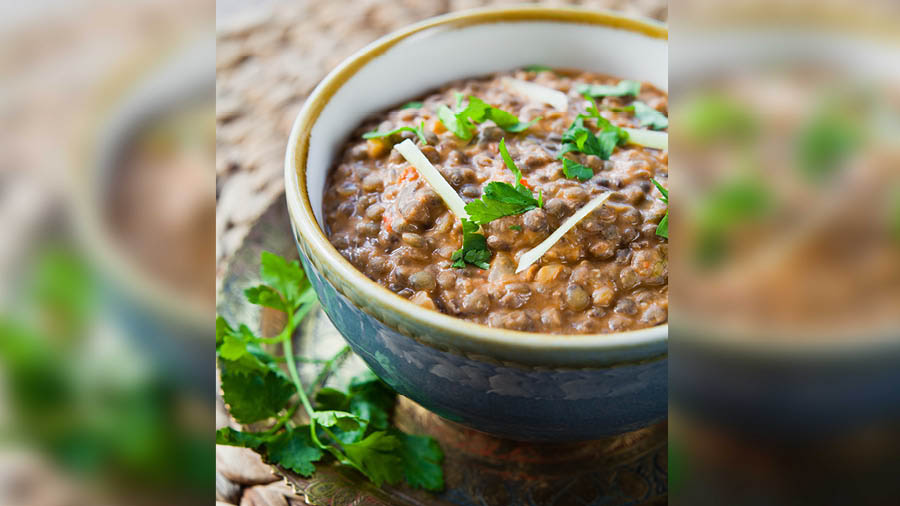 Shutterstock
Rich in fibre and iron, black masoor dal is healthy and tasty. Try this version instead of boiled pink masoor for a change of taste. Who knows, you might like this dal variant better!
Ingredients:
Black masoor:1 small cup
Grated ginger: 1 tablespoon
Grated mango ginger: ½ teaspoon
Slit green chillies: 2-3
Roasted whole red chilli: 1
Turmeric powder: 1 small pinch
Roughly chopped coriander leaves: 2 teaspoons
Mustard oil: 1 tablespoon
Salt: To taste
Recipe:
Boil the masoor dal with a pinch of salt, turmeric powder, grated ginger and mango ginger, and one green chilli for two to three whistles on a low to medium flame. The dal should be a little mashed upon boiling
Try to not have a runny consistency
Pour the dal in a bowl, add the remaining green chillies, roasted whole chilli, salt, mustard oil and coriander leaves. Mash some more, check seasoning and it's ready
Tip:
Add some lemon juice if you like
Loitta shutki bharta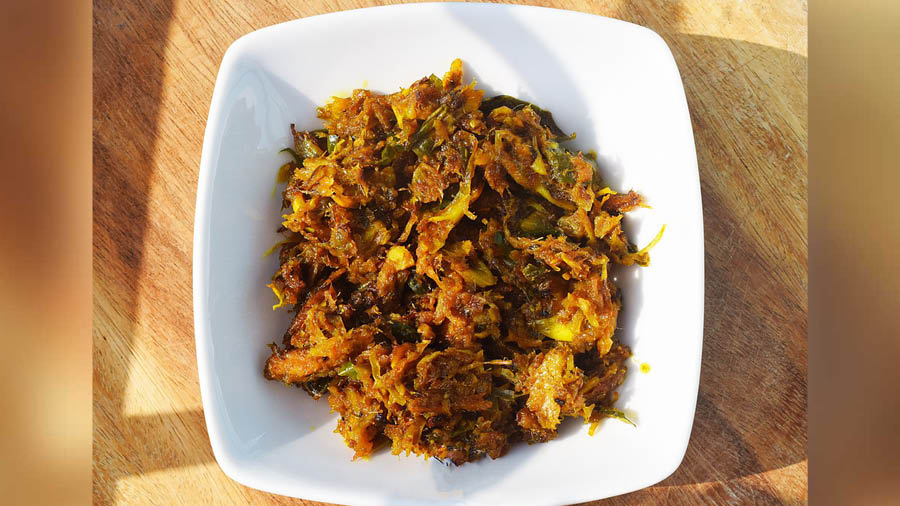 Representational Image
Wikimedia Commons
Big fan of shutki? Try this spicy, tangy recipe today!
Ingredients:
Loitta shutki (dried Bombay Duck): 1 medium cup
Roasted whole dry red chillies: 2
Roasted tomatoes: 2 medium
Roasted onion: 1 large
Roasted green chillies: 2
Curry leaves: 6-7
Whole dry red chilli: 1
Ginger and garlic paste: 1 tablespoon
Lemon juice: 2-3 tablespoons
Turmeric powder: 1 teaspoon
Salt: To taste
Mustard: As per requirement
Recipe:
Blanch the dried fish with a pinch of salt for about 3-5 minutes. Drain water and chop roughly
Roughly chop the roasted dry chillies, onion, green chillies and tomatoes. Keep separately
In a pan, add mustard oil and heat. Add dry red chilli and then chopped onion in the pan and saute for 2-3 minutes on low flame
Add ginger and garlic paste and saute for 1-2 minutes
Now add the roasted red chillies and saute for 30-45 seconds
Add tomato and green chillies and saute for 1-2 minutes
Add dried fish and mix well with the spice base in the pan
Add turmeric powder, salt and lemon juice. Saute in low flame for 10-12 minutes
Pour the fish in a bowl. In the same pan, add little mustard oil and heat. Add the curry leaves and fry until crispy
Mix the curry leaves with the fish
Tip:
You can add fresh coriander leaves as garnish if you want, in case you are not a fan of curry leaves. You can drop both from the recipe too
Bori bharta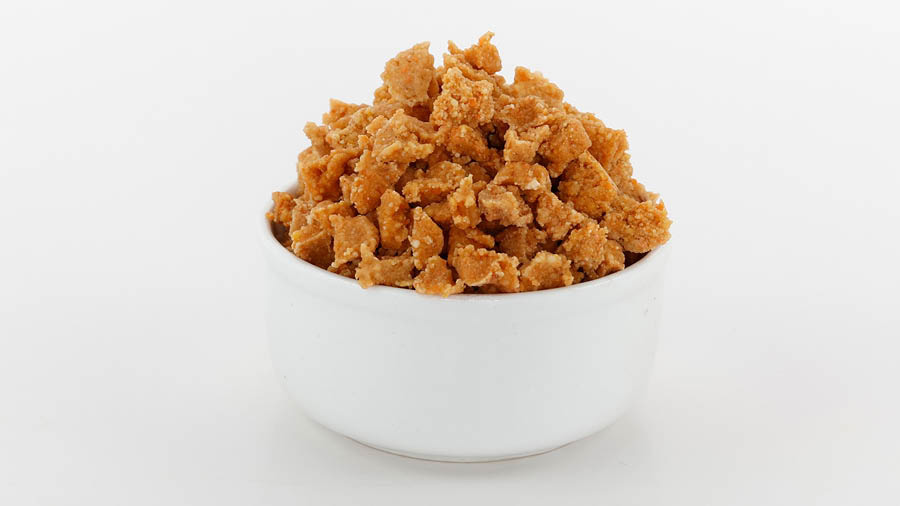 Representational Image
Shutterstock
You must have had bori (dried lentil dumplings) in niramish jhol, lau'er torkari or maacher jhol. But have you tried bori bharta, which takes approximately 15 to 20 minutes to assemble and make and is a crunchy-munchy way to have bori?
Ingredients:
Bori or dried lentil dumplings: 10-12
Finely chopped onion: 1 small
Finely chopped green chillies: 2
Mustard oil: As per requirement for frying, 1 tablespoon for garnish
Salt: To taste
Recipe:
Fry the lentil dumplings until light brown. Turn of the flame and crush them a little
Add all the ingredients in a bowl and mix, and it's ready to serve
Kancha aam makha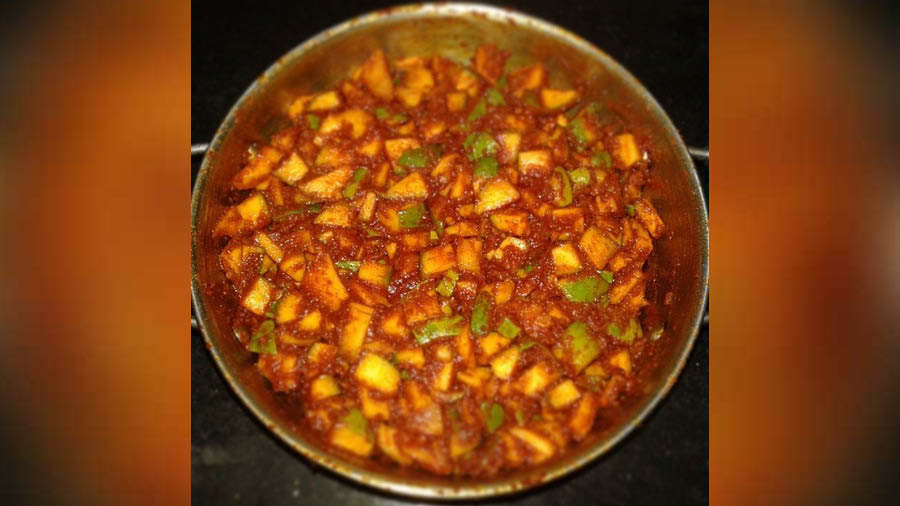 Wikimedia commons
Summer is incomplete if there's at least not one mango dish on the menu. From aam dal (which, by the way, works with panta bhaat if you don't want to go for dal sheddho) to aam makha, celebrate the mango for it's the season. So far your panta platter is concerned, this quick recipe is mouth-watering.
Ingredients:
Diced raw mango (Deseeded and preferably peeled): 1
Cumin powder: 1 teaspoon
Red chilli powder: 1 teaspoon
Kashmiri red chilli powder: 1 teaspoon
Mustard oil: 1 tablespoon
Salt: To taste
Sugar: To taste
Recipe:
Mix everything together and it's ready. That's it!