cook
This quick chilli pepper pork will make your Sunday
Soul food alert!
Published 29.05.22, 12:23 AM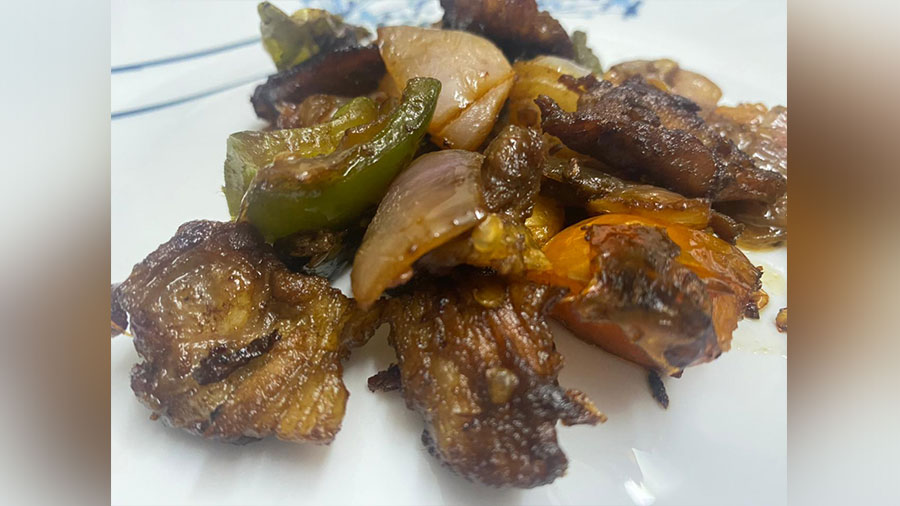 Image courtesy: Pooja Mitra
Skip the takeout and cook your own hearty chilli pork at home this weekend, with just a few pantry essentials. The fuss-free chilli pork recipe just needs some good meat, a smattering of veggies, a dash of seasoning and a whole lotta love!
Ingredients:
500 gm pork (try to go for a 70:30 meat-fat ratio) chopped into thin slices
3 large onions (1 whole, 2 chopped into dices)
1 bell pepper, diced
1 large tomato chopped into large dices
10-12 bullet chillies (green) sliced
3 tablespoon whole black pepper corns
Salt
Sugar
2 tablespoon soya sauce
4-5 tablespoons of white oil
One star anise
1 garlic (one whole half, unpeeled and the other half peeled and finely chopped)
1 ginger peeled and finely chopped
1 lemon
½ teaspoon coriander powder
Method:
Clean the pork slices and marinate with salt, grounded black pepper and lemon juice and keep aside for 10-15 minutes.
Chop the veggies
In a pressure cooker, add the pork slices, 1 whole peeled onion, sliced ginger, half of the garlic, 2 green chillies, a piece of star anise, 6-7 corns of black pepper, 1 tablespoon salt, water and cook till the meat is tender. It usually takes 3-4 whistles
Separate the pork slices and the pork stock. The latter can be saved for later use in soups or in pork dishes
In a wok, add oil and heat. Add garlic and ginger and cook till both are golden. Add whole corn of black pepper and slit green chillies and cook for about 2-3 minutes. Add pork slices, onion, bell peppers and tomatoes and cook for 8-10 minutes (cook in high flame, with regular stirring)
Add soya sauce and a pinch of sugar, and cook for 7-8 minutes
Check seasonings and serve piping hot