attend
You can become a Starbucks-certified Master Brewer!
TATA Starbucks will celebrate International Coffee Week with an experience series in Kolkata
Published 04.10.23, 09:33 AM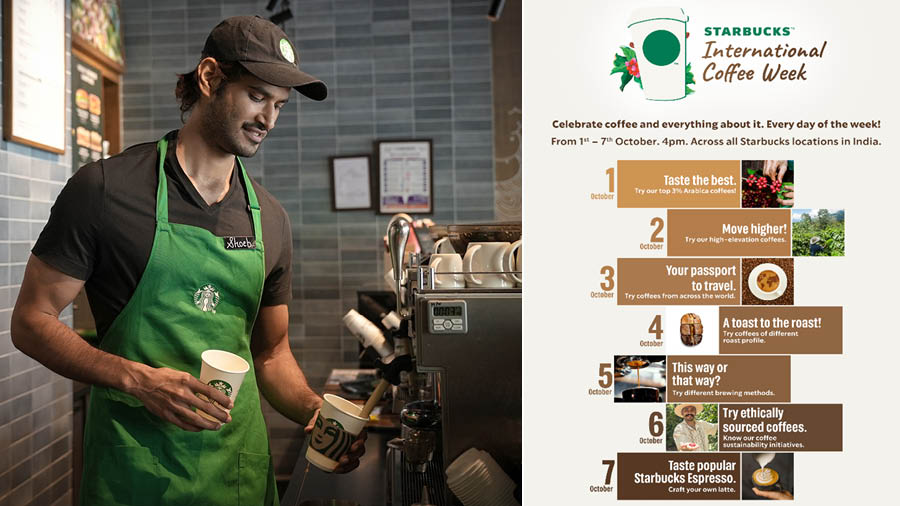 Image courtesy: TATA Starbucks
International Coffee Day celebrations at TATA Starbucks go beyond October 1. The cafe chain is extending the celebrations with a week-long programme just before Durga Puja. Kolkata's Park Mansion outlet will open its gates to coffee enthusiasts for the Marquee Master Brewer Program, a seven-day series featuring unique coffee tastings, each centred around a different theme, aimed at expanding the knowledge of coffee lovers.
The programme not only includes masterclasses, but will also bring to life the nuances of growing and sourcing ethical coffees from across the world. From procurement to product, this series will take you on the journey of a cuppa. There will be sessions on processing and roasting of different coffees, and on brewing and latte art, delivered by Starbucks coffee masters.
On completing the programme, each attendee will be given a 'special apron', which is a symbol of pride of baristas worldwide. To make it even more interesting, Starbucks is also launching a trial pack size for its signature coffee beans from across the world.
Event: Marquee Master Brewer Program
Venue: Starbucks, Park Mansion outlet
Timings: October 14 (inaugural session), 4pm onwards
Open to all
—Urvashi Bhattacharya
Want to get featured in the Try This Today section of My Kolkata? Mail us at trythistoday@tt-mykolkata.com