attend
It's time to celebrate culture and heritage of India this week
Indiatourism Kolkata is hosting this event with six days of music and dance
Published 21.11.23, 10:02 AM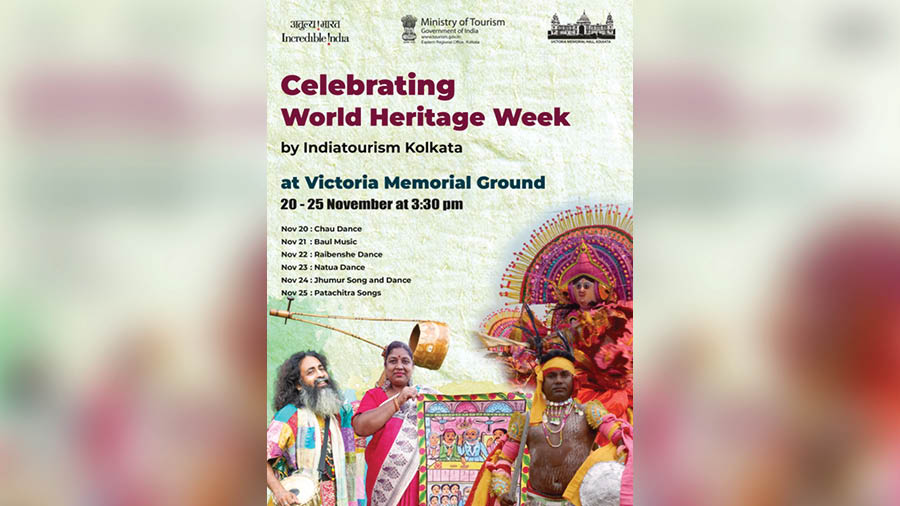 Image courtesy: Indiatourism Kolkata
Embark on a cultural odyssey as Indiatourism Kolkata and Incredible India unite to present 'Celebrating A World Heritage Week' at the iconic Victoria Memorial. This unique event encapsulates the rich and diverse heritage of our country under one magnificent roof. It's a two-birds-one-stone situation, offering an immersive experience of India's traditional dance and music forms.
Today, get ready to listen to some soul-stirring Baul music of West Bengal. As the celebration continues, November 22 will spotlight the vibrant Raibenshe dance, while November 23 promises to showcase the traditional Natua dance from the culturally rich Purulia district.
The cultural journey extends to November 24, featuring the lovely Jhurmur song and dance form originating from Jharkhand. Finally, the grand finale on November 25 will immerse the audience in the melodious tunes of Pattachitra songs, bringing this extraordinary week-long celebration to a close. Don't miss out on this immersive journey through our country's cultural treasures.
What: World Heritage Week organised by Indiatourism Kolkata
Where: Victoria Memorial ground
On till: November 25, 3.30pm onwards
Entry: Walk in, property rules apply
— Urvashi Bhattacharya
Want to get featured in the Try This Today section of My Kolkata? Mail us at trythistoday@tt-mykolkata.com