attend
Catch Iman and her #TeamTogetherness at Hard Rock Cafe this weekend
Iman Chakraborty's pre-Puja live gig at Kolkata's HRC promises a great evening, with a side of tasty food
Published 22.09.23, 09:32 AM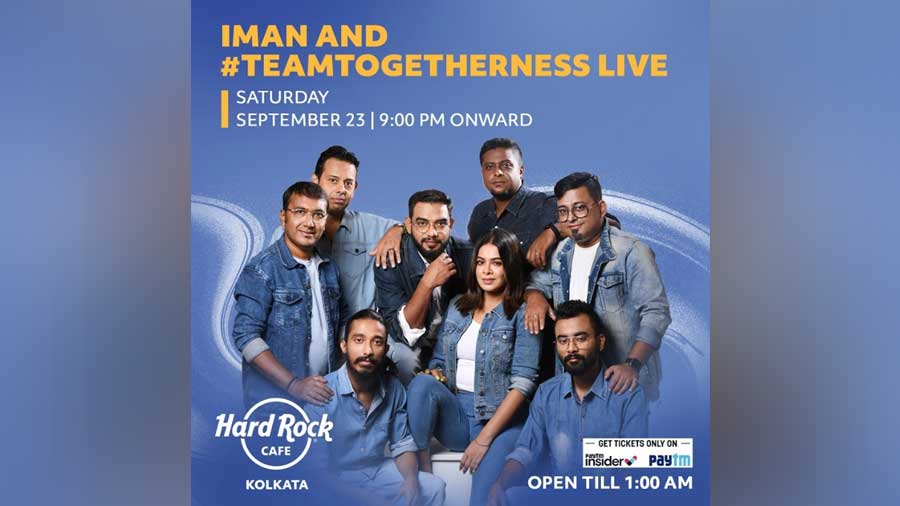 Image courtesy: Hard Rock Cafe, Kolkata
There's something special and rather very 'Kolkata' about attending an Iman Chakraborty live gig in the city just ahead of the Durga Puja! The singer and her team, who call themselves #TeamTogetherness, will take to the stage at Hard Rock Cafe, Kolkata this weekend for an evening of melodious tunes. If you follow her work, the singer recently released a couple of covers of nostalgic and popular Hindi songs. And her goofy team features in the videos with her!
We're hoping they bring the same fun every and a few of these covers to HRC, along with Iman's soulful and energetic originals, of course!
While the superstars take care of the vibe, the kitchen at the pub will be serving up menu favourites like Classic Nachos, Mezze Platter, Kasundi Bhetki Fish, Tupelo Chicken Tenders, Southwest Chicken Flatbread and more. There will also be cocktails to wash it all down including Espresso Martini, Tropical Margarita, and Passion Fruit Mai Tai.
Along with Iman's tunes, end the evening on a sweet note with dessert picks like Hot Fudge Brownie or New York Cheesecake.
What: Iman Chakraborty #TeamTogetherness Live at Hard Rock Cafe, Kolkata
Where: Hard Rock Cafe, Park Mansion, 57-A, Park Street, Taltala
When: Saturday, September 23, 9pm onwards
Tickets: Available on Insider
— Urvashi Bhattacharya
Want to get featured in the Try This Today section of My Kolkata? Mail us at trythistoday@tt-mykolkata.com