attend
Durga Puja shoppers, there's a new pop-up this weekend
Bunzara Cafe is putting together a pre-Puja exhibition with apparel, accessions and beauty picks
Published 27.09.23, 09:22 AM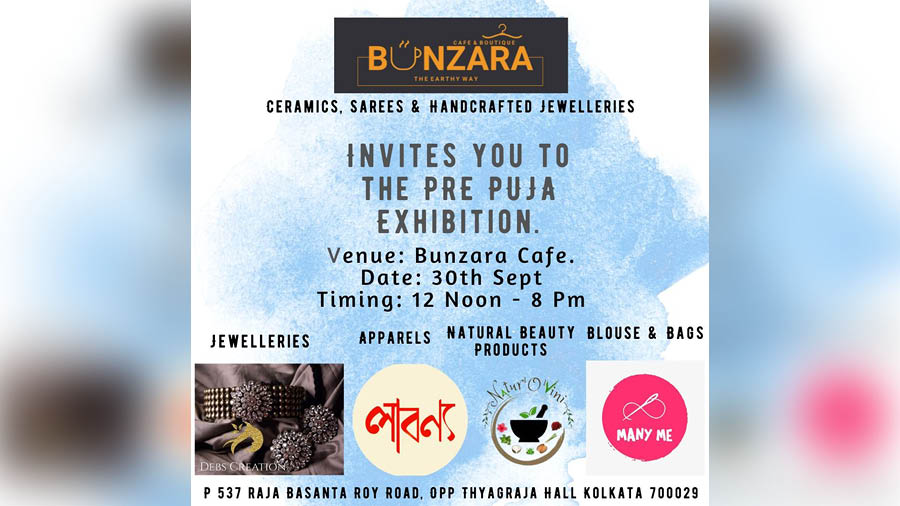 Image courtesy: Bunzara Cafe
Less than a month to go and it's peak time for Durga Puja shopping! Buzara Cafe has a treat for all of you still in the midst of picking your favourites for Pujo. Kick off your Durga Puja at Bunzara Cafe! The boutique cafe at Southern Avenue boutique cafe is organising a pre-Puja exhibition this weekend.
The pop-up will have options from clothing to skincare, all from homegrown Kolkata brands. With apparel from Lavanya by Lopamudra, handmade jewellery from Debs Creation, natural beauty products from Natur'O'Vini, and blouses and bags from Many… Me, there is an elaborate collection on offer. The exhibition is expected to give several local brands a platform to showcase their products, and the wide-ranging genres guarantee that there will be something for everyone. Gift yourself some retail therapy this festive season!
Where: Bunzara Cafe, P537, Raja Basanta Roy Rd, opposite Thyagaraja Hall, Hemanta Mukherjee Sarani
When: Saturday, September 30, noon-8pm.
—Vedant Karia
Want to get featured in the Try This Today section of My Kolkata? Mail us at trythistoday@tt-mykolkata.com