Urvika Kanoi, chef and owner of The Daily in the city and Cafe Duco in Mumbai, is a food lover foremost. Therefore, even when she is busy dividing her time between Kolkata and Mumbai, she makes sure to hunt down the best of what a city has to offer and at the top of her list is Thai restaurant Seefah in Bandra that she is bringing to The Daily in the form of a fun pop-up. Urvika calls it a "kitchen takeover" as chef Seefah Ketchaiyo will be in the city to cook up a storm in The Daily kitchen. The result will be a special menu featuring Seefah's signatures along with a few collaborative dishes whipped up by the duo. In a chat with The Telegraph, they tell us more:
What is the idea behind the pop-up?
Urvika Kanoi: This is The Daily's first takeover and I couldn't have thought of a better person to start with than chef Seefah, who is my favourite even in Mumbai. Her food feeds my soul! I don't think anyone does Thai food the way she does because it's very authentic and not like the adulterated versions available where they mix cornflour and other things. We wanted The Daily's takeover to be exactly that — authentic. Our signature style of giving soul food and keeping it as authentic as possible with flavours borrowed from across the globe, seamlessly blends with what chef Seefah does. It's all authentic and her flavours are from different regions of Thailand.
Seefah Ketchaiyo: Kolkata is very close to Thailand and a lot of people know about the food there. My food is basic — it is the Thai street food and this is me bringing the food to another city outside Mumbai. I am not saying that my food is better but I want to say that my food is the kind of food you will get if you go to Thailand. I can make food as per the Indian palate too but I prefer to make it in the authentic way.
So what's on the menu?
Urvika: We are getting chef Seefah's signature dishes on the menu of course and sushi as well, as she does it really well. Right from her salads to her grills — pork, tenderloins, wasabi grills, wontons. Even her simple Chili Basil Chicken is something we really love but we don't always get a good one. Her noodles, curries and desserts too are all really good. She makes everything from scratch in the kitchen and nothing is out of a box. We are also doing a short collaborative menu that repurposes the same ingredients that goes into her menu as other things. For example, we are actually doing versions of our Benedict and burrata. We have also collaborated with Svami and have curated a list of eight mocktails.
Seefah: Fifty per cent of the menu is mostly my signature dishes and then we have done a collaboration where we have a fusion of Thai flavours with Urvika's food.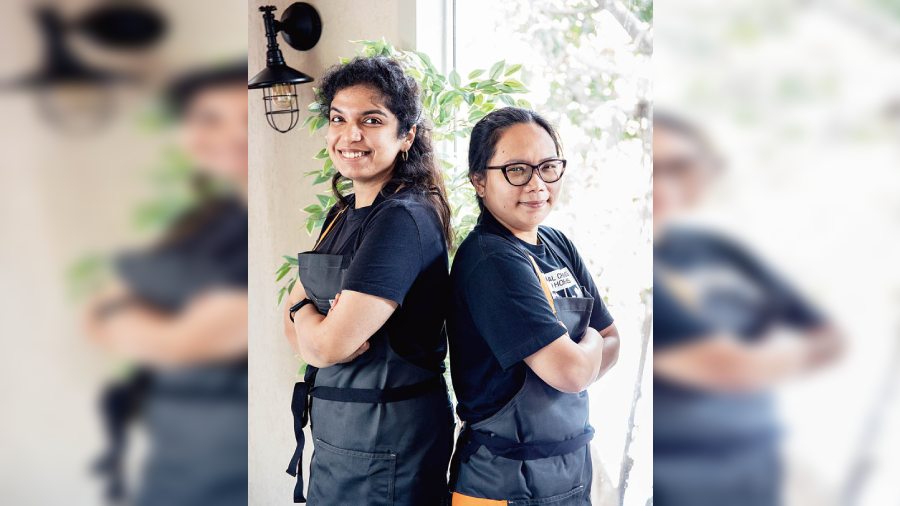 More than a pop-up, this is also being positioned as a kitchen takeover. What's the thought behind that?
Urvika: Yes, because we are also very choosy about who we let into our kitchen but chef Seefah can take over our kitchen at any time. She's like family! She is a very warm person and that comes out in her food too. And honestly, she will be taking over the kitchen as she will handle the kitchen and I'll be handling the floor.
Seefah: Going into someone else's kitchen is like going into someone else's house. I treat it with a lot of respect and mutual understanding. I will go with the mindset of work and with a lot of respect. And like she said, I wouldn't do it with anyone else. Urvika and I clicked and that is why I said yes to her.
Sourcing of ingredients and ensuring freshness can get tricky and Thai food is known for the freshness of its ingredients. So how are you tackling that?
Urvika: Chef is making a lot of her sauces in Mumbai and getting it to Kolkata, which eases out the process for us because these are the soul of the food. Vegetables, meat and seafood are not difficult to source in Kolkata because of the Thai-Kolkata connection. Her team is also helping us out with the sourcing for things like even salmon, which we are carrying from here. But we are still working with farm produce and local stuff as much as possible.
What about Kolkata's appetite for Thai cuisine interests you?
Seefah: People love Thai food but they don't understand exactly what Thai food is. I am not worried about people liking or disliking my food. If you have good ingredients that are fresh, I'll just have to make sure that the food comes together well. I am just here to make sure that good Thai food is on the table.
What: The Daily X Seefah
Where: The Daily, 5, Satyen Dutta Road, near Deshapriya Park
When: March 11 to 13, noon to 4pm and 7.30pm to 11.30pm (for the pop-up menu)
On the menu: An a la carte menu featuring around 50 items that are a mix of chef Seefah Ketchaiyo's authentic Thai menu and a collaboration with chef Urvika Kanoi. A short, supportive menu of The Daily will also be available on the side. However, the complete cafe menu will only be on offer between 4pm and 7.30pm
Meal for two: Rs 2,000-plus