What better way to blow away that runny nose, than a piping hot bowl of flavourful soup. The Telegraph went around the city looking for some of the most comforting sips and here's getting you a taste.
Red pimentos and Sunkist Oranges, Pumpkin Seed, Mascarpone and Crostini
@ Waterside Café, Hyatt Regency: Dig into the seasonal goodness of pimentos and oranges. It's tangy, it's fresh, it's hearty and full of creaminess from the mascarpone. @Rs 500-plus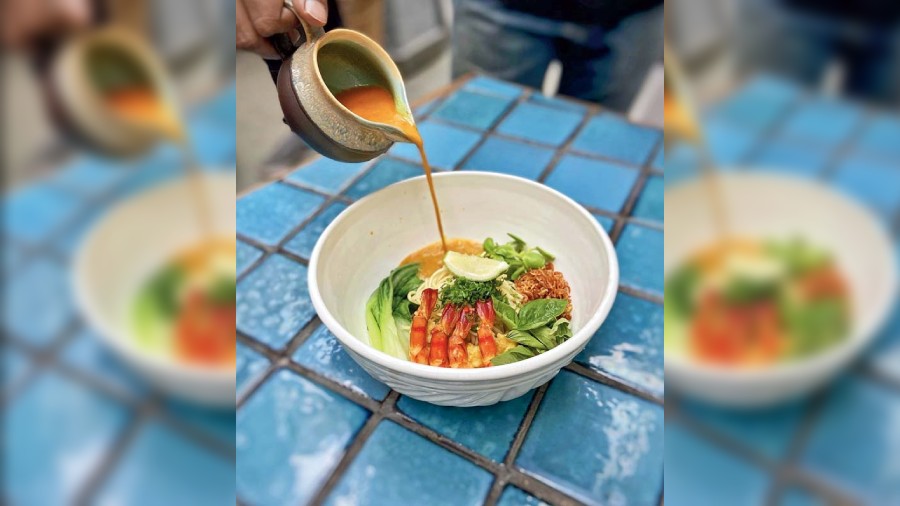 Hawker Market Laksa Bowl
@ Sienna Cafe: The Hindustan Park cafe's special take on the beloved Peranakan noodle soup comprises egg noodles, aromatic coconut milk broth topped off with onion crispies, local greens and your choice of scrumptious toppings. @Rs 575-plus for vegetarian and chicken options, and seafood option @Rs 625-plus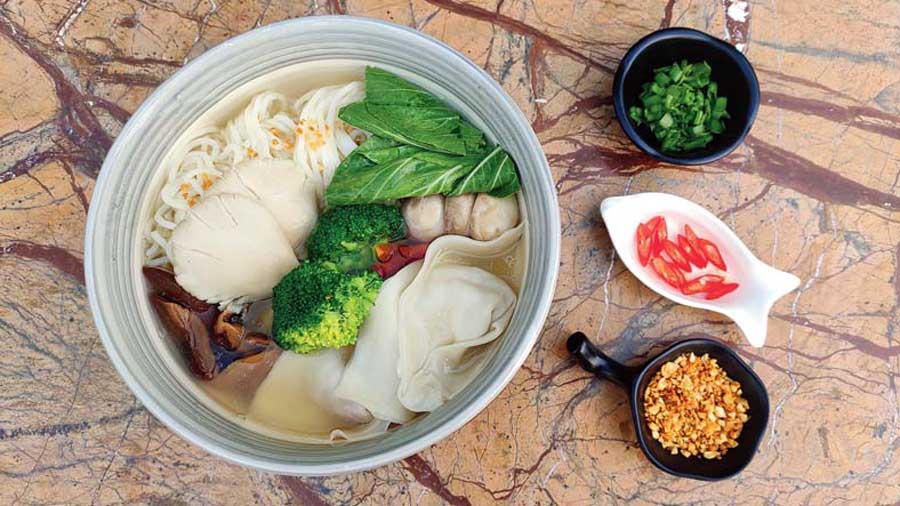 Asian Noodles and Wanton Broth
@ Unplugged Courtyard: A filling broth at the Ho Chi Minh Sarani den, this dish has the goodness and warmth of a well-simmered broth along with ample bite from the wantons and noodles. @Rs 255-plus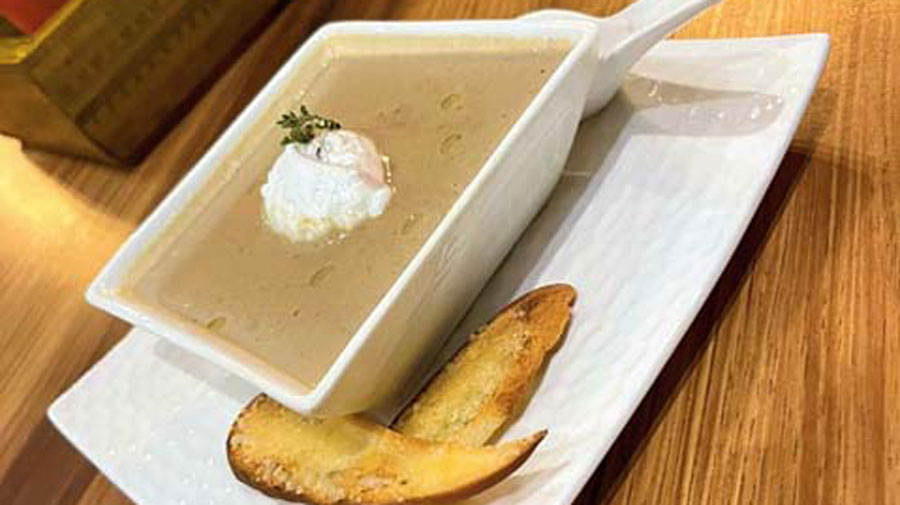 Triple Mushroom Thyme Soup
@ Please Don't Talk: A delightful creamy combination of thyme, porcini, shiitake and button mushrooms, generously drizzled with truffle oil. @Rs 375-plus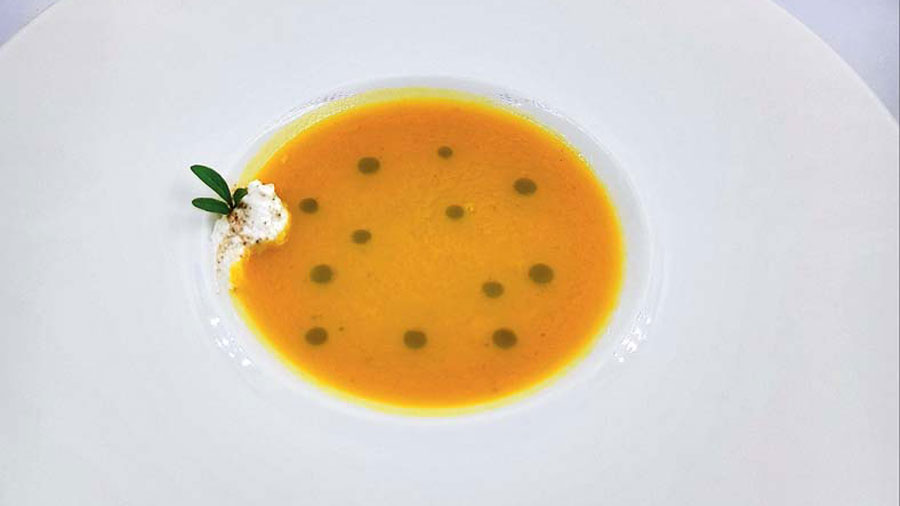 Red Lentil Soup
@ Grace, Kolkata Centre for Creativity: This dal-based soup has the goodness of cooked red lentils tempered with curry leaves, onions, Thai chillies and ginger along with gondhoraj lime zest. @Rs 275-plus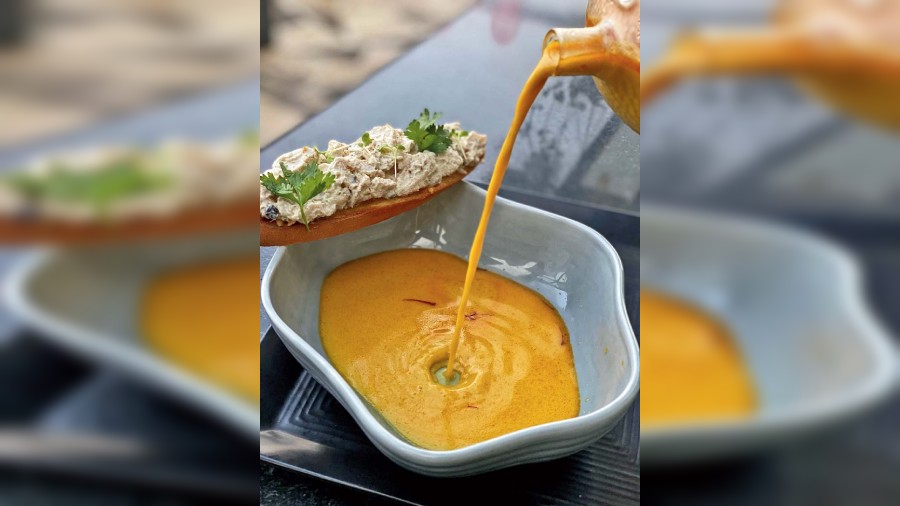 Kishtwar Zafraan Murgh Shorba
@ LMNO_Q: Yogurt-based chicken broth (yakhani) simmered with Kashmiri saffron, served with malai chicken crostini and garnished with home-grown microgreens. A must-try this winter as you sit at the Park Street hangout. @Rs 220-plus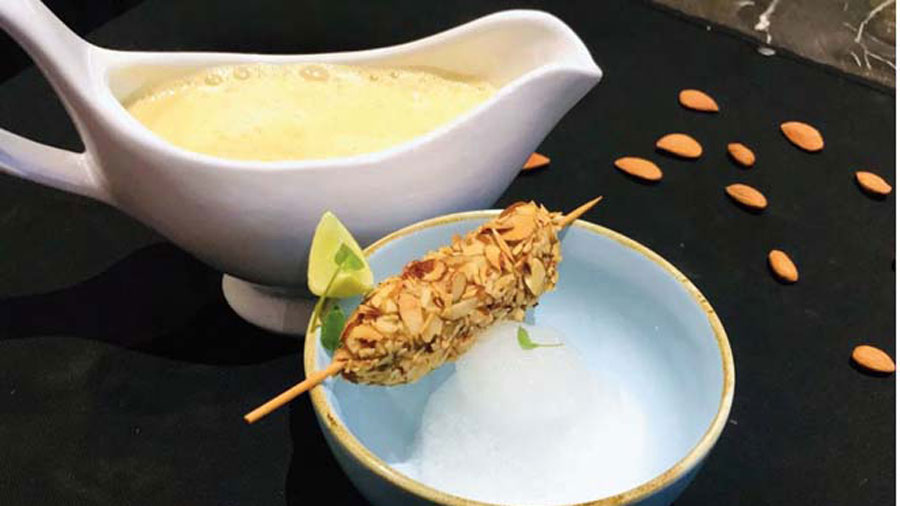 Chicken Almond Shorba
@ Farzi Café: The experimental dine den on Ho Chi Minh Sarani serves up a decadent chicken broth that has an almond-coated chicken nugget as well. A looker of a dish for sure. @Rs 425-plus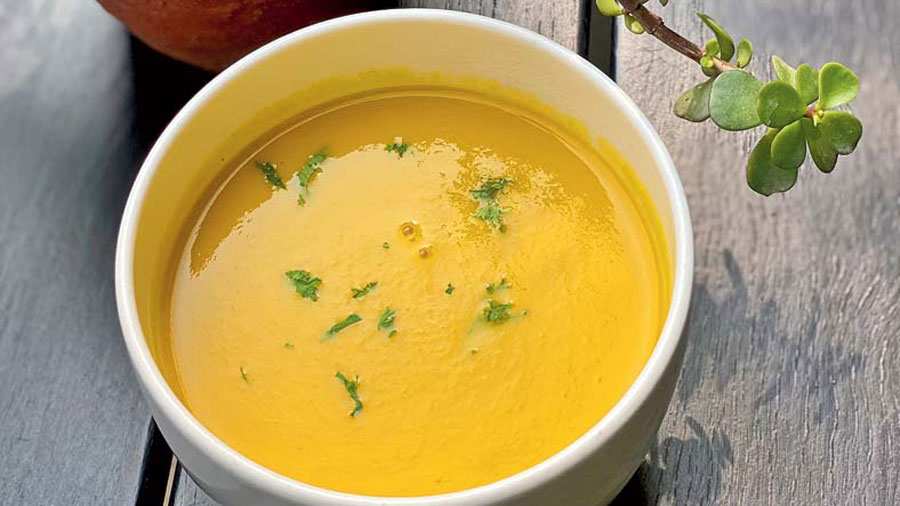 Carrot, Fennel & Orange Soup
@ The Salt House: This creamy yet healthy carrot, fennel and orange soup is the perfect amount of winter. Made with locally sourced fresh ingredients, it is light yet flavourful. The fennel adds a zest of freshness while the orange creates the perfect tangy balance at the Shakespeare Sarani dine den! @Rs 325-plus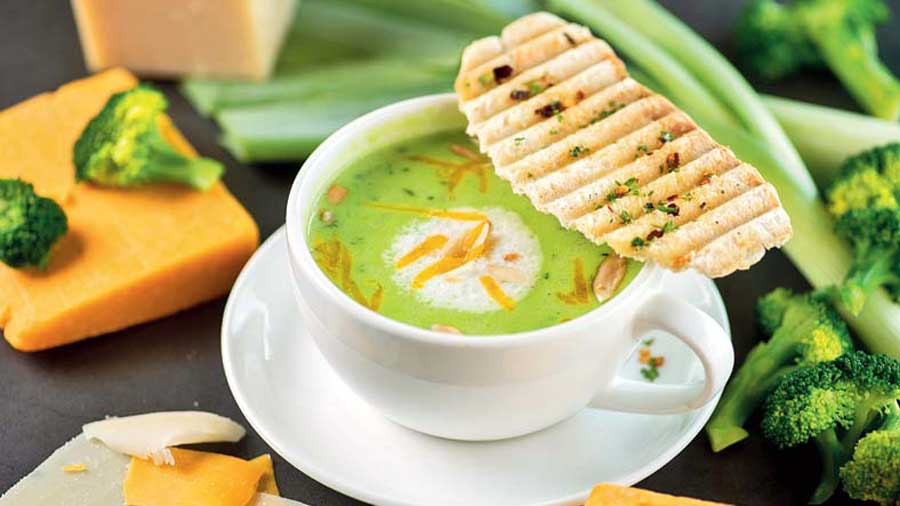 Broccoli, Cheddar Cheese and Almond Soup
@ Polo Floatel: Rich and creamy soup packed with broccoli and cheese and blended with blanched almonds, make a decadent bowl at this newly renovated floating hotel. @Rs 225-plus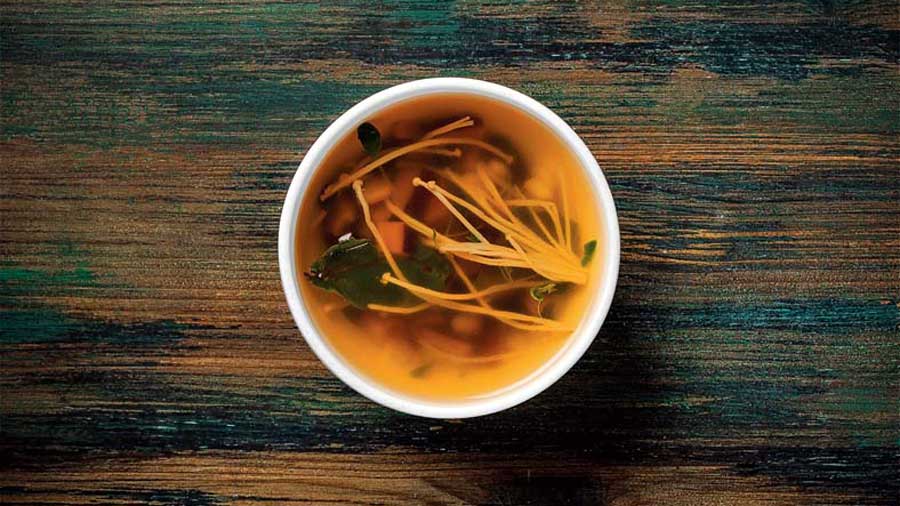 Taro and Moringa Soup
@ Burma Burma: This is a special at the Park Street Burmese dine den, and is a part of the cuisine of the Kyan tribe. It brings together the goodness of taro and moringa leaves, enhanced with black beans and corn. @Rs 330-plus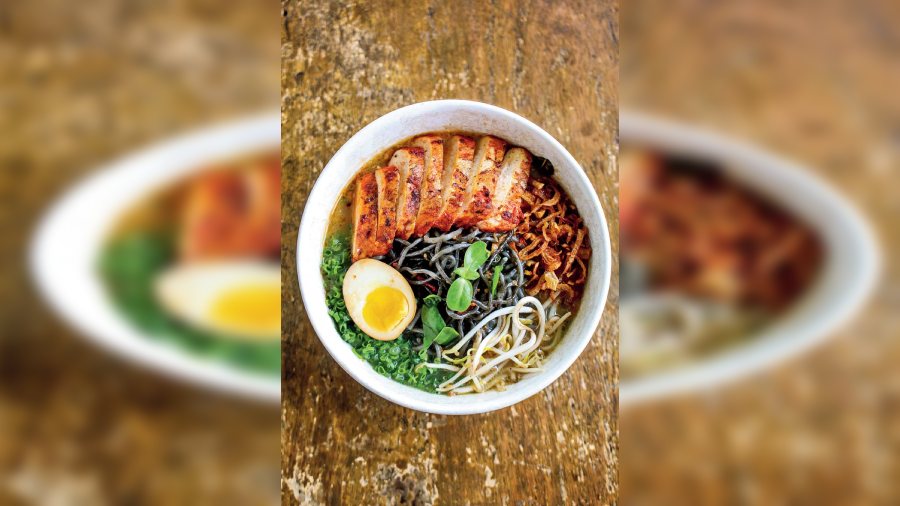 Fatty Pho
@ The Fatty Bao: Aromatic chicken broth with grilled chicken, ginger, fried onion and scallions, this stunner at the Camac Street eatery will take you straight to the street food stalls in South-East Asia. @Rs 455-plus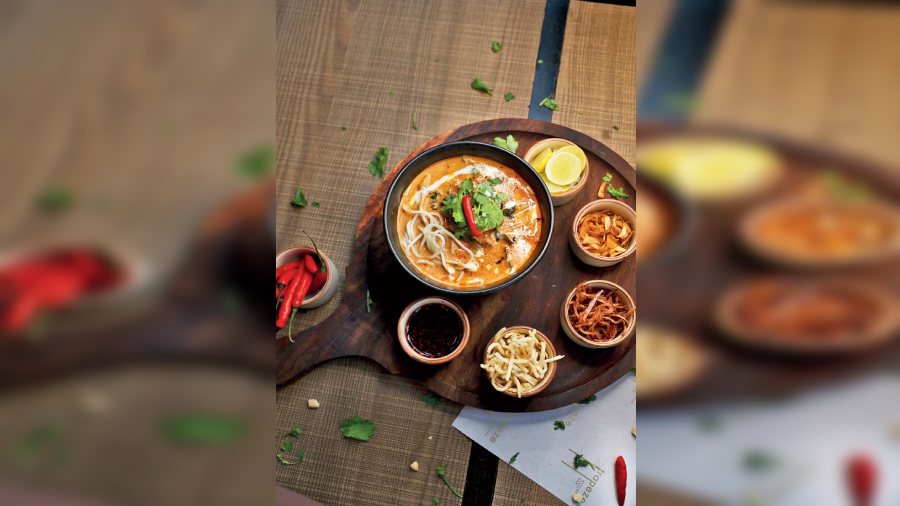 Khow Suey
@ Trapeze: This comforting broth-based dish is a people's fave. Coconut milk-based broth is served with fried noodles, crushed peanuts, fried onions, fried garlic, lemon wedges and boiled eggs along with chicken chunks. @Rs 495-plus.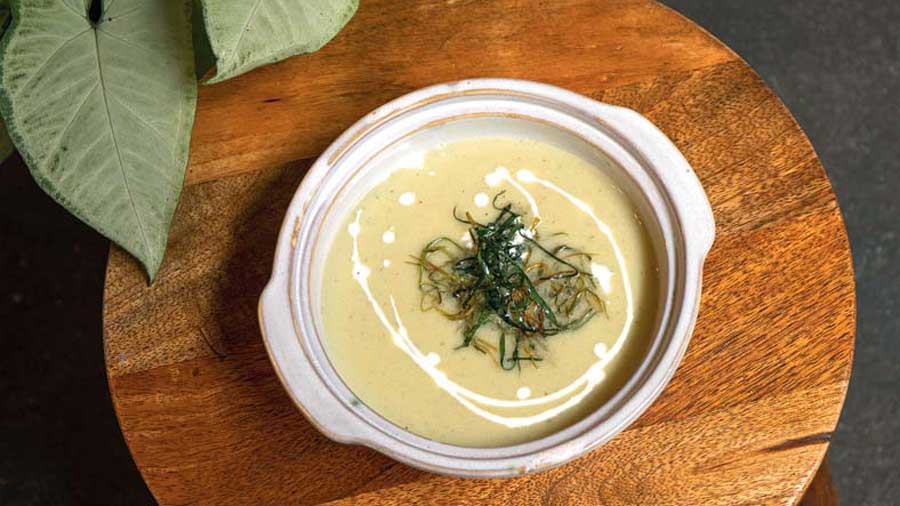 Potato and Leek Soup
@ Motherland Studios and Café: This is a part of the winter special at the Kyd Street cafe. A European cuisine-inspired soup with the humble potato and leek, this one feels like a warm hug. @Rs 400-plus