I was recently on a whirlwind book tour of Punjab, thanks to the Prabha Khaitan Foundation. What an eye opener! A land of plenty for some, and people with a generosity of spirit and a big heart. I approached this visit from totally the wrong way for logistical reasons — taking a flight to Chandigarh and then driving to Ludhiana, Jalandhar, back to Patiala and a long drive to Amritsar. What you should do is land in Chandigarh, then go to Patiala, Ludhiana, Jalandhar, Kapurthala and finally Amritsar… or the other way around depending on where you land.
I have to say the roads in Punjab are excellent and the dhabas clean, with respectful staff (to a single woman traveller) and, of course, the (tandoori) parathas, ghee, gud and achaar are of a very high quality everywhere you go. Dhabas now also sell strange luminescent birthday cakes (the price of modernisation) and if you're lucky, their own farm produce (ghee and gud).
When in Ludhiana…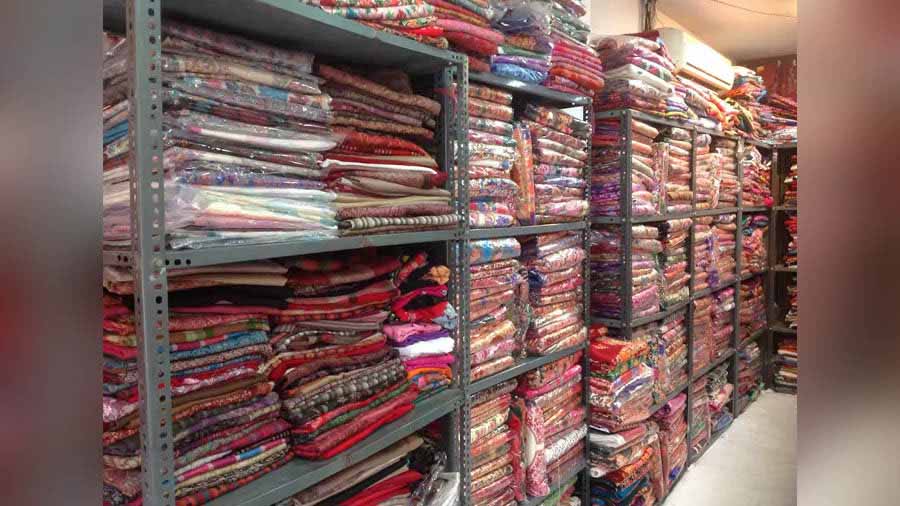 Aside from real pashmina, you'll find seconds and firsts, woollen, blends and weaves at the most incredible prices at many shawl factory outlets
Wikimedia Commons
My first stop was Ludhiana, the land of enormous homes and hosiery. I unfortunately didn't spend too much time there, but I was impressed by the beautiful women and their stunning jewellery. A little nugget to look out for is Deepika Kochhar's (costume) jewellery store, Anagha Arts & Jewels. If you get a chance to visit a shawl factory outlet, please go. I went to Sharman Shawls. Aside from real pashmina, which seems to be the same price wherever you go in India, you'll find seconds and firsts, woollen, blends and weaves at the most incredible prices and you don't have to buy dozens!
Food, spectacle, entertainment in Jalandhar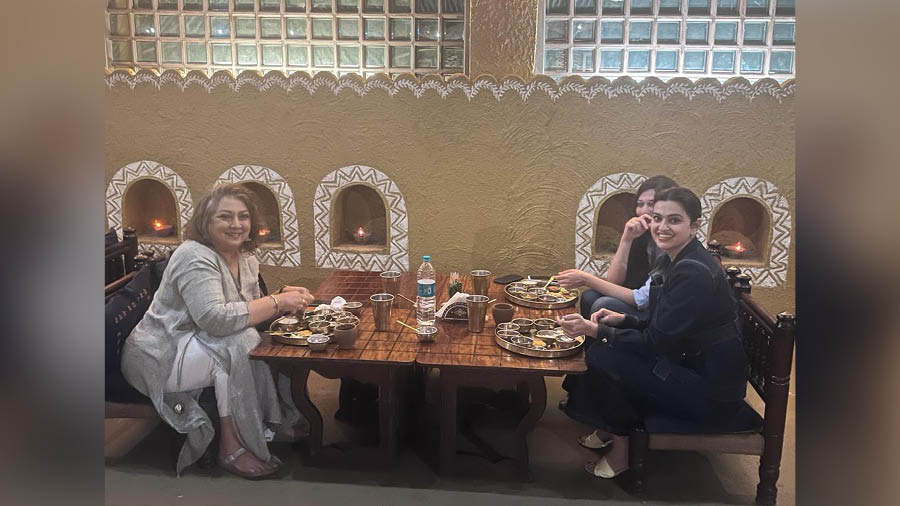 Rangla Punjab is packed with people and things to do for the whole family. And for around Rs 700, they throw in an unlimited vegetarian dinner
Karen Anand
After a whistle stop tour of Ludhiana and a very lovely book talk, I was thrust into the arms of Ruhi Walia Syal in Jalandhar. Ruhi, dressed in a jumpsuit and heels, looked like she had come off a Milan catwalk — svelte, elegant and a real beauty. Even more stunning is that she took me to the themed Punjabi village restaurant, Rangla Punjab, which, by the way, I thoroughly enjoyed. Next door is the famous Haveli, but Rangla Punjab is the real McCoy — spectacle, entertainment, astrologers, games, kulfi wallahs, chaat wallah — my goodness, it's packed with people and things to do for the whole family. And for around Rs 700, they throw in an unlimited, very decent vegetarian dinner too. The next day I explored 'Downtown' Jalandhar. Again, more massive houses, a quaint and compact shopping area and tons of eateries with strange names. Radisson Hotel in Jalandhar is a very good option if you need a hotel.
More to Patiala than the peg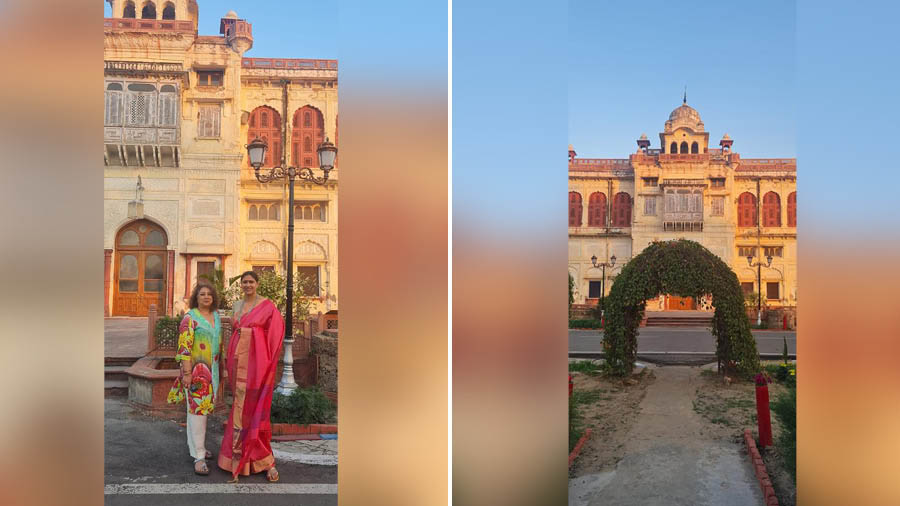 The author at Moti Bagh Palace, Patiala, with friend, guide and architect Praneet Bubber
Karen Anand
If you are interested in history and architecture, then Patiala, with its palaces, albeit a bit rundown, is quite the ticket. I especially loved the old Moti Bagh Palace (now the Netaji Subhas National Institute of Sports) with its almost temple-like façade; Sheesh Mahal and the Baradari Gardens with a smaller palace that's been converted into a heritage hotel by Neemrana Hotels. Don't expect the splendour of Rajasthan. The Patiala state saw more than 40 years of a ceaseless power struggle with the Afghan, Maratha and the Sikh empires, so it does lack the star quality of the Rajputs. The most colourful Maharaja was Bhupinder Singh, who was known for his extravagance. He is said to have consumed a 24-egg omelette for breakfast with four to five litres of milk. Then, for lunch, a soup made out of the stock of 25 snipes. Forty to 50 boneless quails formed his pre-dinner snack with his infamous Patiala Peg! He had one cook who specialised in making 140 different pulaos, another who perfected the art of creating 30 varieties of murgh musallam and yet another who was an expert at cooking potatoes in 40 different ways. He even had his own bakery and his most preferred aphrodisiac was the cerebellum of a male sparrow and julienne of carrot mixed with honey.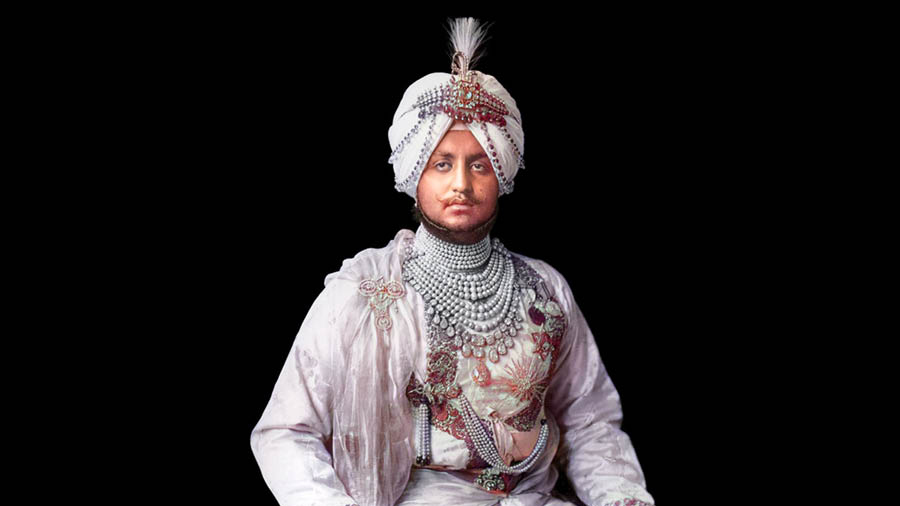 The famous measure, Patiala Peg, is believed to have been coined by Maharaja Bhupinder Singh of Patiala, who ruled the princely state from 1900 to 1938
Wikimedia Commons
And yes, of course, there is a story behind the Patiala Peg which is a euphemism for an extra large peg of whisky. The same Bhupinder Singh, an avid sportsman, invited the Irish team, 'Viceroy's Pride', to play a friendly match of tent-pegging. He worried that Team Patiala would not win and hosted a dinner the night before, where the bartenders were instructed to serve the Irish extra large pegs of whiskey. Obviously, the Irish team woke up groggy the next morning, couldn't concentrate on the game and Patiala won. Incensed, that the larger pegs of whiskey handed them the loss, the political agent of the Viceroy went up to the Maharaja to complain. The Maharaja replied with a smile, "Yes, in Patiala THE PEG is larger".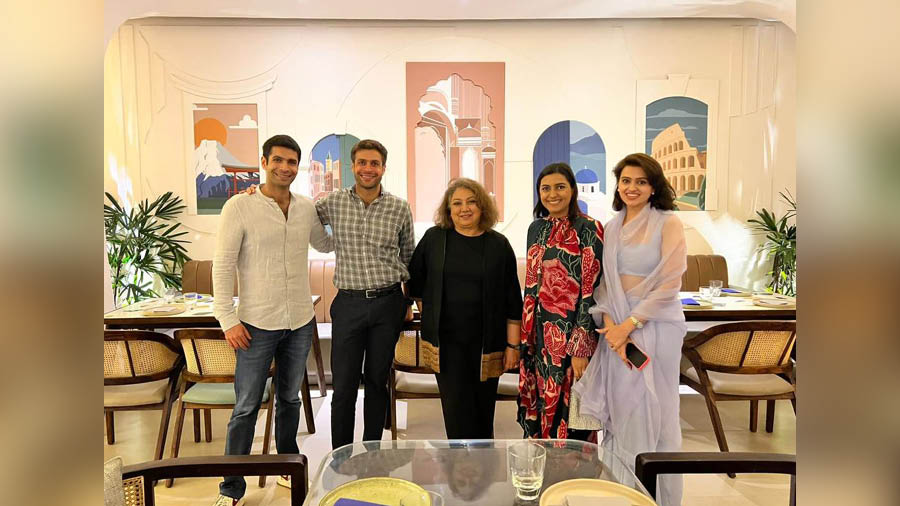 With the owners of Door No 3, a modern kitchen and bar in Patiala
Karen Anand
On the more contemporary side of Patiala, I discovered a fantastic restaurant for dinner one evening, Door No. 3, which serves everything from excellent dim sum to the best butter chicken platter with roti canai.
Kapurthala, or 'Paris of Punjab'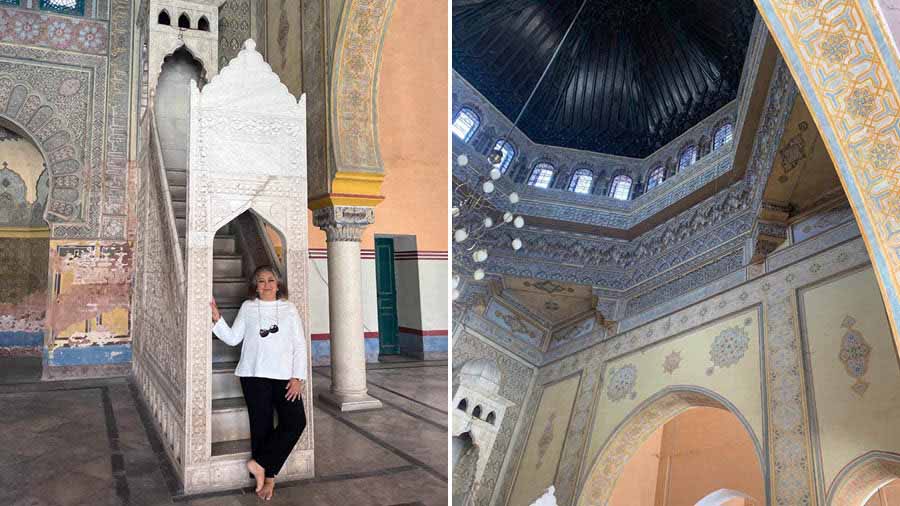 The author at the Moorish Mosque, a replica of the Grand Mosque of Marrakesh
Karen Anand
An off-the-track experience was Kapurthala, and a must-visit is the Moorish Mosque, a replica of the Grand Mosque of Marrakesh, Morocco. Unfortunately, the old palace is now a school and you need special permission to visit. But you can read and see some extraordinary photos in the book Timeless Trails by Seema Anand Chopra. Maharaja Jagatjit Singh Sahib Bahadur, the last ruler of Kapurthala before Independence, was a great enthusiast of French architecture, which is reflected in the palaces and various monuments of the city so much so that the city was known as 'Paris of Punjab'.
Amritsar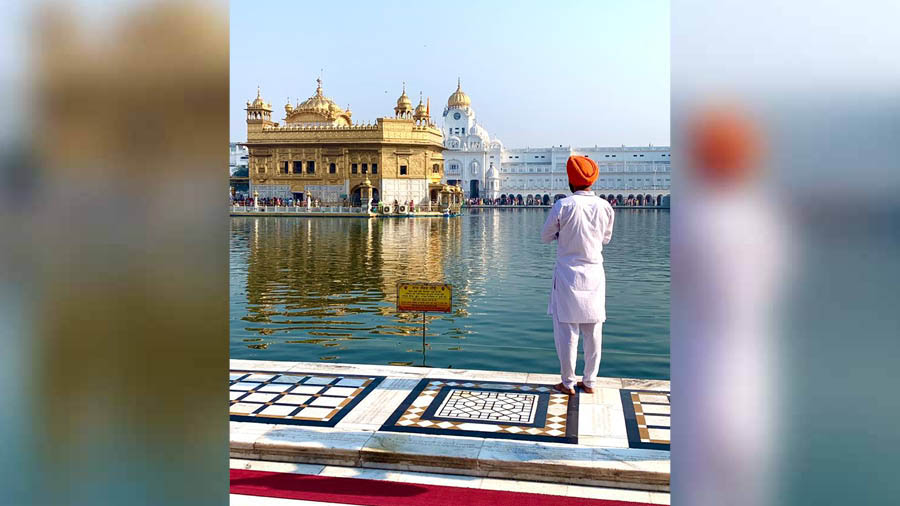 There's very little left to say about the Golden Temple
Karen Anand
Lastly to Amritsar, about which there is much written and much said and frankly there's nothing much more you can say after witnessing the langar at the Golden Temple. The whole experience was peaceful and serene. I found the Partition Museum disappointing. So much more could have been said and done, and the curation was underwhelming. Delhi does such a good job with all the museums and exhibitions. What went wrong here?
For those who enjoy food, especially meat, of course there is nowhere like Amritsar. The Amritsari fish, lightly spiced, with a dust of flour only (no thick gluey batter) was excellent at Makhan Fish, near the Taj Swarna (there are other branches). Their mutton tikka and tandoori chicken were the best.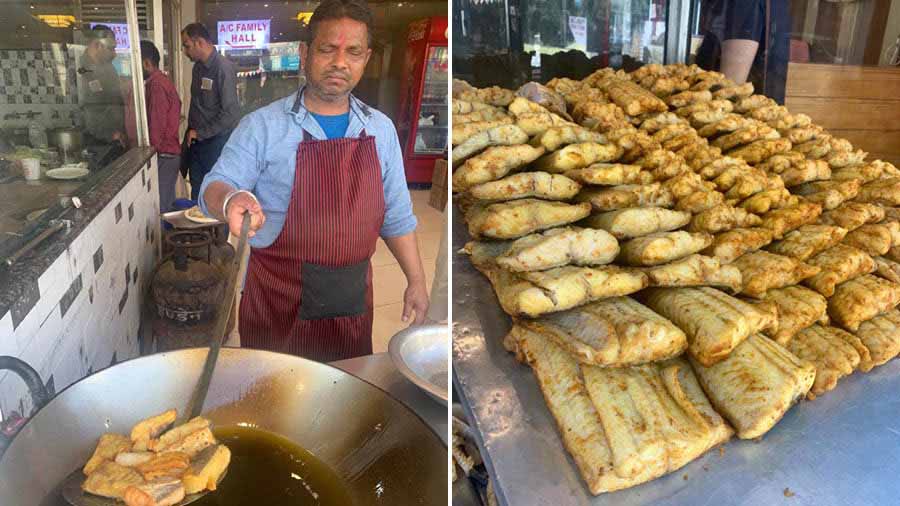 The Amritsari fish at Makhan Fish
Karen Anand
Other food landmarks in the city are poori/launji at KH, next to Mathura Chat on Lawrence Road; stuffed kulcha at Ashoka on Ranjit Ave and mutton tikka, champ and brain at Mohan Singh's in the old city if that's your thing. Kobe Sizzlers Amritsar is great for mutton rarah, sharabi chicken seekh and daal. Shopping is pretty tremendous too… Raunak Shoe House for local and Pakistani jootis, aam papad from Ram Lubhaya. Vadian from the shop next door to Puni Lal Paan and Aam Papad Shop, Punjabi clothes from Singh Saree House (Katra Jaimal Singh is a shopping area with many shops for phulkaris and dupattas).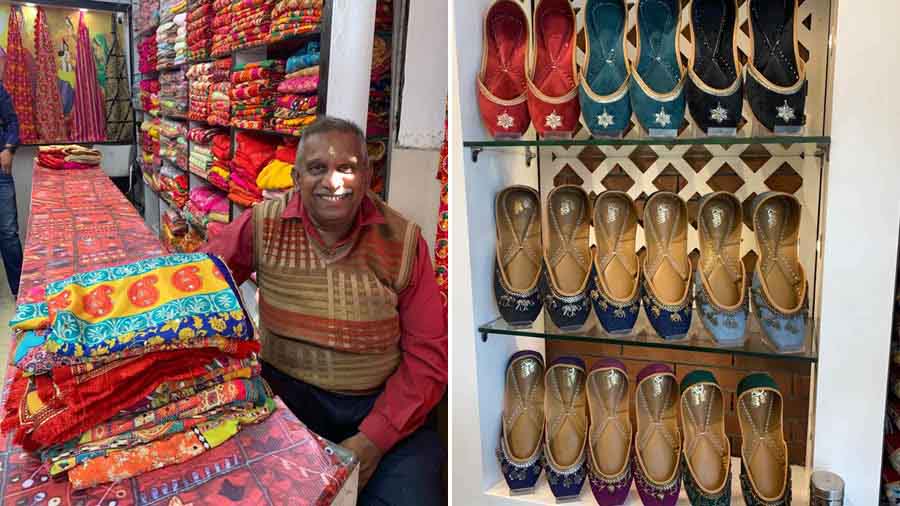 Katra Jaimal Singh is an area with many shops for phulkaris and dupattas; (right) Raunak Shoe House sells local and Pakistani jootis
Karen Anand
It was heaven to come back to a lovely luxury hotel after a day of heavy sightseeing. The Taj Swarna in Amritsar was an unexpected haven.
Karen Anand is a food and travel writer, author, food consultant and founder of Markets by Karen Anand, a curated gourmet lifestyle market that takes place across India.