Situated on the Hubli-Hospet highway (NH -63) in Karnataka at a distance of 12 km southeast from the railhead of Gadag town, Lakkundi is a quiet hamlet which surprises the tourists as they take a look at its astounding temples made of soapstone. Lakkundi is located around 100 km west of the popular tourist destination of Hampi.
The Archeological Survey of India has done significant work in conserving the temples of Lakkundi along with setting up a sculpture gallery. There are as many as 20 exquisite temples and many stepwells and a huge number of inscriptions.
Ancient history of Lakkundi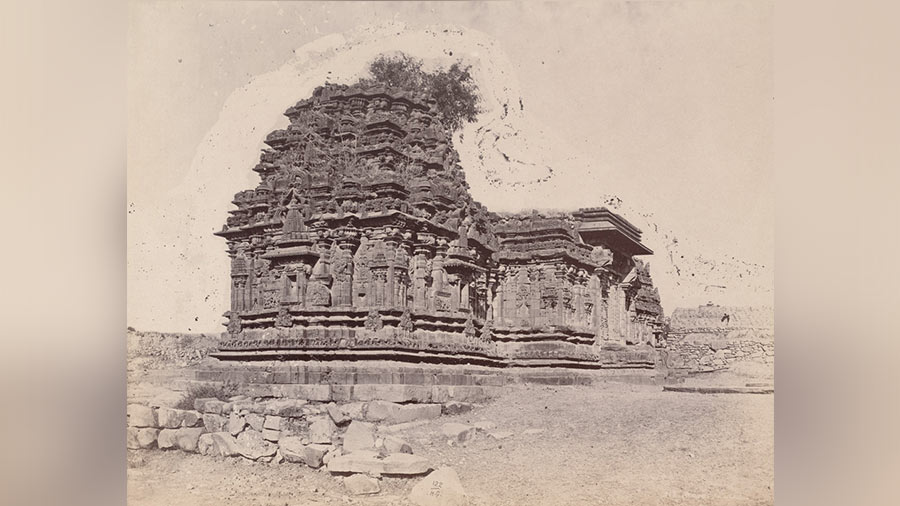 Kashivisveswara Temple: Photograph taken in 1885 by Henry Cousens
British Library online archives
Lakkundi was earlier known as Lokkigundi or Lokkugundi as described in several inscriptions found at this place. The earliest inscriptions found here are from the period of Kalyani Chalukya or Western Chalukyas, who rose to power around 973 AD and ruled over Karnataka and parts of Maharashtra and Andhra Pradesh. Their capital was Kalyani (present day Basavakalyan). The rise of the Kalyani Chalukya began subsequently after the decline of the Rashtrakuta Empire. The decline began from the reign of Khottiga or Amoghavarsha IV in 972 CE. Much Later, the Hoysala King Veera Ballala II took control over the area in 1191 AD and made Lakkundi his capital.
From the several inscriptions found at Lakkundi, it is understood that during the rule of Kalyani Chalukyas, there was a royal mint at Lakkundi. The temples and inscriptions date from the period of Western Chalukyas, Kalachuris (12th century), Sevunas and the Hoysalas.
Temple art of Lakkundi
The temple art of Lakkundi reached its zenith during the 11th and 12th centuries. The major raw materials, which have been used to construct these temples are greenish blue chloritic schist (soapstone). Lakkundi is considered as one of the important sites to understand Vesara style of architecture — a combination of Nagara Style and Dravidian style of architecture.
In the earlier stage of Vesara architecture, the temple vimana or tower above the sanctum was a Dravidian style tower with a Sukanasi. Sukanasi is an external ornamented feature over the entrance to the garbhagriha or inner shrine. There is abundant presence of Kirtimukha sculptures in a wide variety of styles on the Vimana and walls of the temples.
Highlights of Lakkundi
It is not possible to discuss all temples of Lakkundi here, so I will restrict myself to only a few significant ones.
A small museum maintained by Archeological Survey of India
Over 250 antiquities, comprising epigraphs and carved architectural sculptures representing different art styles of Karnataka, have been stored here. Select ones have been displayed here in three galleries.
(Entry fee Rs 25. Photography prohibited inside)
Brahma Jinalaya Temple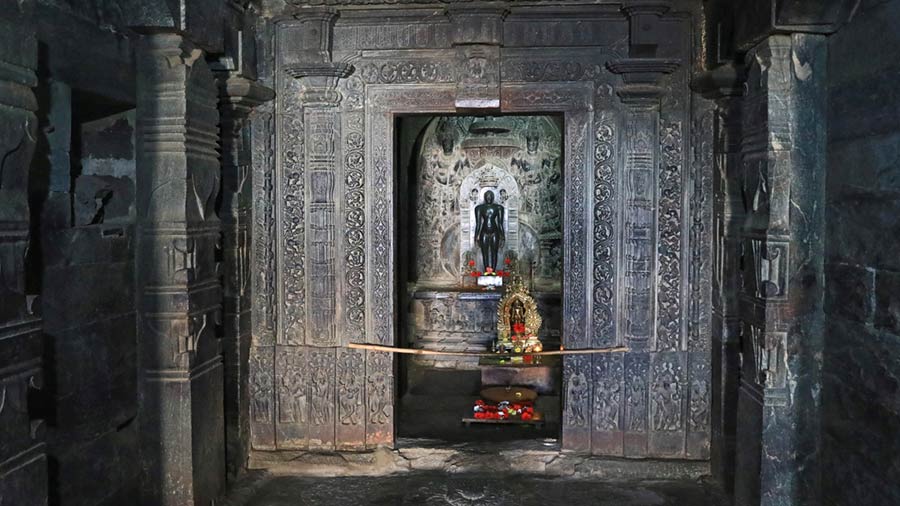 Jain deity of Neminatha in 'kayotsarga' posture inside 'garbha griha' of Brahma Jinalaya Temple
The oldest temple of Lakkundi (1007 AD ) has a garbhagriha (sanctum), an antarala (antechamber) and a closed navaranga manadapa (hall), and an open pillared Mukha mandapam with a sloped roof. Over the garbhagriha is raised a two-tiered Dravida vimana with a Sukanasi. There are several Kirtimukha motifs and numerous plaques of Gargoyles. The bell-shaped pillars of the temples are amazing as their horizontals are extremely polished. The deity in the sanctum of the temple is a black stone-built Jain deity of Neminatha in kayotsarga posture having a yaksha and yakshi on either side.
Nanneshwara Temple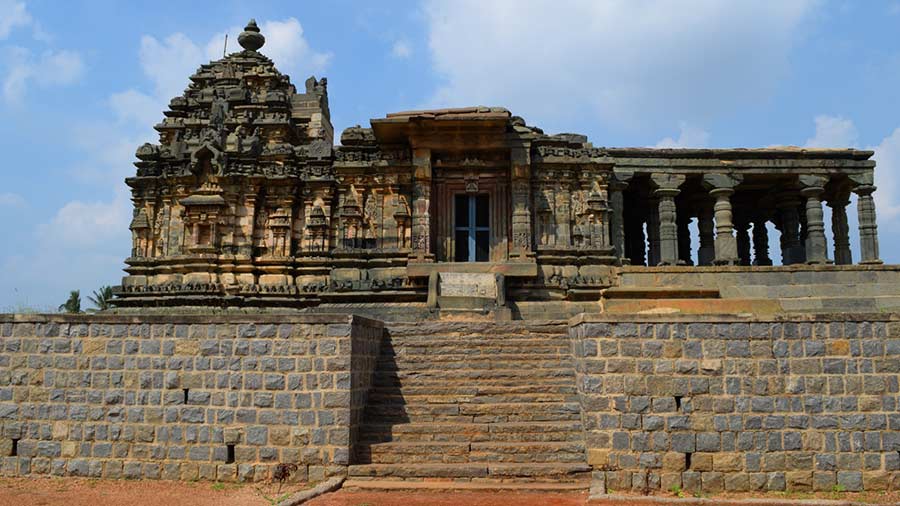 Nanneswara temple, Lakkundi
The temple stands on a Jagati or a raised platform. The temple structure of this is more or less similar to that of Brahma Jinalaya temple. Eastern side has decorated door jambs. The exterior wall of the temple is decorated with pilasters and Devakosthas. Devakosthas looks like small temples. Above one of them is a huge kirtimukh motif.
Kashivisveswara Temple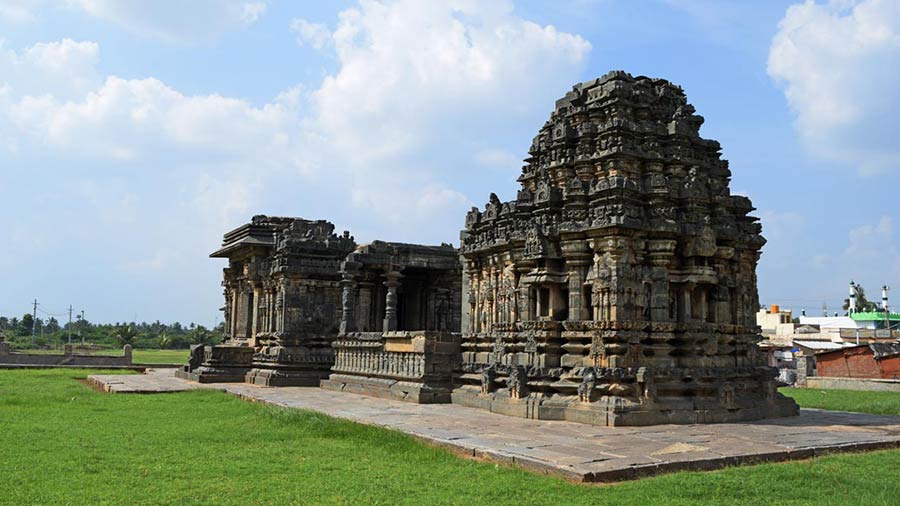 Kashi Visveswara and Sun Temple, Lakkundi
This is actually a double shrine temple (dvikuta) facing each other standing on a jagati. The shrine facing the east is dedicated to Kasivisvesvara and houses a three-feet Shiva lingam. The other shrine, which faces the main shrine is dedicated to the Sun god Surya and is called Suryanarayana Temple.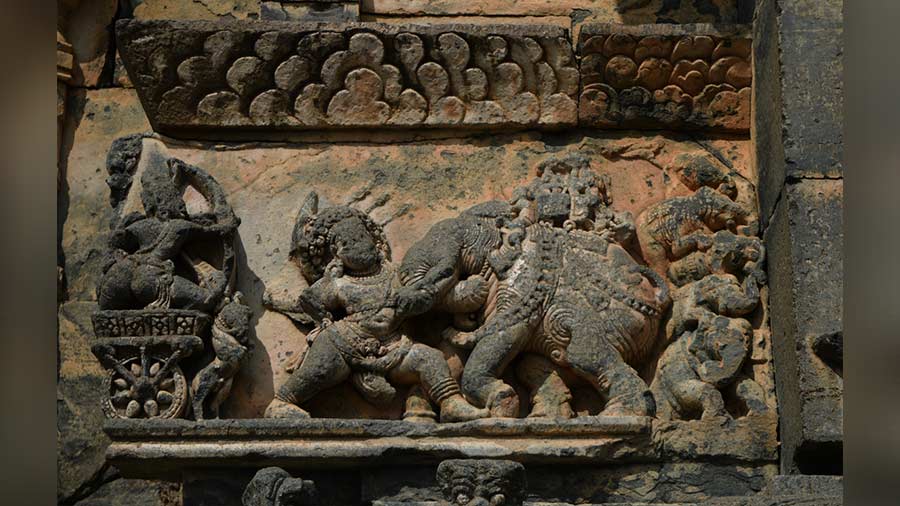 Bhim and Arjun fighting with Bhagadatta, Kashi Visveswara temple, Lakkundi
On one of the walls of Kashivisveswara, there is a series of three Kirtimukhs above a Devakostha. The external walls have an extremely interesting set of plaques. Out of them one can easily identify Shiva slaying Gajasura, Ravana battling with Indra, Bhim and Arjun fighting with Bhagadatta on elephant and Ravana lifting Mount Kailash. The bell shaped pillars are present here too.
Naganatha Temple
This structure was originally a Jain temple, but later converted into a Hindu shrine. Though it is known as Naganatha temple, experts say that it was dedicated to Parshvanath Tirthankar. The sanctum houses a pedestal depicting seven hoods of a snake flanked by two chauri bearers. A Shiva lingam is present as the deity. Like most other temples of Lakkundi, the exterior of Naganatha temple is decorated with pilasters and Devakosthas.
Manikeshwara Temple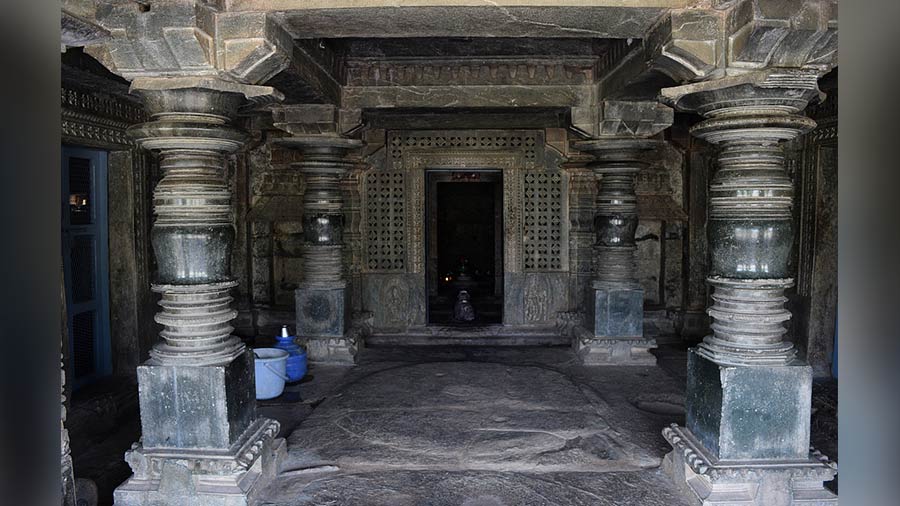 Common central hall with three shrines' entrance, Manikeshwara Temple, Lakkundi. Note the bell shaped pillars.
This is a Trikutachala styled temple assigned to the period of 12th century AD. The temple has three shrines positioned perpendicular to the next facing a common central hall. The bell-shaped pillars are present here too. There is jaali work (perforated stone work with ornamental pattern) on the wall on both sides of the door. The 11th century built Kumbareshwara Temple is of same style.
Muskukina Bavi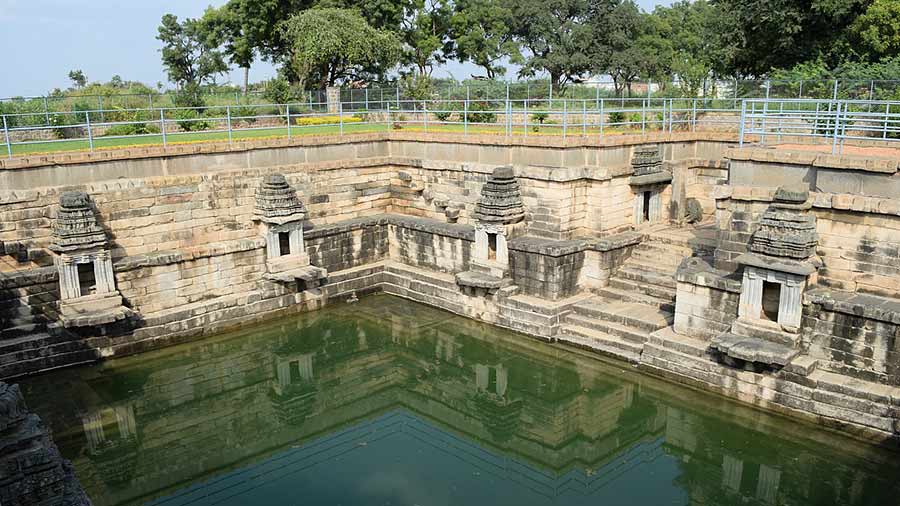 Muskukina Bavi, a stepwell built in 11th century
It is one of the numerous step wells at Lakkundi, which is located adjacent to the Manikeshwara Temple. Built in the 11th century, the step well has a flight of steps leading to the water on the southern, eastern and western sides.
Other significant temples of Lakkundi include Virupaksha and Mallikarjuna Temples.
When Scottish archaeologist and photographer Henry Cousens visited these temples in 1885, he had found them deserted and in disuse and the interior "in a filthy condition and deep in bat's dung".
Since then, over a period of time, the situation has changed for good after the Archeological Survey of India took over the maintenance of the prominent temples of Lakkundi.