Two men have been lying in eternal rest next to each other in similar graves for over four centuries, and it is hard to believe that they died fighting each other in a deadly ambush. One of these men is the first husband of Mehr-un-Nissa, who later married the Mughal emperor Jahangir. History remembers her as Nur Jahan and she took control over the mighty Mughal Empire. Today, she lies in eternal rest next to her more famed second husband in far away Lahore, while her first husband lies in rest just 100km from Kolkata, in the town of Bardhaman (also Burdwan).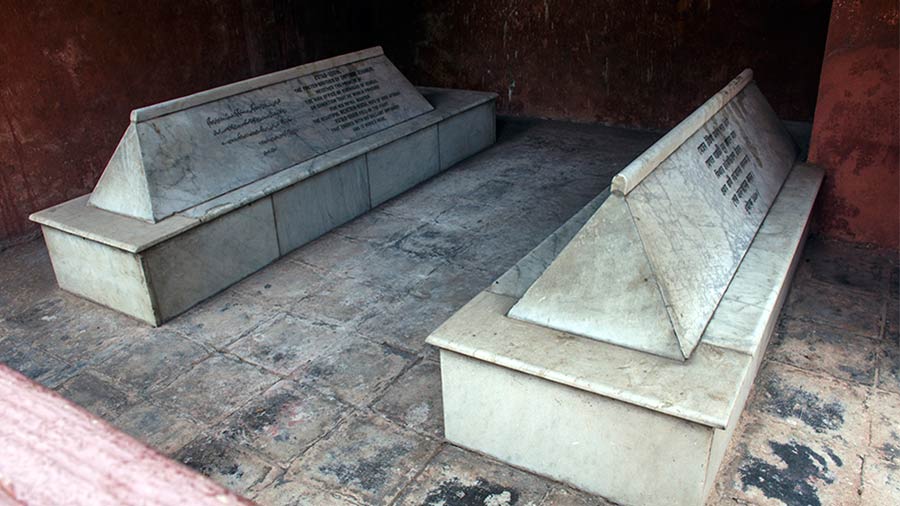 Graves of Sher Afghan and Qutubuddin Khan Koka
According to historical records, Sher Afghan Khan was a Mughal courtier, who later became the Jagirdar of Bardhaman under Akbar and later Jahangir. In 1594, Sher Afghan married a beautiful 17-year-old girl named Mehr-un-Nissa. In 1607, Sher Afghan was charged with supporting the Afghans. To control the situation Jhangir sent Qutubuddin Khan Koka as the subedar (Governor) of Bengal. Other sources say that Jahangir fell in love with Sher Afghan's beautiful wife Mehr-un-Nissa and sent Qutubuddin Khan to capture him. 
Qutubuddin Koka ordered his soldiers to arrest Sher Afghan, but he wounded Qutubuddin Khan fatally, In response, the soldiers killed Sher Afghan instantly. Qutubuddin Khan died soon after.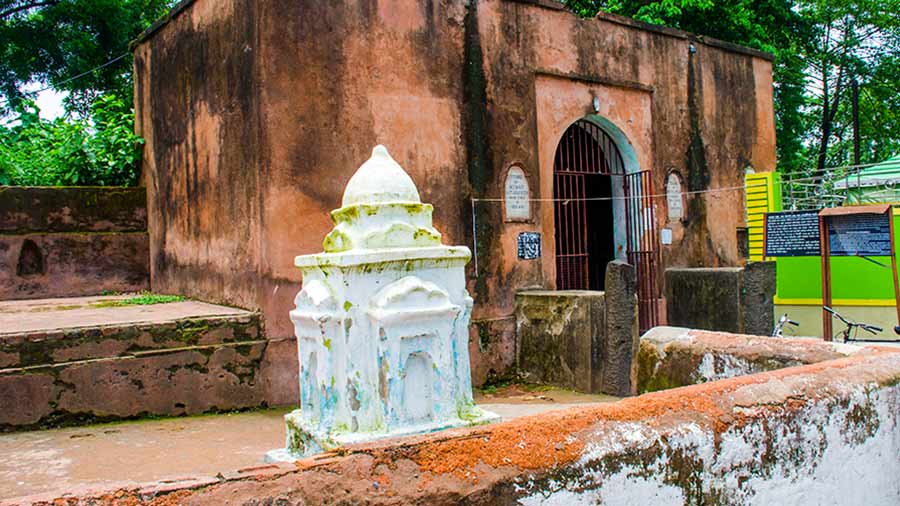 Entry to the tomb complex
In 1610, both the mortal remains were transferred to their present location of the tomb complex of Pir Baharam. Pir Baharam was a Sufi saint of Turkish origin. He visited India during the reign of the second Mughal Emperor Humayun. He first settled in Delhi and then moved to Agra. He served water to thirsty travellers and came to be known as saka, Persian for water distributor. Later, he decided to move to Lanka (now Sri Lanka) and died on the way to Bardhaman in 1563.
Today the tomb of Sher Afghan and Qutubuddin Khan Koka lie deep inside the labyrinths of Burdwan town. An ASI-protected site, it is approached through a gateway with the names of Sher Afghan and Qutubuddin on separate marble plaques. First on the left is the tomb of the two fallen soldiers. The structure is topped with four urns at the four corners and the front has a twin arch opening leading to the two graves. The marble graves have inscriptions in English, Bengali and Urdu.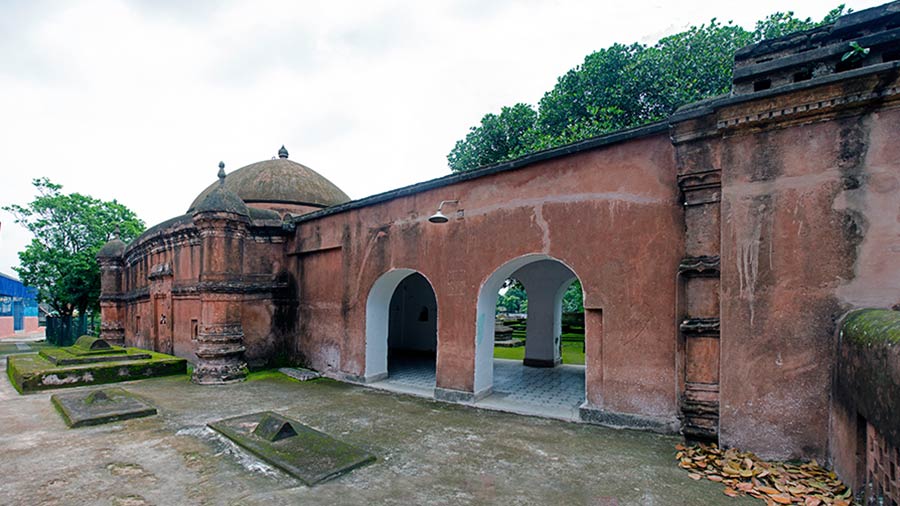 Tomb of Pir Baharam
Next to the tomb lies the massive tomb of Pir Baharam. The square tomb with octagonal minarets is topped with a single tomb. The outer wall also has terracotta ornamentation of floral and geometric motifs, but sadly, only traces of it remain today.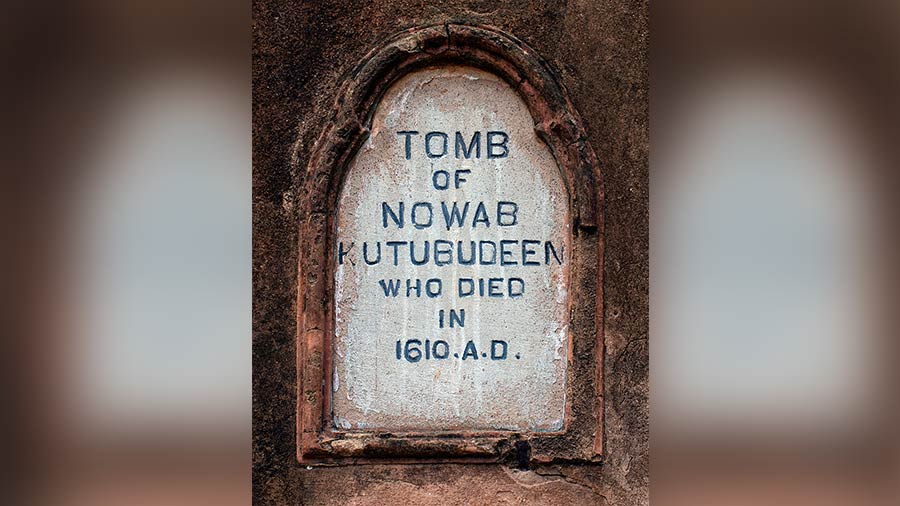 Marble plaque at the entrance
Unlike the grave of Sher Afghan and Qutubuddin Koka, which are open and accessible, the grave of Pir Baharan is kept under lock and key and is covered with coloured ceremonial sheets.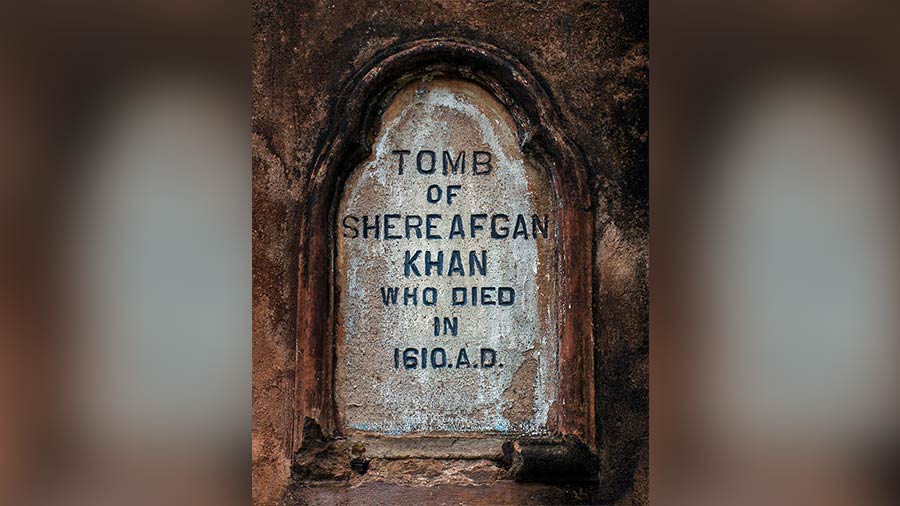 Another marble plaque at the entrance
The entire complex has several new structures including connecting causeways, several other buildings and numerous scattered graves. It is an active religious site and even contains a newly built mosque. Dozens of people visit the place not only for namaz, but also for seeking blessing from the Pir, who once distributed water to thirsty travellers.