From tiny chhatris on traffic islands to massive forts covering large sections of the undulating Delhi Ridge, Delhi has its share of amazing monuments.
Probably the most massive of the Delhi monuments is the Tughlaqabad Fort, spread across the southern section of the Delhi Ridge. Famous author and historian William Dalrymple mentions in his book, City of Djjins: "Tughlakabad is the most uncompromisingly militaristic ruin in Delhi, perhaps in all India. Ring after ring of rough – hewn stone walls thunder their way across the open plain on the deserted south – eastern edge of the city."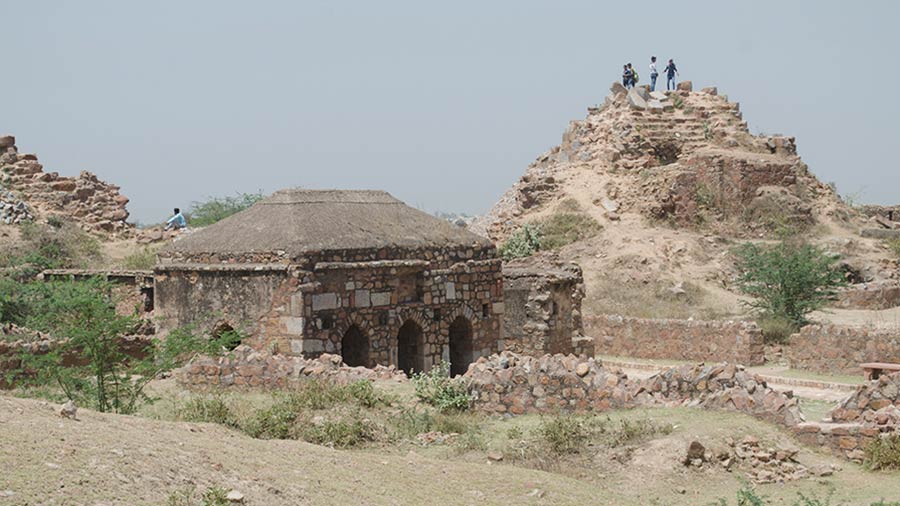 Tughlaqabad Fort
The fort was built by Ghiyas-ud-din Tughlaq, the founder of the Tughlaq dynasty (reign: 1321 -25). Sadly, the massive fort was abandoned soon after his death because of acute water shortage. According to a legend, it was because of a curse of the famous Sufi Saint Hazarat Nizamuddin. The legend narrates that Ghiyas-ud Din and the Nizamuddin had a conflict during the construction of the fort and the Sufi saint cursed the sultan by saying "Ya rahe usar, ya base Gujjar" (Either it remains barren or be inhabited by nomads). Miraculously the curse came true.
Today, the massive ruins of Tughlaqabad will attract the attention of anyone travelling from Mehruli to Badarpur. Located on the northern side of the road, the citadel is spread across the southern section of the Delhi Ridge and is complete with massive walls topped with battlement along with towering bastions.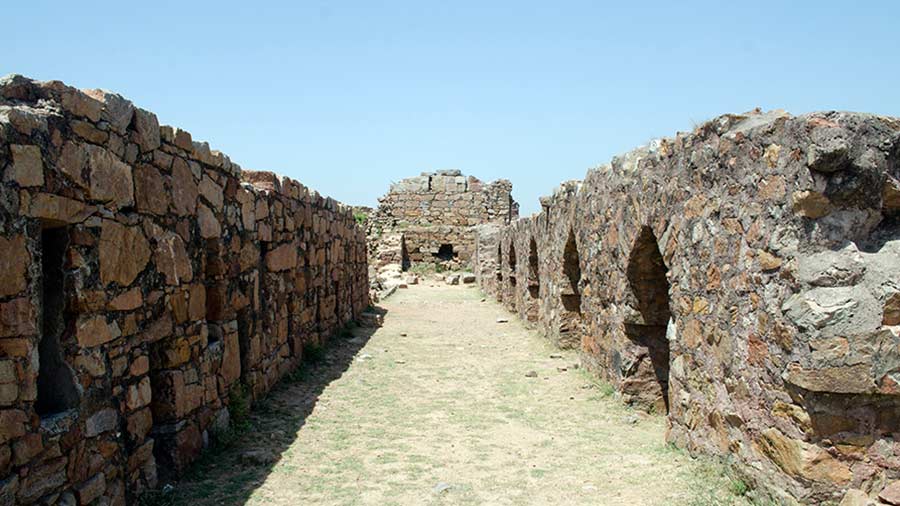 The walls of the fort
About 13 of the 52 gates still exist and entrance is through one of these remaining gateways through a causeway. The cause connects the Tughlaqabad Fort with the fortified complex of the Mausoleum of Ghiyas-ud-din Tughluq. Sadly a portion of the causeway has been demolished for the construction of the Mehrauli-Badarpur Road.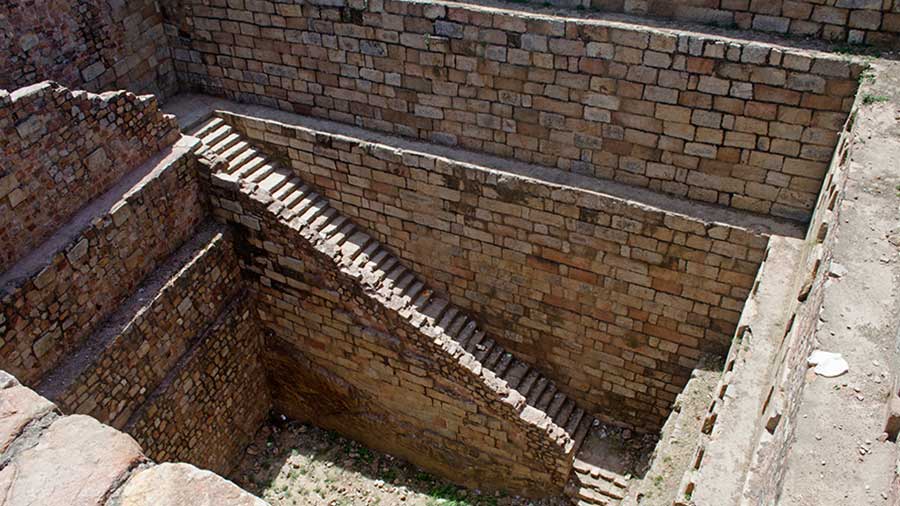 The stepwell inside the fort
Large parts of the fort are covered with thick vegetation making it totally inaccessible. The accessible part is divided into three parts — the palace, living quarters and the citadel — with massive bastions and walls. Security guards double up as guides helping people through the scattered rubble of the fort. The palace complex is located on the western side and contains a large baoli (stepwell). The living quarters in the north is in a totally run down state and a large part of it is totally inaccessible. But the star attraction is the citadel with its towering bastions, massive walls and covered passageways. A small mosque and audience hall are also part of this region.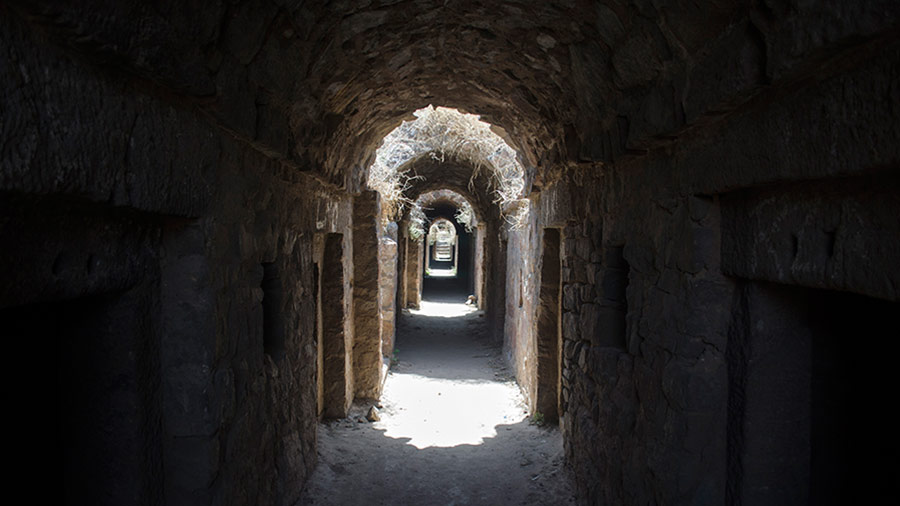 The covered passageways
Things to remember:
Tughlaqabad on the violet line is the nearest metro. Autos and buses are available from the metro station
Entry fee is ₹20 for Indians and ₹250 for foreigners and also includes entry to the mausoleum of Ghiyas-ud-din Tughluq