"I kept hearing people say 'Oh Trincas — the jazz club' and that served as inspiration for me to turn Trincas into a jazz club on the weekends," said Anand Puri, third-generation owner of the heritage restaurant on Park Street. Trincas' weekend jazz lunches marked one year on August 28 and My Kolkata was a part of the celebration.
The festive afternoon panned out in a manner similar to a jazz tune — slow at the start, peppy in the middle and dynamic at the end. The band that makes a table at Trincas a hot ticket in town each weekend afternoon is The Willie Walters' Jazz Quartet, which comprises William (Willie) Walters on bass, Soumajit Sarkar on keys, Aneesha Seth on vocals and Arya Mukherjee on drums. "The past year has been incredible! It's a great band with great energy on stage. We've been packed every weekend and we have many regulars who love listening to the music we play," said Willie.
The quartet played classic tunes — taking listeners to an era that's long gone but never forgotten, with Count Basie's Fly Me To The Moon, Peggy Lee's Fever and Louis Armstrong's Blue Moon. "Pop-Jazz seems to have hit the right spot between popular music and jazz — it's the perfect introduction to new listeners and also a wonderful experience for aficionados," said Sunny Puri, second-generation owner and senior partner at Trincas. 
When it comes to jazz, one song can be played in many ways and yet, the soul of the song remains intact. The quartet played 'chopstick jazz renditions', which went hand-in-hand with The Ming Room's revamped menu. "Even though the band is playing jazz standards, which are cult classics, they have oriental sounds to them, which are in line with our new Chinese menu," said Anand.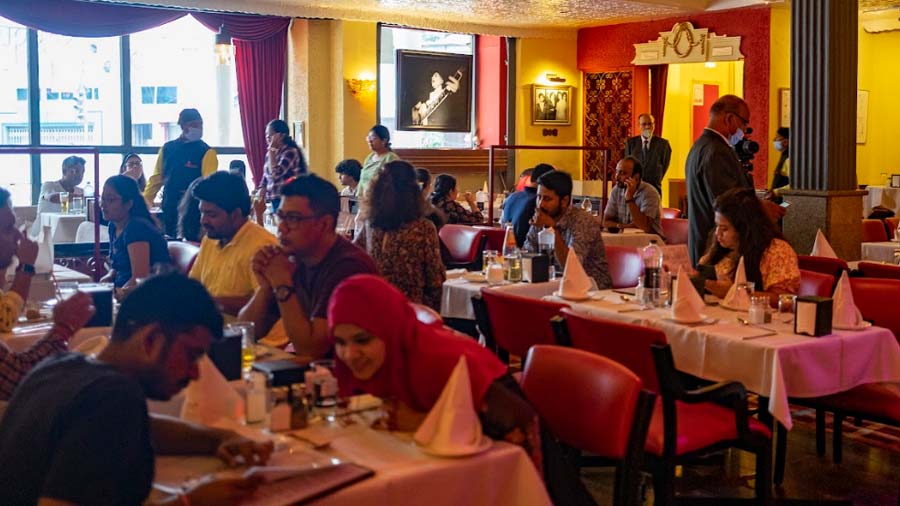 The ambience at Trincas' jazz afternoons
Ritagnik Bhattacharya
The revamped menu on offer saw a number of stir-fries that are a tad bit (only a tad bit!) healthier than The Ming Room's traditional menu. "It's a more versatile menu. We've got a lot of stir fries, which are high in protein and cooked in less oil, so it's a little healthier," said Anand. The Kung Pao Chicken, done with Sichuan peppercorns, green chillies, spring onions and peanuts, and a butter pepper garlic stir fry have been popular picks at the jazzy afternoons.
A number of instrumentals punctuated the afternoon. Arya picked up the tempo with an improvised drum solo, Soumajit held steady on the ivories and Willie remained the epitome of finesse on the bass. "We never have a plan when we go into these lunches," said Arya. "It's always been a jam session for us! We just go in and do our own thing. We have great chemistry as a band, so we're always in sync and the afternoons are always a hit," he smiled. A few of the quartet's favourite tunes include Ain't No Sunshine, Summertime, Autumn Leaves, What A Wonderful World, Crazy and All Of Me.
"Overall, our jazz afternoons are a feeling — same as Trincas," signed off Anand.
Trincas' jazz lunches are on every Saturday and Sunday from 1pm to 3pm.