In the '70s, the good old muri-chanachur or the tele-makha muri with peyaji or alur chop was high on the menu for an average Bengali as snack items. Singara was also on the hit list while maachher chop (fish chop) or the egg chop/egg devil were a notch higher than these food items.
By the early '80s, Tibetan momos received hesitant acceptance among a select few. However, by the mid and late eighties, momos had made a quiet entry and was catching up.  
By the Nineties, the script was completely different. Momos, by then, had created a niche and had a steady and ever-growing fan base.
The rest is history.
Amid the big boom in the food industry and with the advent of glitzy and swanky restaurants and eateries at every nook and corner of the city, the Suburban Hospital Road, along the Sambhunath Pandit Hospital, better known as 'Momo Gully', can be considered the crib of the Tibetan delicacy in the city.
It was the endeavour of an elderly Tibetan couple, better known by their surname… the "Sandans" who lived in house number 2A on the Suburban Hospital Road. They were fondly referred to as "momo wale Boju and Baje".
The couple had migrated from Tibet and lived for almost two decades in Kalimpong before taking up this house. While Boju worked with a multinational as a driver, his wife cooked and served the most delectable Tibetan food items. 
They offered momos and thukpas made of pork.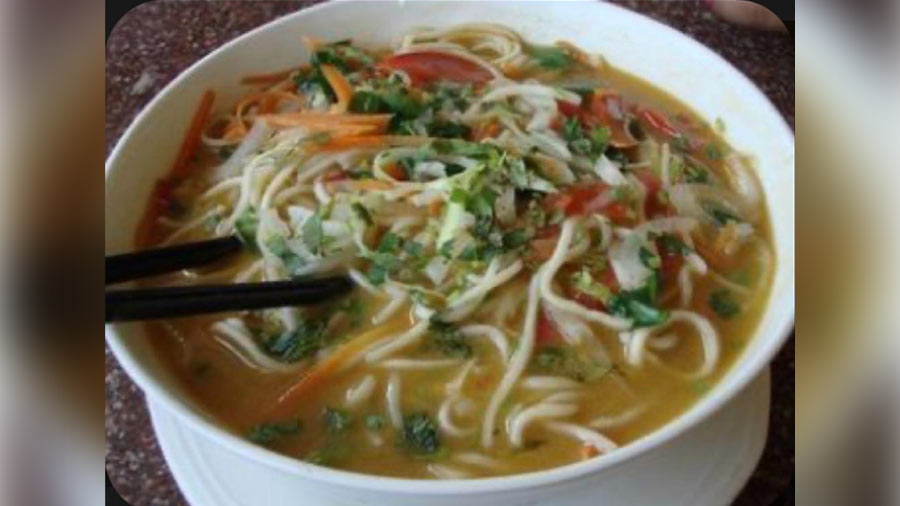 Thukpa, one of the Tibetan delicacies that has won the hearts of countless Kolkatans
All images by Saurav Roy
Not many takers
The "Sandans" could not make it big and their stuff had few takers, mainly restricted among their neighbours. It took some time for the food-loving Kolkatans to discover that the succulent bite-size dumplings stuffed with meat was not only a good snack but was easy to digest and affordable.
In due course, four restaurants — Hamro Momo, Tibetan Delights, Momo Plaza and Orchid — came up on the Suburban Hospital Road stretch.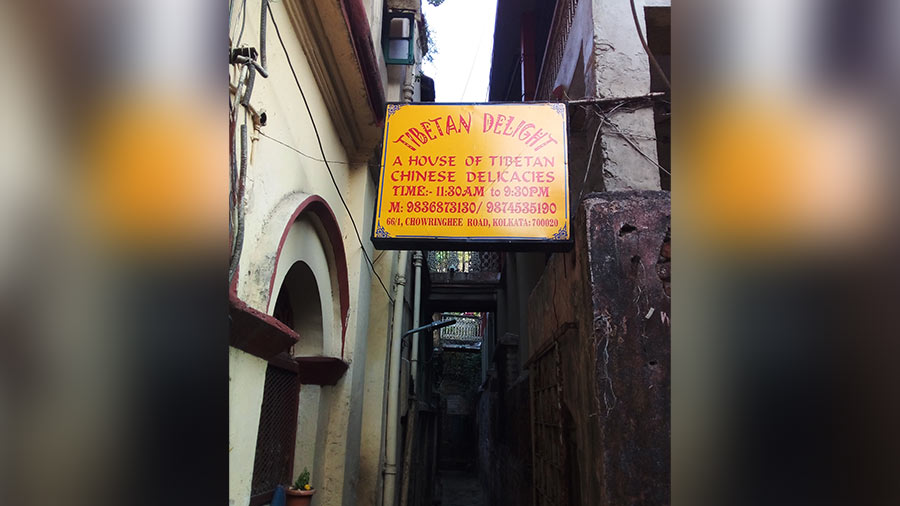 The narrow passageway that leads to Tibetan Delight
Though Hamro Momo was actually initiated in 1985, it later had a proper place in 1990 in the same locality. Tibetan Delight began soon after and Momo Plaza was launched in 1992 and Orchid followed soon after.
How the journey began
Sharing his narrative, Dinesh Singh, the current proprietor of Hamro Momo told My Kolkata, "Hamro Momo was the first eatery to serve momos professionally in Kolkata."
"Baje passed away in 1985 and for Boju, it soon became an uphill task to continue with the business. At this juncture, my mother Mithu Singh offered help. Soon, my mother, who had picked up the skills of making momo, sought Boju's blessings and began her own unit."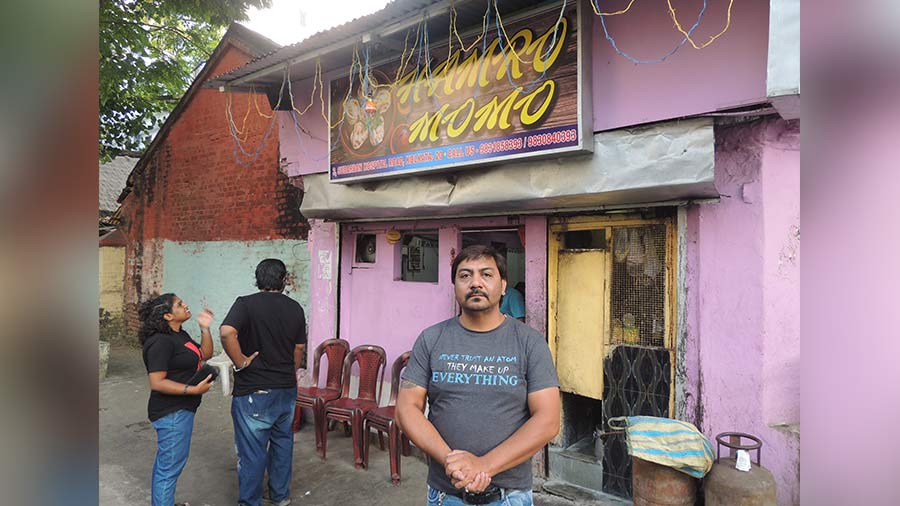 Dinesh Singh in front of Hamro Momo
"Mom and my aunt thus began their journey. My aunt used to sell momos from her roadside stall. Soon they decided to operate from the confines of our two-room set up and an usher used to direct people to the "eatery" inside the "gully". My father expressed his reservations, but mom stood her ground. Once the business picked up, my parents took this space on rent and began operations from here around 1990," Singh elaborated.
"We are originally from north Bengal and our ancestors have lived here for over hundred years. My grandfather hailed from Kalimpong. Hamro Momo was named by mom. From a roadside stall to a two-table set up, now we have this place albeit small but it has witnessed many stalwarts in their respective fields like Louis Banks, Usha Uthup, actor Deepti Naval to many present-day politicians and Tollywood actors. Following popular demand, we introduced chicken and vegetable momos. Our steamed chicken momo is a major hit, especially during the winters."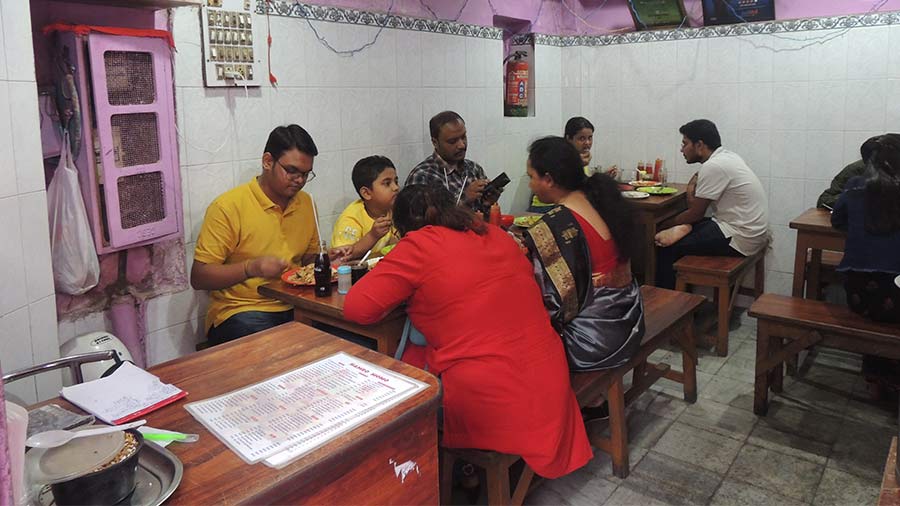 People enjoy the food inside Hamro Momo
Mushrooming of more outlets
Owner of Orchid, Pareshnath Sen, said though Baje had a niche customer group, an employee of hers is today the proprietor of Tibetan Delights in Momo Gully.
"Around 1992, Llama, a main cook with Baje, tied up with the owners of Momo Plaza during its initial days. Since I knew Llama, I too tried to set up something with him. Llama eventually backed off, landing me in a soup, but as they say fortune favours the brave, I came in contact with a chef and a cook, who were working with Taj Bengal and with their expertise, we launched Orchid.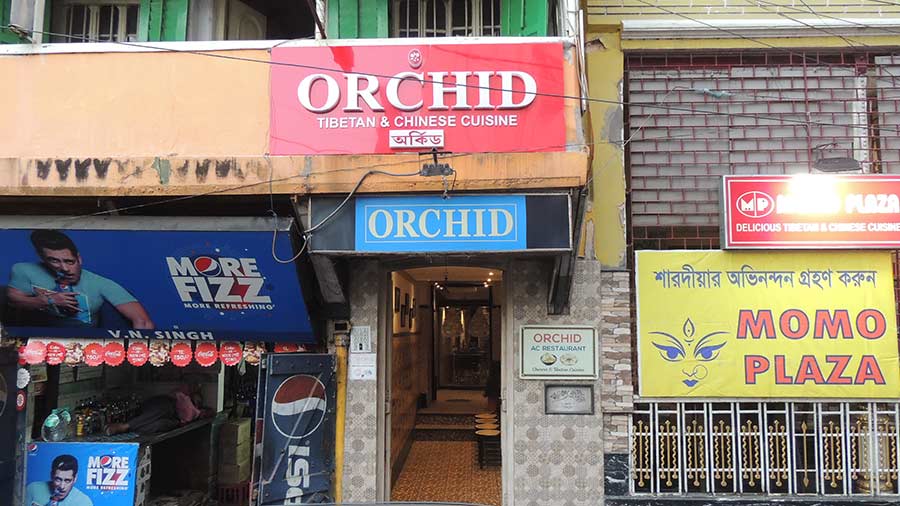 The entrance to Orchid and Momo Plaza in the same frame. Both restaurants share the spotlight and a similar growth story
"By then, of course, chicken momo was already a best-seller and we had to improvise to remain afloat in the growing momo market. However, pan-fried chicken momo became our USP."
"It was not an easy task to make momos popular and we had to tweak here and there and traverse the rocky path of the taste-conscious Bengalis to make it popular. Eventually, our endeavour paid off.
"Today, several cooks trained by us are either employed with other eateries or have opened their own units.
Speaking on the popularity of momos, Sen said, "Bengalis usually love to experiment with food and to top it all, momos are easily digestible and affordable and hence have become a hit among the aam Bangali," he signed off.
Pork versus chicken meat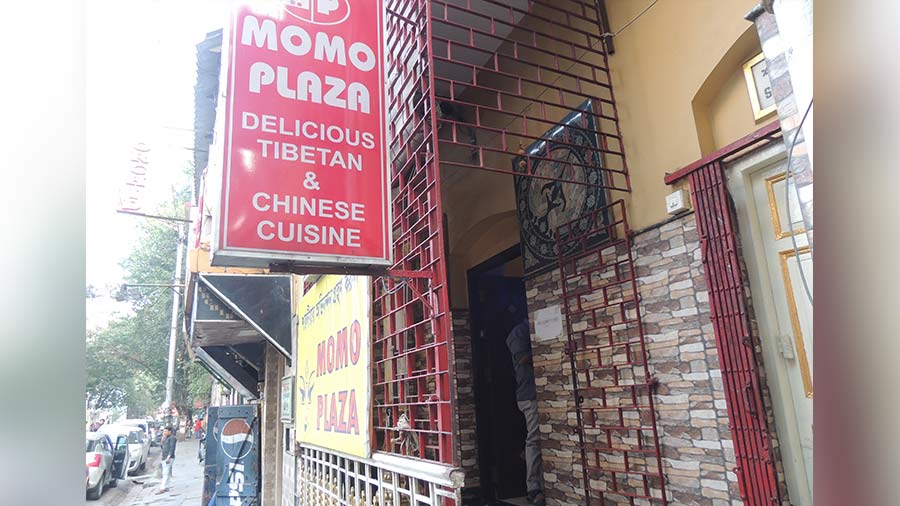 The entrance to Momo Plaza
Sudarshan spoke about how his father, Somnath Sen, realised the potential of this business. Replacing pork with chicken was a major risk but it paid rich dividends. "Though our outlet, Momo Plaza, is not on the online format, our popularity and business have not been affected," Sen added.
Of the four restaurants on that stretch, Tibetan Delights too continues to be a hot favourite among many. However, the proprietor, Nima Mukhia, could not be contacted.
Client profile
With several educational institutes like the Bhawanipur Education Society College and schools in the vicinity, the Tibetan dishes became an instant hit among young students. Also, these easily digestible delicacies became a hot favourite among the common Bengalis in no time. Affordability was a major factor for the students and young customers. Currently, it's a mix of the old and new ones. Time-tested customers have remained faithful while new customers, seeking authenticity, have been added.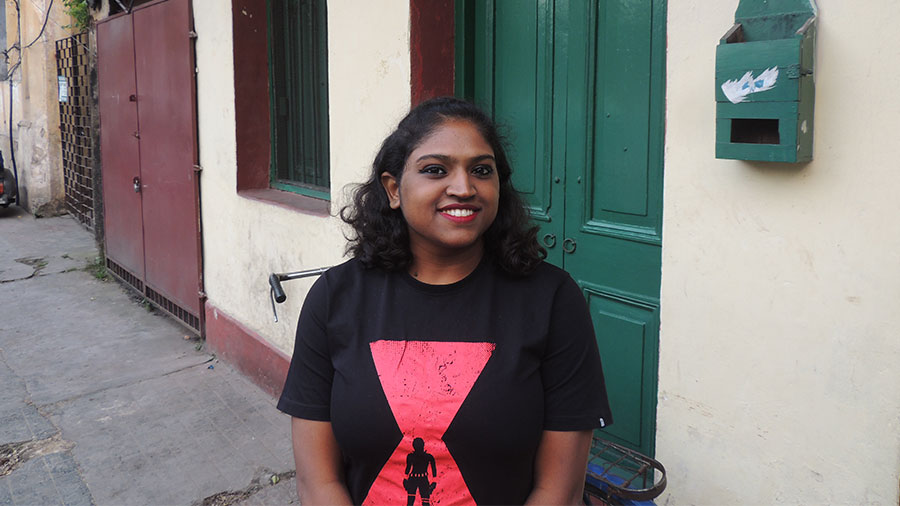 Baishakhi Chatterjee
"I was introduced to this place by my friend. The momos made here are bigger and have the right balance of authenticity, ingredients and taste," said Baishakhi Chatterjee, student, Bhawanipur Education Society.
"I lived in Darjeeling for a long time and was accustomed to the cuisine. However, when I came over to Kolkata after my family shifted, the eateries on the Suburban Hospital Road were a silver lining for me. I used to gorge on pork momos here," said Anirban Sen, 52, an advertisement professional.
Price escalation
A plate of chicken or pork-steamed momo in 1985 at Hamro's was available for Rs 6. The current price is around Rs 115 on an average at all these eateries.
Recipes were tweaked
These units shifted from pork to chicken momos which eventually became a hit even though pork momos remain high on the menu. The style and basic ingredients are almost the same. Some tweaking has been made as per requirement. Pan fried momos have also caught on.
How they beat the competition
These outlets have not lost out either to the mushrooming upmarket shops with jazzy interiors or the para momo centres due to their prime location, authenticity, word of mouth publicity over the decades and the affordable price tag. Also, Kolkata is a huge market and the demand all over has provided every unit with decent business. There is no dearth of customers.
Why no jazzy interiors?
Hamro is involved in a case and hence has to continue with the present template. Orchid's owner is an elderly person and probably does not want to take on added responsibilities. Momo Plaza added an AC section and Tibetan's Delight continues to bask in its original red glare. The buildings which house these units are quite old and there is hardly any space to create/recreate.
Advent of Swiggy and Zomato
The deal with Swiggy and Zomato is quite expensive and so these joints have decided not to join the bandwagon.