Why the need for a revamp and new offerings in the hotel?
After nine years of successfully catering to our guests in the City of Joy, the decision to embark on a comprehensive food and beverage revamp at Novotel Kolkata is driven by our unyielding commitment to continuously enhance the guest experience and exceed their expectations. Our motivation behind this endeavour is rooted in our dedication to providing an exceptional culinary journey that resonates with the preferences and desires of our guests.
We are dedicated to fostering sustainable practices within our culinary operations. Our revamp allows us to incorporate responsible sourcing, minimise food waste and promote eco-friendly initiatives. By aligning our food and beverage offerings with our commitment to sustainability, we aim to contribute positively to the environment and the community.
What is the focus of the revamp that's happening at Novotel?
The revamped food and beverage experience at Novotel Kolkata is designed to be an immersive journey. Our dining spaces will be transformed to reflect a harmonious blend of aesthetics, comfort, and functionality. Whether guests are seeking an intimate dinner, a social gathering, or a business luncheon, our revitalized venues will cater to a diverse range of occasions. By rearranging dining spaces to cater to different culinary preferences, our intention is to empower our guests with the freedom to select from a variety of cuisines and relish a satisfying dining experience.
We've heard that a few national brands will be coming to the hotel this year. Tell us more.
Keeping in line with our promise to deliver a unique and authentic gastronomical journey for our guests, the upcoming arrival of exciting new brands will redefine your experience at Novotel Kolkata.
Cafe Joy at Novotel: At Novotel Kolkata, we recognise that dining is not just about food; it's about creating memorable moments. Our new cafe will serve as a hub of culinary delights, where guests can enjoy a diverse range of indulgence that cater to various palates. Our menu is thoughtfully curated to blend varied regional flavours with international favourites, ensuring that every guest finds something to savour. Highlight of this cafe is the spirit of our collaboration, where our guests will see some exciting brands and some very well-known chefs who are masters in their craft coming together under one roof.
The lobby is soon undergoing a transformation. How long will it take and what's the new addition going to look like?
With the introduction of new dining options, the lobby at the hotel will be transformed to a destination hangout spot for all our guests. In the last quarter of 2023, our new dining offerings will be ready. So, whether it's work and coffee/tea, or a friendly catch-up session with your closest people, our new dining outlets will be a destination for all café lovers to explore a new experience like never before.
There are talks of an all-new restaurant coming to the property. What is that going to look like?
The new upcoming speciality restaurant is going to be a unique and vibrant dimension to our dining selection. This particular restaurant will give access to our patrons to explore the delectable universe of Indian cuisine. The ambience of the restaurant is being thoughtfully fashioned to embody the essence of modern elegant dining, engendering an immersive dining atmosphere that transports diners to the very core of the cuisine culture we will be coming up with. It will also have a specialised beverage program crafted by experts and I am sure our guests will love this.
In terms of banqueting, what's the change going to look like?
Since inception, after hosting several events and evolving guest preferences, we've been looking at a few key changes in our banqueting offerings. Starting from enhancing the grandeur of the ballroom overall, we are looking at overall flexibility at the forefront to accept a plethora of events and meetings. We understand that plans today are very dynamic, and we want to provide our guests with the flexibility to modify their events in the venue without unnecessary stress. This might involve more space to accommodate larger guest count, and the ability to adjust event details closer to the date.
Additionally, we recognise the growing demand for hybrid events. The ability to seamlessly integrate virtual attendees with in-person events has become increasingly important. We're investing in technology and infrastructure to ensure that our banqueting spaces can cater to both physical and virtual audiences effectively.
In terms of culinary offerings, we're taking inspiration from the current emphasis on health and wellness. Our banquet menus will feature a balance of nutritious and indulgent options, catering to a range of dietary preferences. We're also exploring creative ways to present and serve food while minimising touchpoints, such as individually portioned servings and innovative display setups. Lastly, sustainability remains a priority. We're making efforts to reduce waste and adopt eco-friendly practices in our banqueting operations. This by adapting the route of single-use plastic and adhering to our brand promise of refresh and reuse through our glass water bottles.
We understand the growing demand in the city for banqueting venues for social events and corporate meetings. Work is in full swing and we will be re-opening our doors by mid-November.
Apart from new F&B offerings and the banquet revamp, what more can we expect from Novotel?
At Novotel Kolkata Hotel & Residences, we completed nine years of successful operations on September 1. As a team we are focussed on sharing an experiential journey with all our guests in every aspect of our hospitality. We're working on innovative solutions to provide seamless and personalized experiences, from easy check-in processes to in-room technology that allows guests to control room settings at their convenience. Cultivating a sense of community is another key element we're emphasising. Novotel Kolkata will be hosting a range of engaging events that cater to both our guests and residents. These could include cultural celebrations, art exhibitions, and interactive workshops that reflect the vibrant spirit of Calcutta.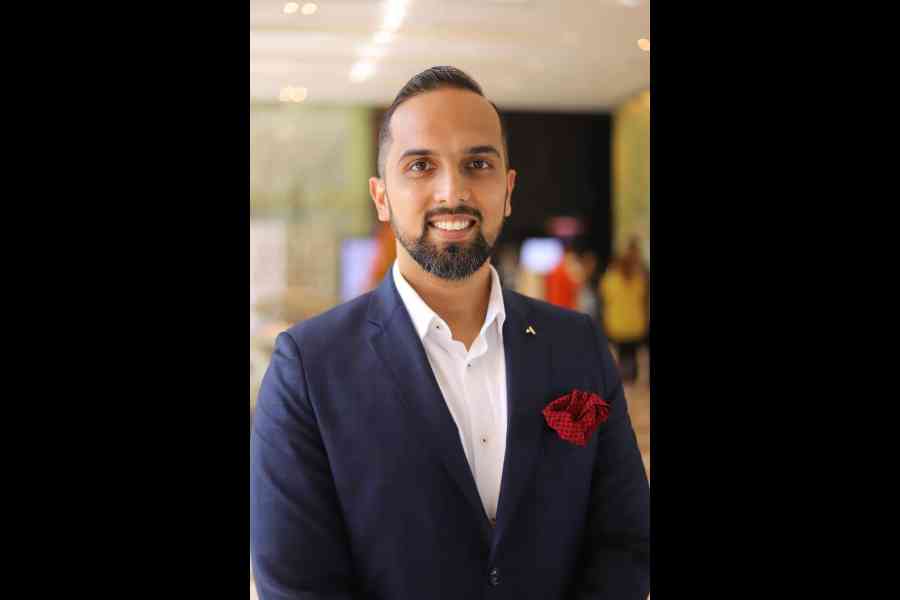 Arjun Kaggallu, general manager, Novotel Kolkata Hotel and Residences
Lastly, we're continuously seeking ways to provide memorable experiences for families. We'll be introducing more family-friendly amenities and activities that cater to guests of all ages. Whether its themed family brunches, kids' play areas, or special packages, we want to ensure that families create cherished moments during their stay with us.
Any special Durga Puja plans?
After two successful seasons of Durgabari, the entire team at the hotel is very excited for the upcoming Durgabari 3.0.
Our culinary offerings during Durga Puja will be a highlight. We will be curating a special menu that showcases traditional Bengali cuisine at its finest. From delectable bhog offerings at our pandal area to iconic sweets and regional delicacies, our guests will have the opportunity to savour the authentic flavours of the festival. At the same time, we will also cater to diverse preferences, ensuring that all guests can enjoy a memorable dining experience. Furthermore, at our pandal, we'll be offering our guests the chance to participate in rituals and ceremonies that are synonymous with Durga Puja, fostering an immersive experience that truly connects them with the festivities.
With so many new changes coming up, what are some of the challenges that you face as the GM?
Embracing the new changes is both exciting and challenging. I'm enthusiastic about the transformations we're implementing, but I'm also keenly aware of the challenges that come with them.
One significant challenge is ensuring a smooth transition for both our guests and our team. Introducing new food and beverage offerings, revamping our banqueting services, and embracing technology enhancements require effective communication and training. We need to ensure that our team members are well-prepared to deliver exceptional service, and that our guests are informed and comfortable with the changes.
Adapting to evolving guest expectations is another challenge. The hospitality landscape is constantly changing, and meeting the diverse preferences and demands of our guests can be complex. Striking a balance between introducing innovative concepts while still providing the comfort and familiarity that our regular patrons expect can be a delicate task.
Maintaining consistency is also crucial. We need to ensure that every guest experience, whether in the new indulgent offerings, banqueting, or other aspects, aligns with our brand promise of excellence. Sustainability is a challenge that we're deeply committed to addressing. While integrating eco-friendly practices into our operations is essential, it also requires careful planning and execution to minimise environmental impact without compromising on guest satisfaction. Lastly, guest feedback is invaluable for us. Balancing the feedback we receive and making strategic decisions that cater to the majority while still addressing individual preferences can be intricate.