From scintillating goals to thrilling upsets to moments of sheer madness, everything gets magnified at the FIFA World Cup, the most watched sporting competition on the planet. While several World Cup stories — from Pele's prodigious debut to Diego Maradona's Hand of God, from Zinedine Zidane's headbutt to Lionel Messi's heartbreak — have been told and retold endlessly, there are many more that have skirted the attention of football fans for generations.
The Most Incredible World Cup Stories (published by Niyogi Books in India), written by veteran Argentine journalist and historian Luciano Wernicke, highlights hundreds of such elusive stories — starting from the very first World Cup in 1930 to the last one four years ago — that often turn out to be more mind-boggling than the action on the pitch. 
Following the book's release in India on October 10 – and as many football fans in Kolkata finalise their Qatar plans for the greatest exhibition of the beautiful game – My Kolkata caught up with Luciano to talk about crazy World Cup stories, Argentina's chances for 2022, Messi versus Maradona and more. Edited excerpts from a Zoom conversation connecting a wet Kolkata evening and a chilly Buenos Aires morning follow.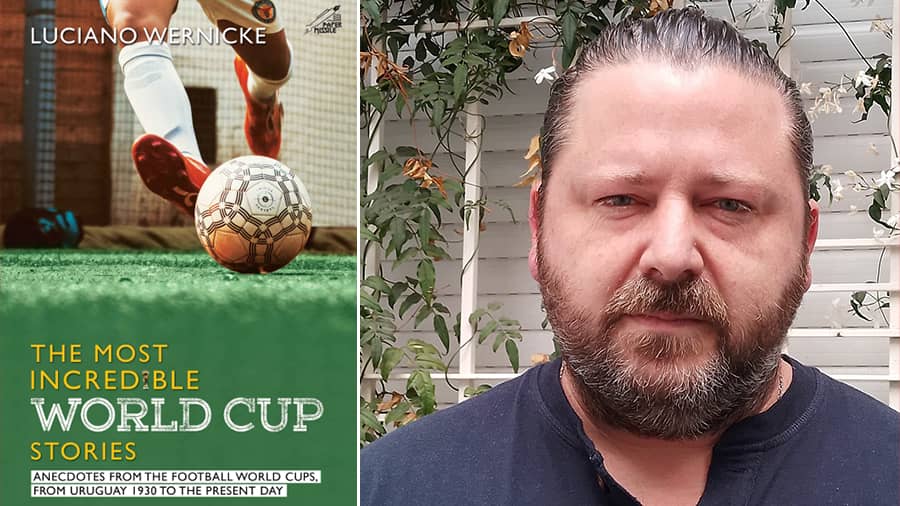 Wernicke's latest book reveals scores of intriguing World Cup stories, both on and off the pitch
My Kolkata: What is your earliest World Cup memory?
Luciano Wernicke: That'd be the 1978 World Cup (played in and won by Argentina), when I was about eight years old. I had lost my grandfather a day before the final and, understandably, the mood was sombre at home. We still watched the final (between Argentina and the Netherlands) together, although my parents told me not to go out and celebrate on the streets after Argentina had won. Even at school, my younger brother and I couldn't go on a victory lap with my classmates. Having said that, the final and Mario Kempes's performance in it mattered more at the time to my father than it did to me. In the midst of grief, it gave him a few precious moments of joy and relief and a sense that life must go on.
Brazil-Uruguay in 1950 is the single most incredible game in World Cup history
If you had to pick three World Cups that had the most interesting stories revolving around them, which ones would they be and why?
The most interesting stories for me are always the ones that create the sharpest contrast with the present time. So, the early World Cups are among the most special. The very first World Cup in Uruguay in 1930, which was played with teams having no knowledge of their opponents, no kit numbers for reporters to figure out who had scored and no certainty of what the whole tournament would lead to, stands out for me. The final between Argentina and Uruguay was a highly charged affair, especially given the short distance between the venue in Montevideo and Buenos Aires. Eventually, Uruguay triumphed, but after having played the second half of the final with a different ball from the one in the first half, which, naturally, the Argentines had preferred more!
Then there is the 1934 World Cup in Italy, widely believed to have been manipulated by the regime of Benito Mussolini. If you're looking at World Cup scandals, you can't do much better (or worse!) than 1934. I'm also very fond of the 1950 World Cup in Brazil, largely for one match — the Brazil-Uruguay showdown at the Maracana in Rio de Janeiro. It wasn't a final, since this was the only World Cup to have a round robin format, but because of the points tally, it ended up being as good as the final. Brazil, with more than 100,000 people in the stands, needed just a draw to be world champions and even took the lead. But Uruguay came back to win and crush Brazilian hearts. For me, that's the single most incredible game in World Cup history.
The man who overcame crocodiles to watch the World Cup in South Africa!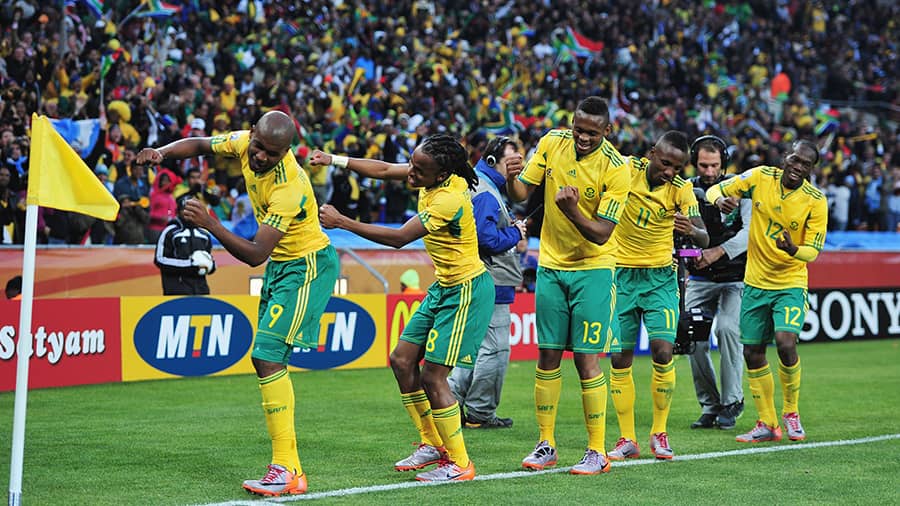 Some fans made more sacrifices than others to watch the 2010 World Cup in South Africa in person!
FIFA
Which would be the most disappointing World Cup of all time and why?
For me, it's 2002, which was held in Japan and Korea. Ever since I actively started watching football, this was the first time that Argentina didn't make it to the second round, beyond the group stages. For that reason alone, it's the most disappointing one for me.
What is the funniest World Cup story you can think of?
There's no shortage of them in the book! But one that comes to mind immediately is from South Africa in 2010 when a local radio station had set aside a couple of match tickets for someone who'd do the craziest thing imaginable to win them. As it turned out, a white man from South Africa decided to swim across a river infested with crocodiles (with his wife recording the adventure on camera and his brother standing with a rifle ready to shoot any crocodiles, if needed!) to win the tickets, which is crazy not just because of the risk involved but also because the whites in South Africa are usually more passionate about rugby. But, then again, such is the craze of the World Cup. For the record, the man actually managed to complete his self-assigned task and ended up watching the World Cup live in person!
'I'd much rather go to the US or Europe to watch the World Cup than Qatar'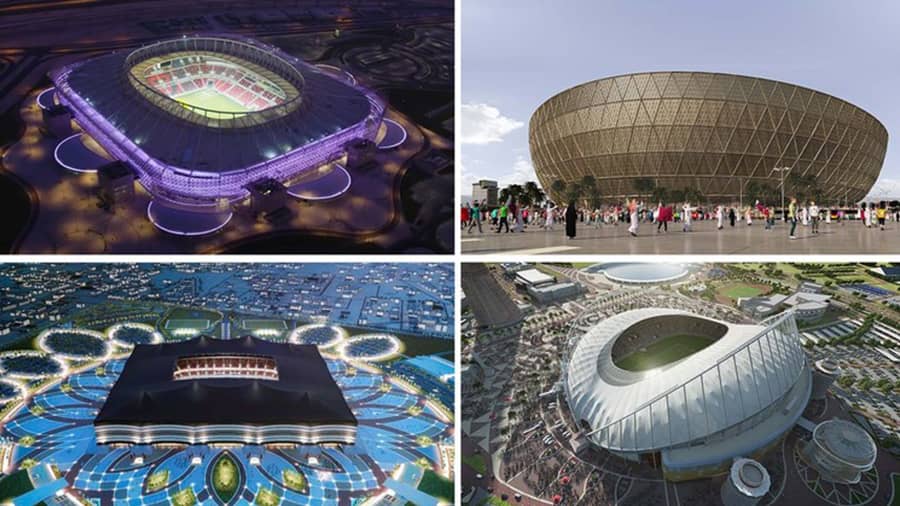 Qatar has endured a rocky reputation so far ahead of the showpiece event in the winter
FIFA
Coming to 2022, as a journalist and a lover of football, how do you feel about the human rights abuse that has marred the lead-up to the World Cup in Qatar? Do you feel it was wrong to award Qatar the tournament in the first place?
I've been in Qatar before, and while the people are lovely and it was interesting to know a new country and culture, I do have my concerns about such a nation hosting the World Cup. The first concern is logistical. How will such a small country host millions of fans from different cultures and do so peacefully? Take English fans, for example, who are notorious for their rivalries with the Argentines, the Germans and the French. Will Qatar, with no prior experience, be able to manage them? As a fan, will I be able to have a glass of beer or wine? This is before I even get to what's happening with the workers building the stadiums and the potential human rights violations against workers from India, Malaysia and other countries. To be clear on this, this isn't just a World Cup problem. The situation, I believe, is the same for any construction work of large scale in Qatar. As for Qatar's conservatism about LGBTQI+ and women's rights, that's something I don't wish to comment upon, since I'm not well-versed with the ground reality of the situation. Having said that, if you ask me as a fan, I'd much rather go to the US (which will co-host the World Cup with Mexico and Canada in 2026) or Italy or France or the UK or somewhere else in Europe to watch the World Cup than Qatar.
Maradona in '86 was like Aladdin with a miracle lamp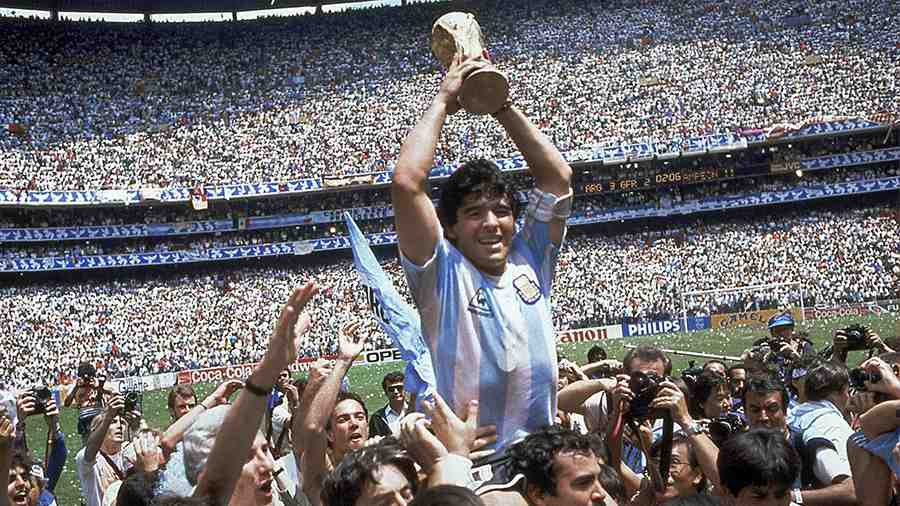 Diego Maradona was crowned as the best player of the tournament in the 1986 World Cup
FIFA
Tell us about the 1986 World Cup and what Maradona's achievements in that tournament meant to you and Argentina? What would be your favourite moment from Mexico '86?
People were crazy about Maradona in 1986 and what he did in Mexico. He became a hero because he took an otherwise ordinary Argentina team to glory and did so while generating emotions that no other footballer has managed to, before or since. My favourite moment is from the England game in the quarter-final. Let's not forget the Falklands War was just a few years old and for a lot of Argentines, that match was about revenge, pure and simple. What Maradona did in that game — first with the most controversial goal in World Cup history ("a little with the head of Maradona, a little with the hand of God" in the words of the man himself) and then with the most sublime goal in World Cup history — sent Argentina into raptures. Maradona became the epitome of the common, impoverished Argentine standing up to power and winning. For me, watching that game live, everything felt like magic, magic, magic.
It's almost as if Messi flicked a switch with the national team after Maradona passed away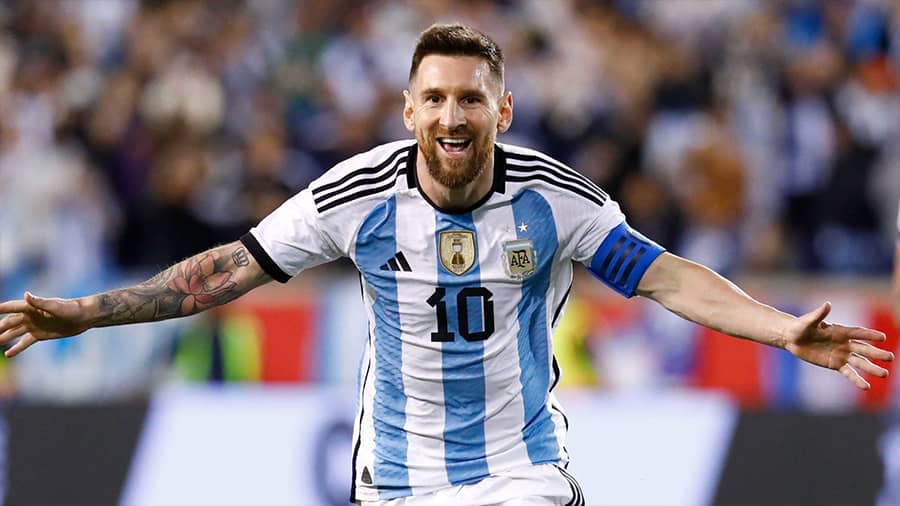 Lionel Messi has enjoyed a resurgence in form with the national team over the last two years
FIFA
Will Lionel Messi eclipse Maradona's legacy in Argentina if he can deliver the World Cup?
Maradona in '86 was like Aladdin with a miracle lamp. He was a genius playing with decent players and managed to be a world champion. For Messi, who is yet to score a World Cup knockout goal in eight fixtures, it's virtually impossible to replicate Maradona. Messi's a wonderful player to watch and he's been a changed man over the last two years with Argentina, someone with much stronger leadership skills. It's almost as if he flicked a switch with the national team after Maradona passed away. Lionel Scaloni (Argentina's coach) has also managed to get the best out of Messi and help the team to not only play with him, but also play for him. However, at least for me, Messi will never compare to Maradona. It's nothing against Messi, the footballer. It's just that Maradona made me feel a way Messi or anybody else can't. Younger Argentines, who never saw Maradona in the flesh, think differently. For them, Messi is their generation's messiah. But if you ask people like me, who've been around for a while (he's 53), no matter what happens in Qatar, Messi won't come close to Maradona's level in Argentina.
Emiliano Martinez could be the best player in Qatar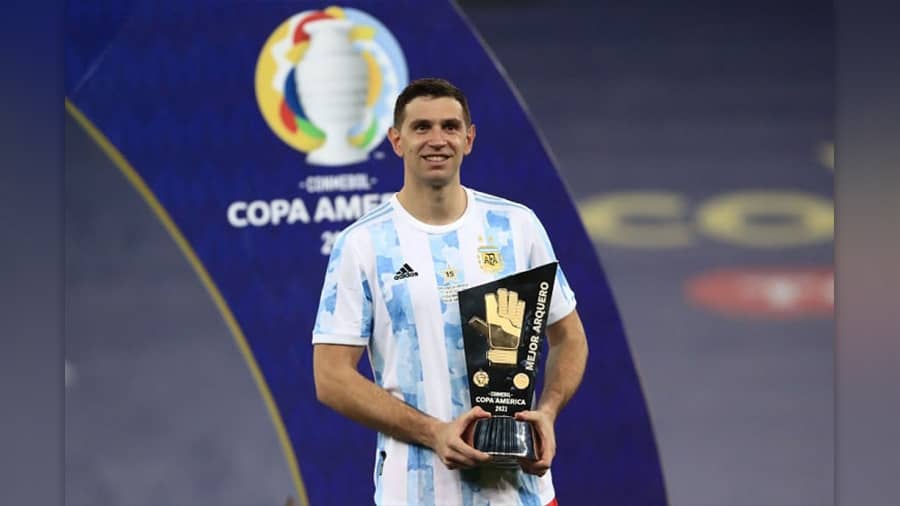 Emiliano Martinez will be one of Argentina's most pivotal players in Qatar
FIFA
Lastly, your predictions for this year's World Cup: favourites, underdogs/surprise packages and best player.
This is a bit like predicting Lotto numbers! But, on paper, Argentina, Brazil, Germany, France and Spain should be in the running to make it to the semi-finals. I won't rule out Belgium either. As for underdogs, I'd probably go with Denmark over any of the Asian or African teams. Beyond that, it's difficult to say anything with any degree of certainty. Of course, I hope Argentina become world champions and that Messi has a great World Cup, but you never know. Also, I'd keep an eye out for Emiliano "Dibu" Martinez, Argentina's goalkeeper, for a potential player of the tournament.