"I'll never forget the day Suarez got a ridiculously swollen ankle," recollects Raheem Sterling, who played briefly with the Uruguayan striker during their time at Liverpool almost a decade ago. Sterling continues: "Anyone else would be like, 'Nope, not my day.' But Suarez played (against Norwich City at Carrow Road in 2012). His ankle looked like a ball, but he put on (Steven) Gerrard's boots, which were two sizes too big. Then he came out and scored a hattrick."
This was Luis Suarez's European football journey in a nutshell, a story of a streetfighter whose steely determination and bulldog-esque intensity somehow complemented his silky touches and suave finishing. Since moving from his boyhood club Nacional in Uruguay to Europe in 2006 – partly because the continental shift would allow him to be closer to his then girlfriend and future wife Sofia Balbi – Suarez has scored 437 goals in 693 games and won 18 trophies, including six league titles, the UEFA Champions League in 2015 and two European Golden Shoe awards in 2014 and 2016. Now, after 16 years of terrorising opposition defences across Europe, Suarez has returned to Nacional, joining the team that gave him his first break on a free transfer from Atletico Madrid.
A diamond in the rough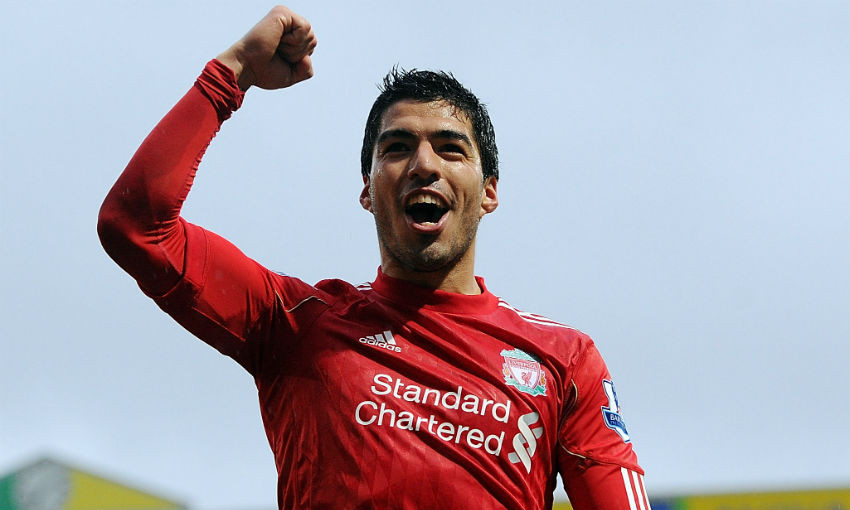 The scandalous and the spectacular became inseparably intertwined during Suarez's stay at Liverpool between 2011 and 2014
Courtesy Liverpool FC
Suarez's European adventure began at Dutch minnows Groningen, where headbutting referees and partying all night – things that earned him a notorious reputation as a teenager back home – were not going to be tolerated. So the fleet-footed striker, whose style would go on to mix some of the finest attributes of Brazilian icons Ronaldo and Romario, brought more discipline to his life and impressed adequately to earn himself a move to Ajax.
It was at Ajax that Suarez's rough edges were polished and Europe's elite sat up and took notice. In the 2009-10 season, Suarez scored 35 goals in 33 games in the Dutch top flight of the Eredivisie, showcasing an unteachable knack for combining pace, power and panache to mature into one of the most prolific goalscorers on the continent. Liverpool came calling soon after, paying 26.5 million euros for his signature and sealing what would be one of their smartest buys ever. Over the next three seasons at Anfield, Suarez became the cynosure of the Premier League, grabbing headlines as much for his jaw-dropping goals and assists – for which Gerrard named Suarez as the best player he has played with in Liverpool – as for his on-field scandals – be it his atrocious appetite for biting players or his racism row with Patrice Evra. 
More goals than Benzema, Kane and Salah; double the amount of assists as Lewandowski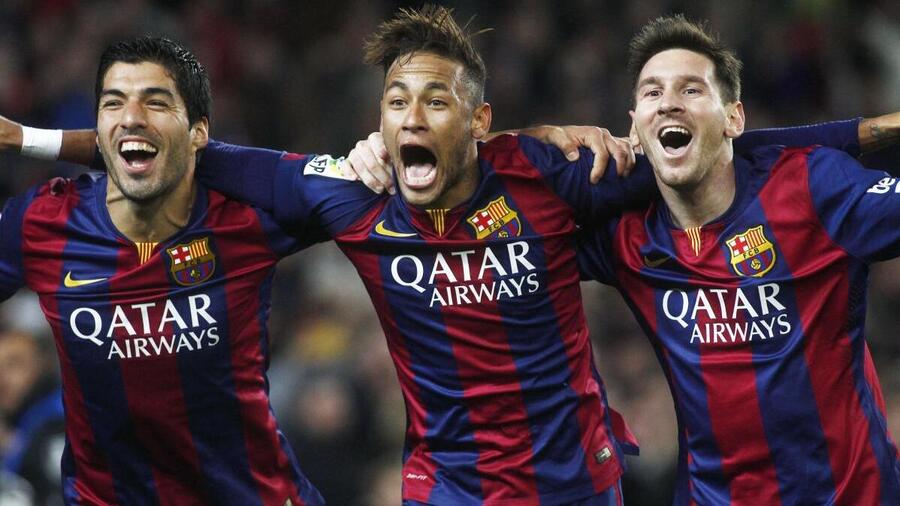 At Barcelona, Suarez was one third of MSN, the most fearsome trident in modern football
Courtesy FC Barcelona
After a spellbinding 2013-14 campaign in which he produced 31 goals in 33 Premier League matches, bringing Liverpool to the brink of their first championship since 1990, Suarez was snapped up by Barcelona, for an eye-popping sum of 82.3 million euros. Even though he could not play for the first team right away, thanks to another biting incident at the 2014 World Cup and a consequent ban of four months, Suarez adapted faster than expected to life in the Catalan capital, dovetailing magnificently with Lionel Messi and Neymar. Christened MSN, the three South Americans would evolve into the most fearsome attacking trident of the century, leading Barcelona to the league, cup and Champions League treble in 2015. After Neymar's switch to Paris Saint-Germain in 2017, Suarez kept up his bonhomie with Messi, forming a devastating partnership that brought two more La Liga crowns in 2018 and 2019. In the summer of 2021, Suarez, left hanging by a financially compromised Barcelona, joined rivals Atletico Madrid, where he emerged as the difference maker as Atleti pipped both Barca and Real Madrid to their first league trophy since 2014.
Over the last decade, only Messi and Cristiano Ronaldo have proven more decisive than Suarez in European club football. Suarez's tally of 324 goal contributions (233 goals and 91 assists) since the start of the 2012/13 season is 58 goals more than Karim Benzema, 50 more than Harry Kane and 78 more than Mohamed Salah. In terms of setting up goals, only Messi (135 assists) and Thomas Muller (128 assists) have delivered more than Suarez, who has directly created double the amount of goals as Robert Lewandowski. Unlike Lewandowski, Suarez has also conjured singular moments of magic in UCL knockout football, with the highlight being his pair of nutmegs on David Luiz en route to a brace for Barcelona against PSG in April 2015.
Back to the beginning
At 35, Suarez's decision to come back to Nacional goes against the grain of today's game, with many of his contemporaries preferring to settle for lucrative contracts in the United States or go gallivanting for a life of luxurious semi-professional football in Asia or the Middle East. As always with Suarez, passion has triumphed over pragmatism, completing a glorious circle of his professional life. With the World Cup scheduled for this winter, Suarez will want as much competitive action as possible in the Uruguayan capital of Montevideo to be in the best possible shape for what is certain to be his last major tournament for his country. Even though Europe is out of the firing line, it is time to issue a red alert to Uruguayan clubs, for El Pistolero still has plenty of bullets left to rifle home.
Finally, while he may be shooting in South America hereafter, what about Suarez's greatest partners in crime in Europe over the years? My Kolkata picks the greatest XI Suarez played with during his time in European football.
Formation (4-3-3)
Goalkeeper: Marc-Andre ter Stegen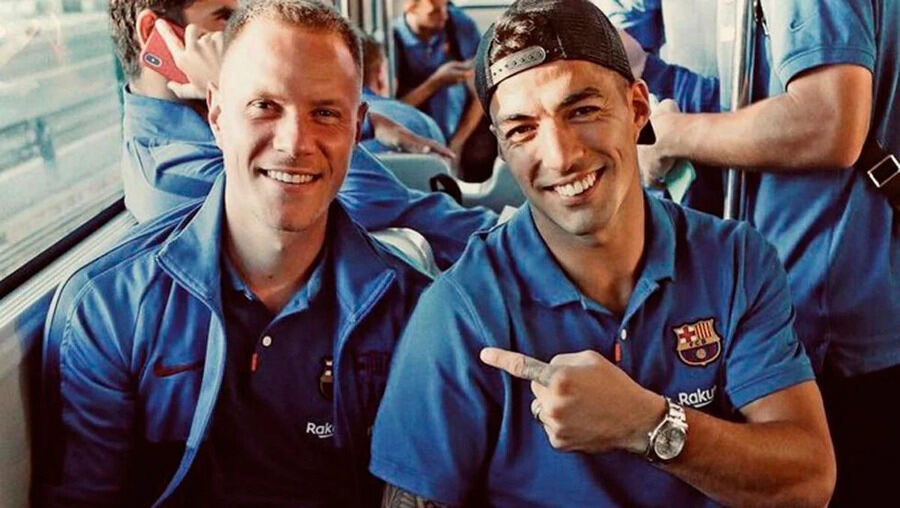 Marc-Andre ter Stegen and Suarez combined for several goals during the pair's time at Barcelona
Courtesy FC Barcelona
The German sweeper-keeper gets the nod over Jan Oblak because of his excellent understanding with Suarez during their Barcelona days – ter Stegen picking his number nine out with precise and powerfully launched goal-kicks.
Right-Back: Gregory van der Wiel
Marauding down the right, van der Wiel was outstanding in an Ajax team that saw Suarez break through in European football. The Dutchman narrowly beats Dani Alves thanks to his greater efficiency in attack while playing with Suarez.
Centre-Back: Stefan Savic
A rock at the back for Atletico during their title-winning campaign of 2020-21, Savic brought the same grit and ruthlessness for glory to the heart of the defence that Suarez guaranteed in the final third.
Centre-Back: Gerard Pique
While not always the best of pals off the pitch, Pique and Suarez were a part of an elite core of players at Barcelona that kept the quality of football high and the trophy count higher in the post-Pep Guardiola era.
Left-Back: Jordi Alba
After all those cutbacks and inch-perfect crosses from the left flank, nobody merits this spot more than Alba, responsible for supplying Suarez with his only goal against Liverpool for Barcelona in 2019.
Central Midfield: Steven Gerrard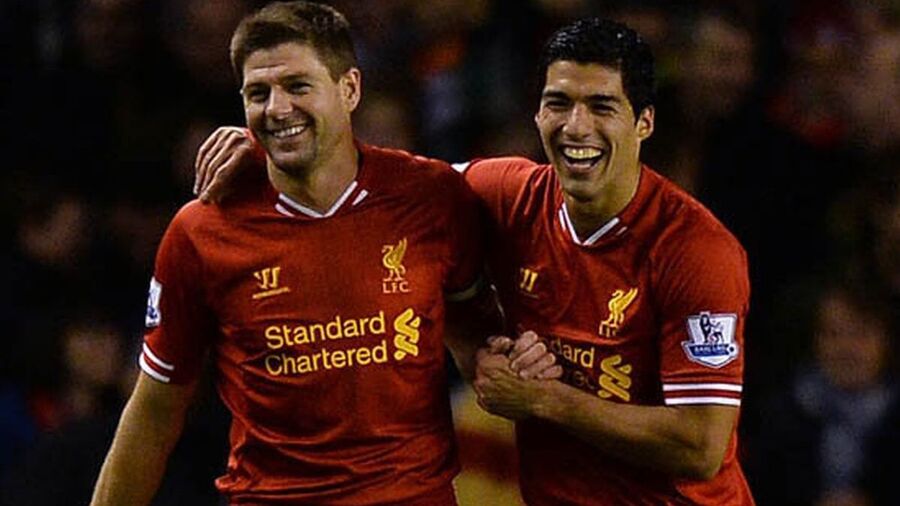 Steven Gerrard and Suarez developed an instant connection after the latter moved to Liverpool
Courtesy Liverpool FC
The 2013/14 campaign saw Gerrard and Suarez run riot together, with the former's passing and the latter's finishing providing a golden period for Liverpool fans that brought everything barring a league title.
Defensive Midfield: Koke
Covering every blade of grass during Atleti's triumphant league season a couple of years ago, Koke's defensive nous and application gave Suarez the licence to thrive up front.
Central Midfield: Andres Iniesta
Although his best years had preceded the arrival of Suarez, Inieista continued to glide and elude in mesmeric fashion, playing an integral role in giving Suarez the ammunition to become Barca's third highest goalscorer of all-time.
Right Wing: Lionel Messi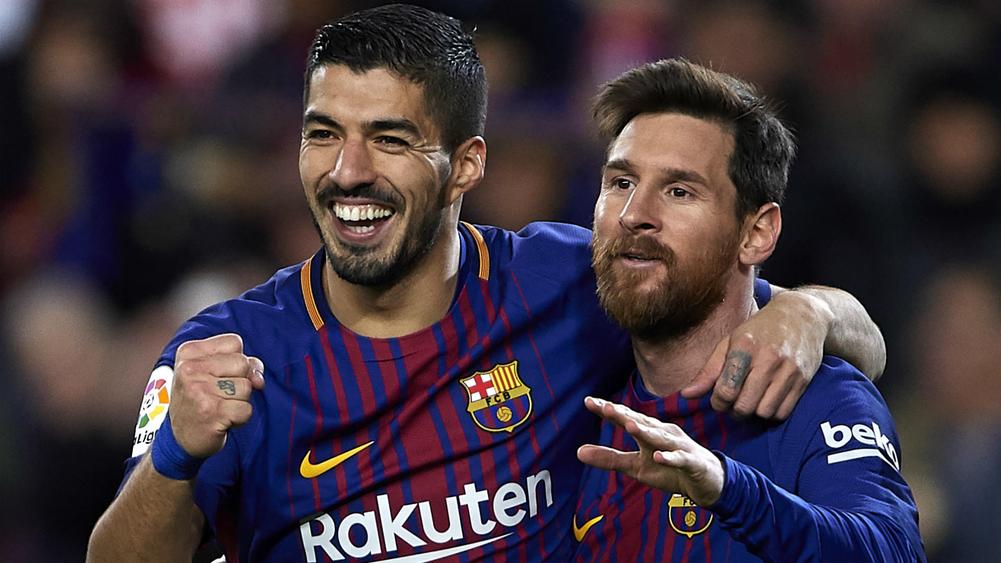 No two forwards in this century have amassed more assists for each other than Suarez and Lionel Messi
Courtesy FC Barcelona
With 47 assists, no player has set up more goals for Messi than Suarez. With 52 assists, no player has set up more goals for Suarez than Messi. Together, the two best friends were simply unstoppable.
Striker: Daniel Sturridge
Back to the 2013-14 season once more, where Sturridge reached his zenith, feeding off Suarez's movement and intelligence to net a career-high tally of 24 goals for Liverpool.
Left Wing: Neymar
When Messi was out injured in the autumn of 2015, Neymar and Suarez turned on the style for Barcelona, putting their individualism aside for the interest of the team.