What did Shubhra Kanti Acharya, a resident of Nürensdorf in Switzerland, do when he flew down to Kolkata in 2019? He recorded Ruby and Molly, the two songs that were released in 2020. "Certain emotions can only be conveyed in your mother tongue," says the non-resident Kolkatan.
What did Shubhra Kanti Acharya, a resident of Switzerland for 22 years, do when he flew down to Kolkata after two years, last month? He recorded two new Bengali songs, and one in Hindi, apart from gorging on mishtis like kachagolla, after a pandemic-forced hiatus. 
It is the emotional core of Kolkata that remains Acharya's musical epicentre. So Molly and Ruby were, in a way, homecoming for him.
"Both songs have emotions of love. While Molly explores its punchier side, Ruby is about a man in reminiscence, and is influenced by R.D. Burman's Mone Pore Ruby Roy. I do feel that the emotions of some songs remain valid even today, decades after their release," says Acharya.
It is these emotions that nudge Acharya to make music. His writing has to do with "daily life, and common man emotions", his language is "simple", and his music is "easy to understand". "I feel that people should identify with music, beyond merely singing it. More than fun, it should provide value to your life," he underlines.
Sound of music, from Park Street to jazz fests
Born and brought up in a Bengali family in Patna, he fondly remembers coming to Kolkata to visit his parents during every holiday, where his mother was the head of the department of philosophy at Shri Shikshayatan College. "During my summer holidays, I would bring my guitar with me and attend concerts. Back then, Kolkata was extremely rich in live music and all restaurants on Park Street had live bands. I have seen many legendary performers like Carlton Kitto, Mohammad Rafi, Kishore Kumar and Lata Mangeshkar here. The '80s also saw a trend of jazz festivals being organised here, which hugely interested me," he recounts vividly.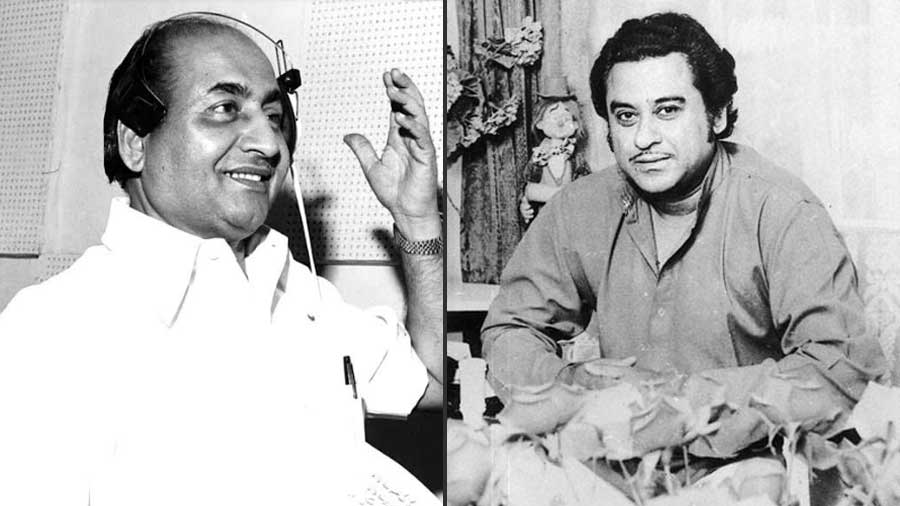 'Back then, Kolkata was extremely rich in live music… I have seen many legendary performers like Carlton Kitto, Mohammad Rafi (L), Kishore Kumar (R) and Lata Mangeshkar here,' said Acharya
Beatles to Pujor gaan
Acharya's first love was The Beatles, an interest which grew into an appreciation for every genre, be it ghazal or pop. However, it was Bangla music that won his eight-year-old heart. "In those days, acclaimed artistes not just from Kolkata, but Mumbai too would come up with music before Durga Puja, called Pujor Shonkha. I loved listening to such creations by R.D. Burman and Kishore Kumar, and they were the first to bring me close to Bangla music," he explains.
Music was also a constant in his aunt's home in Patna, where he did his schooling and college. His elder brother learnt Indian classical and tabla before moving to western music. "Although I originally trained in Indian Classical, I also started learning the guitar from my brother when I was 11. I even had my own pop-rock band called Skull as a literature student at Patna College, and we got quite popular in the city," smiles Acharya.
Carlton Kitto and Max Mueller Bhavan
After completing college in Patna, Acharya and his brother moved back to their family home in Ballygunge Park. Here, he started taking jazz lessons from none other than Carlton Kitto. "My thirst for learning didn't end there, and I parallelly learnt German at Max Mueller Bhavan, where I later began to teach part-time too. During my time there, I also organised some concerts and composed music with my students," he says.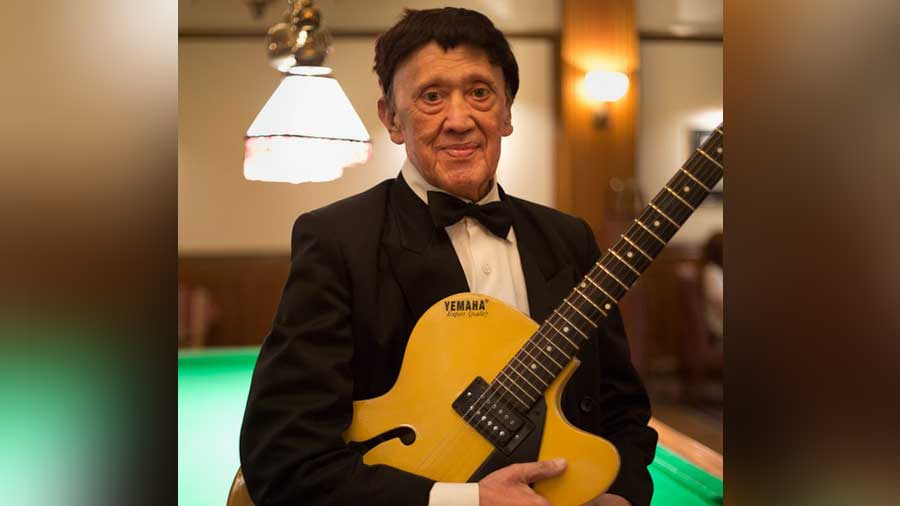 Kolkata jazz legend Carlton Kitto
Courtesy: Alanthom81
A slice of Kolkata in a village of Switzerland
Music apart, Acharya was taking computer software courses to get a job in the IT sector, as a passport to a stint in Europe. A job website tossed up an opportunity in Switzerland and so in the second half of 2000, he found himself on a flight to Switzerland armed with a two-year job contract. "The contract kept getting extended, and when my daughter started going to school there, we decided to stay back. Suddenly I now see that it has been 22 years instead of two!"
So many years later, his life in Nürensdorf – a village near his workplace in Zurich – remains infected by the Kolkata chromosome. "Nürensdorf has a lot of greenery, and is a satellite city like Salt Lake and Lake Town used to be. Apart from having a music room in my home, I also have a few friends whom I privately perform with," says Acharya.
And then there is the inevitable Durga Puja and the Bangla music concerts. "During my tenure as the president of the Swisspuja, I organised a lot of concerts where we invited celebrated Bengali artistes like Srikanta Acharya and Sahana Bajpaie. In fact, Kinjal Chatterjee, who has collaborated with me on all my songs, had also come to Zurich to perform," he beams, adding that both his children are musically inclined, having mastered the piano.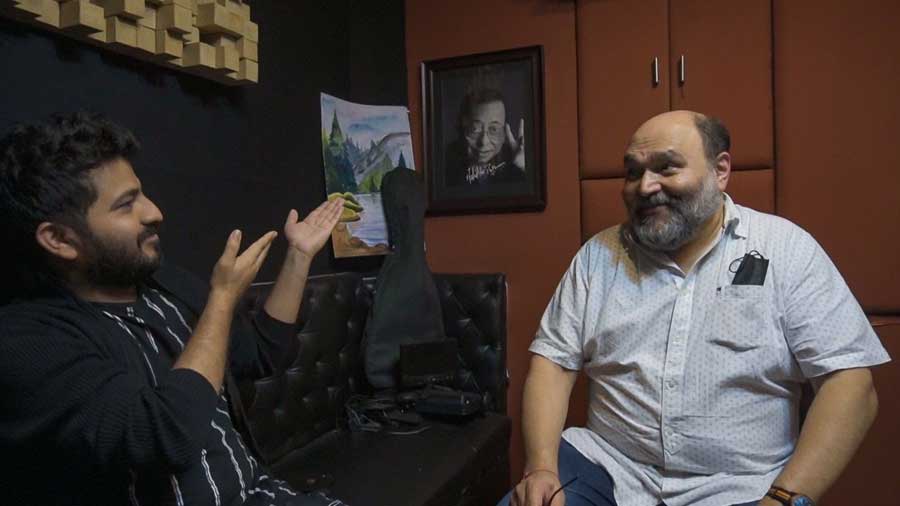 Acharya in the studio with Kinjal Chatterjee
Love of music and maach
So is an album on the cards? "With work pressure and family time competing for my attention, it gets difficult to write new music. But now that I have four Bangla singles, I do hope to add a few more and maybe release a full-fledged album someday," says Acharya. Given his love for ilish and chingri – which, he insists, beats the quality of fish available in Switzerland – another recording session in Kolkata isn't too far away if his taste buds grow impatient.