Think of world-class athletes who are also siblings and there are examples galore. From the Williams sisters to the Waugh brothers, there are many who have done their families doubly proud. But think of world-class athletes who are siblings of the opposite sex and suddenly the mind goes blank. At least for a while. Yes, there is the duo of Marat and Dinara Safin in tennis. Closer home, there are Dola and Rahul Banerjee, two of India's most decorated archers. But sport never quite produces a regular assembly line of sibling success stories involving a boy and a girl.
Gurmehr Bindra, 16, and Anaahat Bindra, 14, want to change that by becoming India's first brother-sister duo to break into the top echelons of golf, a game they have been playing for the better part of their young lives. Both Gurmehr and Anaahat are students of La Martiniere in Kolkata, both have won more competitions than they can remember in the city and on the Eastern circuit, both train and play regularly at Tollygunge Club and the Royal Calcutta Golf Club (RCGC). And yet, both are polar opposites when they start talking.
'She's the better player, but I have the better game'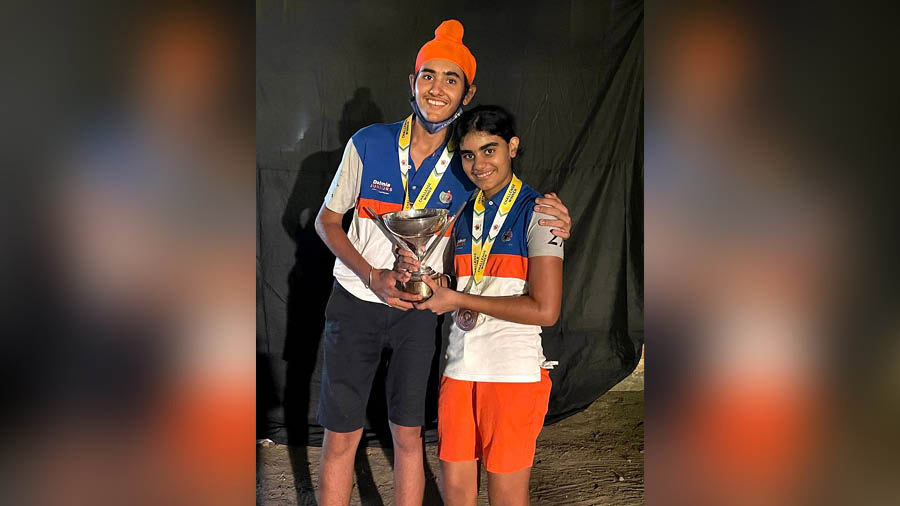 While Anaahat is convinced she wants to become a golfer, Gurmehr is still keeping his options open
Harmander Bindra
When not on the course, Anaahat seems perennially occupied in her mind palace and a conversation with someone else feels like an interruption. She speaks with a mixture of indifference and innocence, the kind that only teenagers seem to be able to pull off. She would probably like to answer every question with a club, not words. Gurmehr, older, taller and more conscious of the narrative around him, is a natural conversationalist. It comes as no surprise that he is an active public speaker in school. But one question seems to momentarily rattle Gurmehr: "Who's the better golfer, you or your sister?" After a few seconds of hesitation, 2021's Golfer of the Year at Tollygunge Club says: "She's the better player, but I have the better game." Anaahat looks puzzled, not particularly delighted by her brother's subtle semantics. Soon enough, she breaks into a smile, giggling along as Gurmehr elaborates on his nuanced take.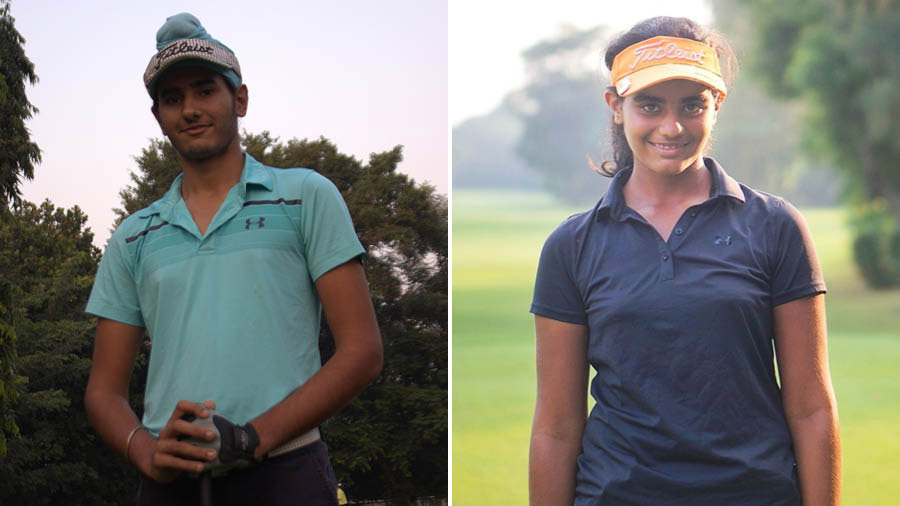 Both Gurmehr and Anaahat enjoyed a fruitful 2022, winning several tournaments in Kolkata and on the Eastern Tour
Sourav Nandy; Soumyajit Dey
Watching the siblings share the same space leaves no doubt as to the implicit trust that bonds them. By their own admission, they do not get to spend a lot of time together. "He's always busy and rarely at home (on Rawdon Street)," is the one line Anaahat repeats frequently. Apart from meals and the odd TV show that brings them together, the two have different schedules and slightly different priorities, too. Anaahat is committed to golf as a long-term career option and her recent wins, including those at the IGU East India Junior Girls & Ladies Championship and the LGU Open at Tollygunge Club, are apt results of her relentless focus. Having ended 2022 as the fourth best player in her age category in India, Anaahat aspires to play on the Ladies Professional Golf Association (LPGA) Tour and represent India at the Olympic Games. "I know what I want and I'm trying to give my best to achieve it. I know it also means making a lot of sacrifices. When I see my friends do what most teenagers do, I know I'm missing out. But I also know it's worth it. I'll get to have my share of fun in life when I make it," says Anaahat.
For Gurmehr, the path to success is not a straight line. At least not yet. In his pre-teens, he enjoyed playing tennis, and while golf has been his number one sport for some time, he is open to the possibility of being something other than a golfer in the future. Like his sister, Gurmehr wants to play at the highest level and his series of wins on the Eastern Feeder Tour across 2022 mirror his constantly improving performances. A very good student, Gurmehr will soon be sitting for his SATs and aiming for an undergraduate degree in the US with the help of a sports scholarship. "I want to explore all my options and wait and watch before settling on something. I like science, I'm into debates and MUNs and, of course, I love golf. So, I have a lot of stuff on my plate right now," says Gurmehr.
'We don't want either of them to spend 10 hours everyday on a golf course at this stage'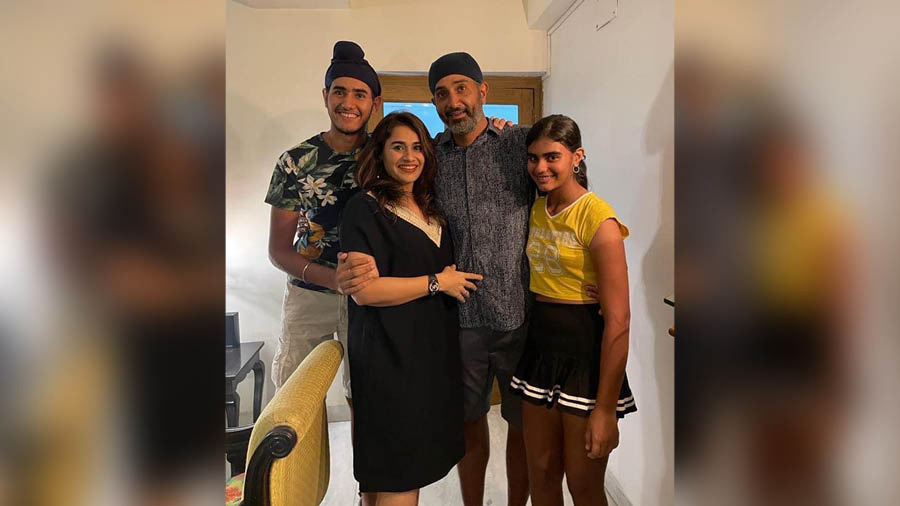 Gurmehr, Geetika, Harmander and Anaahat Bindra
Harmander Bindra
"I'm really proud of both of them and the trajectories they've taken so far. I can count my blessings because they really value what my wife and I do for them," says Harmander Bindra, 47, father, coach and mentor rolled into one. A chartered accountant by profession, Harmander was the one who initiated his kids into golf and has been with them at every step. "Initially, I used to say too much or advise too much when I'd accompany Gurmehr. I learnt from that and adapted myself for Anaahat," says Harmander, who is invariably more nervous than his children when the business end of a tournament approaches.
Both Gurmehr and Anaahat agree that their dad is not too strict, that "he's more of a friend than a parent and he always treats both of us equally". Harmander is quick to pass on the credit to his wife, Geetika Bindra, an ophthalmologist, for "being an inspiration for the kids, and for seeing the sport from the outside". While Harmander is more concerned about explaining technical details to his kids (they also have separate coaches), Geetika is the one who helps to keep them grounded. As parents, the Bindras also want to ensure that "Gurmehr and Anaahat can balance academics and sports" for as long as they can. "We don't want either of them to spend 10 hours everyday on a golf course at this stage, something quite a few of their peers are already doing. There are certain values a good education brings, which matter both on the course and off it," adds Harmander.
After a 2022 that saw both Gurmehr and Anaahat make headlines in their respective categories, 2023 is all about striving for the big wins. We, from My Kolkata, wish them all the very best.