Every second day in some corner of the planet, some youngster intending to master a sport gets called a prodigy. But for every Sachin Tendulkar, there are countless young talents who never make it big. Over the years, and especially since the rise of social media, numerous careers have been undermined by the perpetual struggle to live up to the headlines that have already been written, the limelight that has already been cast.
It is true, therefore, that one must exercise caution before throwing around the word prodigy on every gifted kid. It is equally true that no other word comes to mind after one has witnessed Anshul Mishra in action.
All of 13, Anshul is self-effacing, yet filled with conviction. He wears a soft teenage smile, but his eyes glow with a steely determination. When he is on a golf course, he seems to know what he is doing, down to the minutest detail and the finest blade of grass.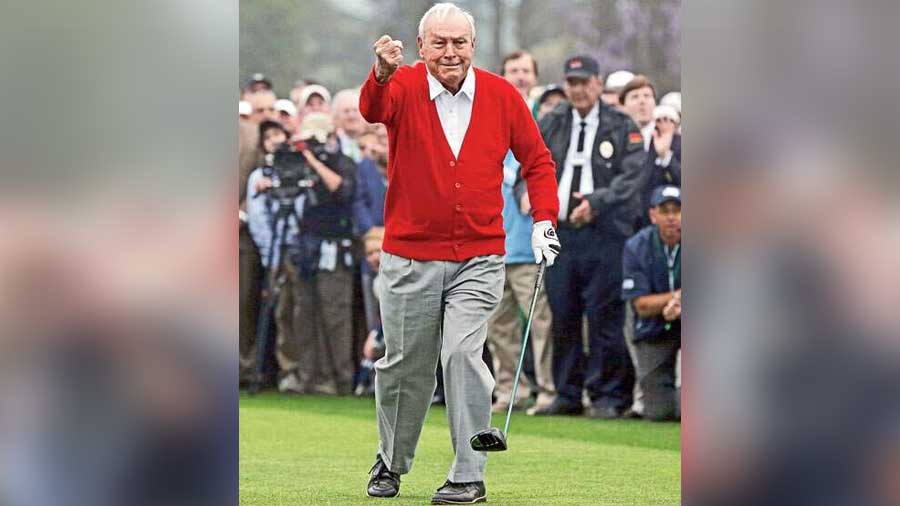 At some point in his career, Anshul hopes to surpass the legendary Jack Nicklaus, who still has the most majors in men's golf to his name with 18 championships
TT archives
"I want to be the number one golfer in the world, to better Jack Nicklaus's haul of majors, and to win an Olympic gold for India," outlined Anshul with a calmness that would normally be associated with reading out a lunch menu.
Fresh off winning the IGU Eastern India Junior Boys Golf Championship over a gruelling three days at Tollygunge Club, Anshul was in the midst of an early morning practice session at the Royal Calcutta Golf Club (RCGC) when My Kolkata caught up with him.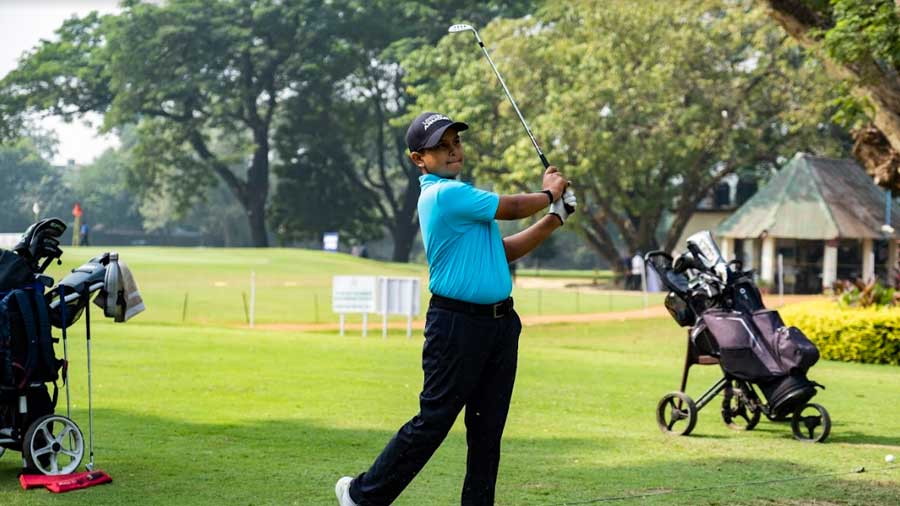 Anshul follows through after an impeccable tee shot
Ritagnik Bhattacharya
"RCGC is a bigger course and a place that is more familiar. But I find the Tolly course much more challenging as it is much tighter," explained Anshul, walking with poise and purpose.
Anshul was introduced to golf at four by his parents who wanted to keep him away "from digital distractions, the world of iPads and iPhones". Alongside golf, the Class 8 student of The Heritage School also played cricket, football, and table tennis, but it was golf that kindled a deep passion within.
"We had no intention of making him a golfer someday. But once the talent was clear, we also wanted to give him the perfect environment to thrive," said Amit Mishra, a banker by profession, and a "strict dad" according to Anshul.
Father and son share an easy relationship. Occasionally, Mishra senior would remind his son that "you have picked up the wrong club" or that "you are not moving your body enough during the swing". But, for the most part, Anshul requires no prodding.
After playing his first tournament at the age of six in Jamshedpur over nine holes, Anshul had a busy 2017, the highlight of which was winning the SSP Chowrasia Junior Golf Challenge hosted by the Ultimate Golf Foundation at RCGC. A year later, he did it again, this time proceeding to clinch the Jyoti Randhawa Tournament at the Classic Golf and Country Club in Gurugram.
Anshul's triumph in Gurugram earned him a ticket to the United States and the life-changing experience of pitting himself against the best junior golfers in the world at the US Kids World Championship in Pinehurst, North Carolina.
"Going to America opened our eyes. We understood that the competition was at a different level, partly because the kids there have such a strong support system and such advanced facilities," recalled Amit.
The faster pace of the American greens meant Anshul had to adjust quickly and the 2018 World Championship turned out to be a baptism by fire as he finished T-17.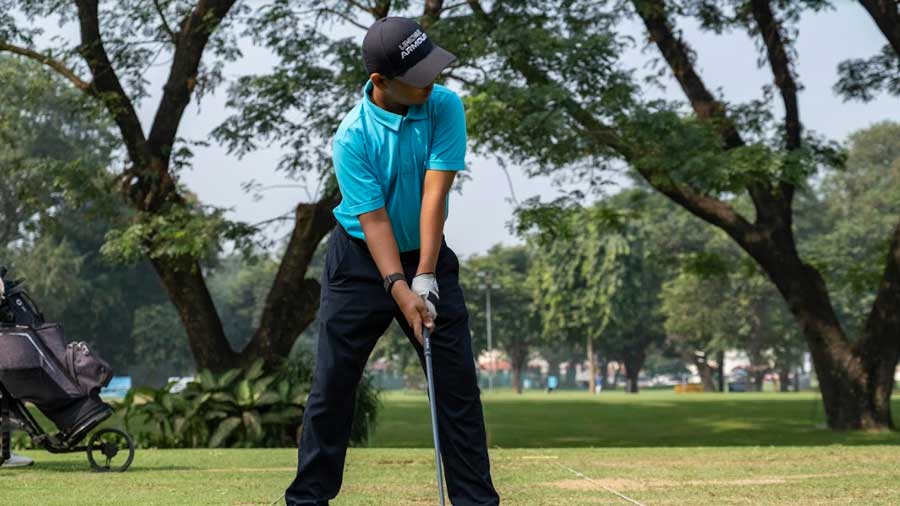 In his free time, Anshul watches a lot of golf on YouTube, closely analysing the techniques of modern greats like Rory McIlroy and Jordan Spieth
Ritagnik Bhattacharya
"I know I cannot always win, but I keep trusting my game and try to focus on the process," said Anshul, reminding one of a certain Mahendra Singh Dhoni with his insistence on process and all the discipline it entails.
"Whenever I need to motivate myself, I go back to a few books that have had the biggest impact on me. Among them are Golf is a Game of Confidence and How Champions Think (by Bob Rotella), and Every Shot Counts (by Mark Broadie)," said Anshul.
The books certainly helped Anshul's temperament in 2019 when he achieved the biggest result of his career so far. Returning to Pinehurst, he placed second at the US Kids World Championship, even managing to lead after nine holes.
"Everybody in the club was talking about an Indian kid who was leading, although the support was for the American participants, as is the norm on home territory," described Amit. For Anshul, however, the initial reaction to finishing as runner-up was "full of disappointment. I regretted that I had made some silly mistakes, which cost me. But eventually, I was happy with my overall performance."
The momentum that Anshul had acquired after his sensational displays in the States got somewhat punctured by months of indoor practice during the pandemic. But now that the greens have opened up once more, Anshul is back to his rigorous routine.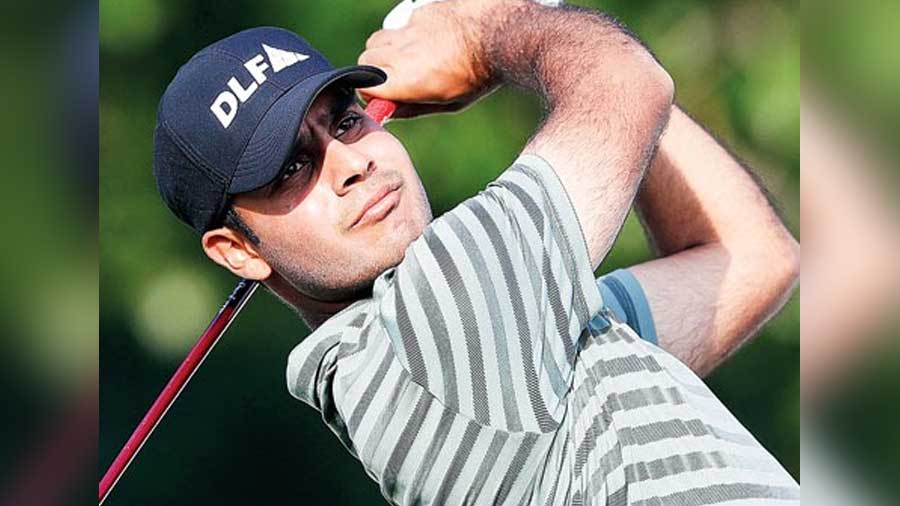 Anshul frequently practises with Shubhankar Sharma, who has already claimed big victories on the European and Asian Tours
TT archives
"I wake up around five in the morning, go for my practice, and come back by eight. Then I head off to school, followed by more practice and a few hours of gym or yoga. I try to ensure I am in bed by half past eight in the evening."
Does Anshul not feel that he is missing out on life? On the freewheeling joys of being a teenager?
"Sometimes I do get a bit upset, especially when I see my friends having fun. But I also know that if I work hard now, I will get to have my own fun later, by living my dreams," mused Anshul.
Fun is not the only thing Anshul has in moderation. Chocolates, fizzy drinks, and his favourite biryani from the Royal Indian Hotel are rare indulgences, as he understands the importance of keeping fit.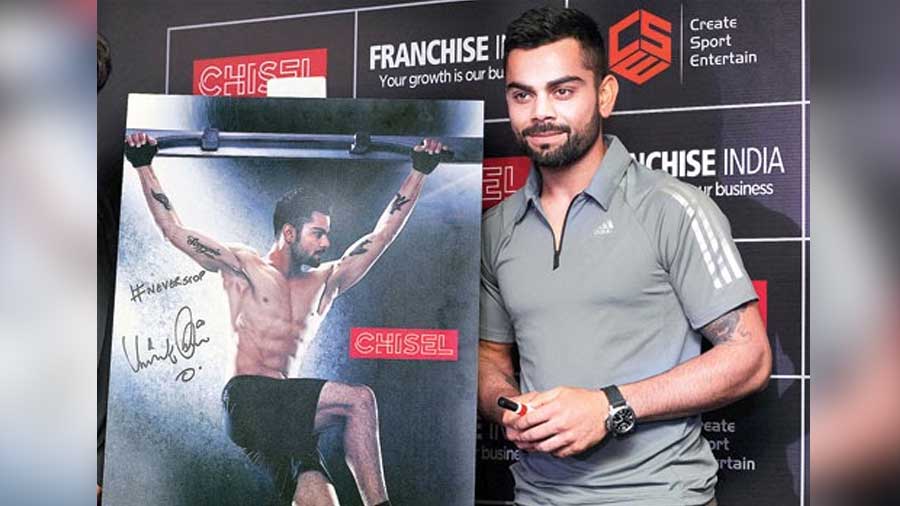 Anshul admires Virat Kohli's fitness routines and how the superstar cricketer maintains a healthy, customised diet
TT archives
"I'm at an age where my swing is changing, and if I'm not fit, I won't be able to maintain my standards. When it comes to fitness and athleticism, I have learnt a lot from Virat Kohli. In football, even though I'm a Lionel Messi fan, I admire Cristiano Ronaldo's commitment to his body," said Anshul.
Currently honing his golf under the watchful guidance of Jesse Grewal, who also coaches European Tour professional Shubhankar Sharma, Anshul has separate fitness and diet instructors. "We need to create an ecosystem where he feels he has everything he needs. Without a core team pushing him, he won't be able to progress," said Amit.
When he is not striving for his next breakthrough performance, Anshul likes to relax in the pool, read up on geography (one of two subjects he likes in school along with history) and watch Marvel, particularly the Spiderman and Thor films.
Anshul is quick to admit that he is "quite lucky to be surrounded by people who are always looking out for my best interests. My teachers in school have been extremely cooperative and my friends never refuse to help me with notes that I may have missed out on."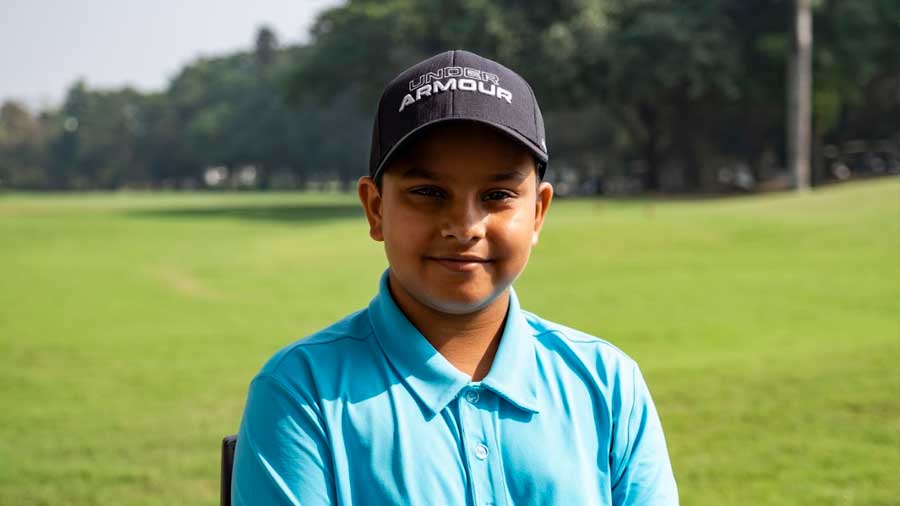 Anshul was introduced to golf at four by his parents who wanted to keep him away 'from digital distractions, the world of iPads and iPhones'
Ritagnik Bhattacharya
It is this humility that grounds Anshul, preventing him from taking himself too seriously. Gaurav Ghosh, a Tolly and RCGC veteran, who has seen his share of golfing prodigies over the years, highlights this aspect of Anshul's character besides complimenting his work ethic and inquisitiveness.
"Anshul manages himself really well, his chipping and putting are remarkable. As he grows stronger and taller, he will get even better. While nobody can ever be certain that a boy this young will one day become a world champion, I am confident that Anshul will definitely be a top-notch professional," said Ghosh.
Ashit Luthra, former president of the Indian Golfing Union, is also keen on this teen: "Anshul has the potential to be a world beater. He has a calm head on his shoulders, great confidence, and he is a cut above all the other amateur golfers. I think he is good enough to be top of the professional rankings someday."
How does Anshul feel when faced with such lofty expectations?
"I don't think too much about them. I try to take everything one step at a time."
At 13, Anshul has already taken some significant steps. My Kolkata will wait and watch as he takes many more.