A man in his early 50s was sitting adjacent to a bus stop in south Kolkata's Kalighat on New Year's Eve, alone and shivering. 
While the city was partying and many went past him, one car stopped. A person came out and wrapped a blanket around the man.
Barely able to speak, the man looked up at the giver and folded his hands in gratitude.
Volunteers of a Kolkata-based foundation have been going around the city — to the streets, railway stations, bus stops — searching for the needy to give them some warmth in winter. 
An initiative that started over two decades back with 200 blankets is going strong and last month, the IHA Foundation distributed 6,430 blankets and 780 winter wear on the city's streets. 
Last year, the drive started in December and the volunteers found many on the streets in Kolkata in search of some warmth.
Some were seen collecting leaves and pieces of wood to keep them warm through the night. Others were trying helplessly to find a shelter that would protect them from the night breeze.
While many in the city have been complaining that it is "not chilly in the city anymore" a woman with a child in her arms in Gariahat on a December night said: "I hope it does not get colder any more."
The volunteers go around from 10pm to 7am with their cars stocked with blankets and winter garments. 
An old woman in Bhowanipore asked a volunteer for a pair of socks. "Bahoot thanda lagta hai (I feel very cold)," she said. 
Their demands are small but essential, said a volunteer. 
"These are the kind of people who we meet when we are out on the street. We want to distribute blankets and winter wear to those who need them the most and there are many such people out there," said Satnam Singh Ahluwalia, founder of the IHA Foundation.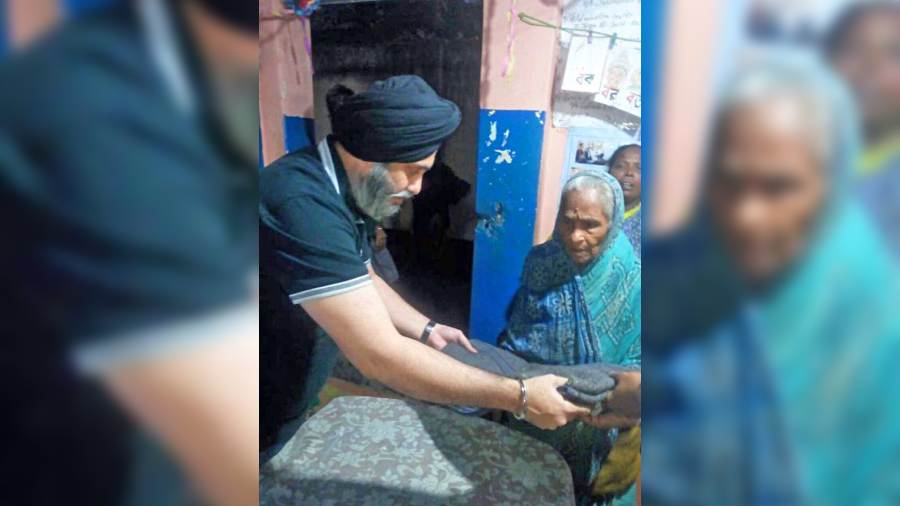 Satnam Singh Ahluwalia, founder of the IHA Foundation, gives a blanket to a shelterless resident of Bakrahat village in South 24-Parganas
Ahluwalia said many are running a temperature and need medical assistance and medicines. Some need follow-up as well.
Over the years, Ahluwalia and his team have seen people who have been on the streets waiting for them.
"They treat us as their family from whom they can ask for what they want," said Ahluwalia.
Some of them also tell volunteers about others who need help and the car then travels there.
Not all are forthcoming with their needs and are, at times, "too self-respecting to ask."
Some of them have a shade on their head but not the means to buy warm clothes.
"We have created a network in localities and it is the neighbours who tell us that they need help. If we are to directly contact them, they will feel embarrassed and will not open up. We are not insensitive to their conditions and so we give them what they need through their neighbours or people they are comfortable with," said Ahluwalia.
Many of these people are senior citizens abandoned by their children.
Some have seen their financial condition deteriorate during the pandemic.