Just two weeks left before Durga Puja, the number of daily new Covid cases in Bengal is almost five times less compared with the count about a fortnight before last year's festivity, a change that experts are attributing to vaccination.
Many hospitals in Kolkata have far fewer Covid patients admitted compared with the number of patients they had to care for two weeks before Puja 2020.
For the last two to three days, the number of daily new Covid cases in Bengal has been hovering around 750. In contrast, the state had recorded 3,526 new cases on October 8, 2020, exactly two weeks before Puja.
Public health experts and hospital officials said one reason for the sharp drop in the daily new case count compared with last year was that a large section of the population has been vaccinated against Covid.
They, however, warned people against dropping their guard in the festive season.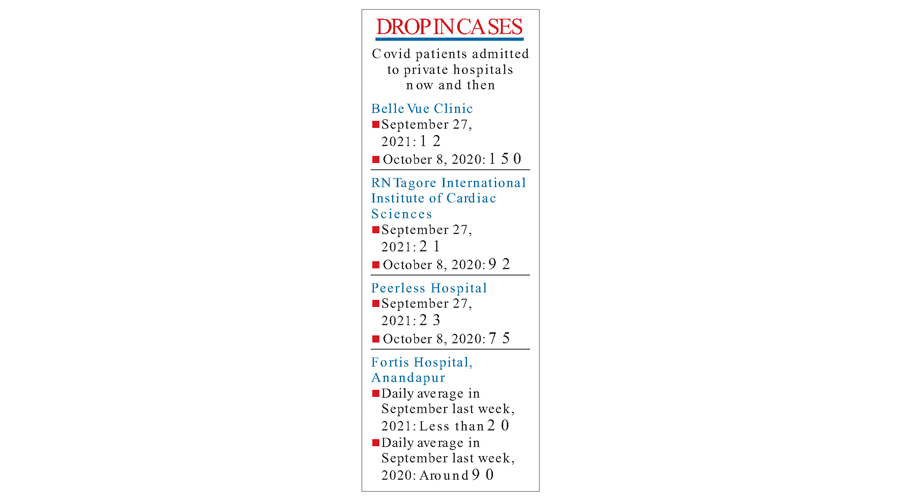 The RN Tagore International Institute of Cardiac Sciences had 21 Covid patients on Monday, 10 of whom are in the critical care unit. On October 8 last year, the hospital had 92 patients, 26 of whom were in need of critical care.
"Last year, the positivity rate of Covid tests at our hospital in September and October was 20 and 28 per cent, respectively. This year the rate in September has not gone beyond 5 per cent," said R. Venkatesh, regional director, east, Narayana Health, which runs the Mukundapur hospital.
"Doctors treating Covid patients are of the opinion that large-scale vaccination was the biggest factor for fresh cases staying far lower compared with last year."
Belle Vue Clinic had 12 Covid patients on September 27. On October 8 last year, the hospital had 150 patients.
The Loudon Street hospital has 40 beds dedicated for Covid patients.
"The number of beds two weeks before last year's Puja was 150 and all were occupied. We had to increase it to 300 after the Puja, all of which became full. This time the situation is much better as occupancy is much less and many beds are vacant," said Belle Vue CEO Pradip Tondon.
Peerless Hospital had 23 Covid patients on Monday, six of whom were in the ICU. Last year, two weeks before the Puja, the hospital had around 75 patients.
"That time around a dozen Covid patients were being admitted every day. Now, around three patients are getting admitted daily on an average," said Sudipta Mitra, the chief executive of Peerless Hospital.
"Ahead of last year's Puja, we were discussing how to increase the number of Covid beds and install ventilators. Then we had around 100 beds. This time, we have 40 beds and barely half are occupied. We hope there will be no need to increase the bed count further," said Mitra.
AMRI Hospitals had more than 400 patients admitted in its three hospitals on October 8. On Monday, there were only 44 patients.
"Vaccination has played a big role in keeping the number of cases low this year before the Puja. The drive has to be pushed harder in districts to keep the numbers low when exposure during the festival will go up," said Abhijit Chowdhury, public health expert and coordinator of the Mamata Banerjee government's Covid management team.
He, however, pointed out that the fear of Covid was gone and many people with symptoms were not getting tested.
"Many people who are testing positive are staying at home and getting admitted only when needed. Last year, the panic was much more," said Chowdhury.
"People should not panic but at the same time should not drop their guard," he said. "Many blame the government for not conducting enough tests. But we also have the responsibility to get tested if there are symptoms."