Durga Puja Covid duty plan for doctors
Private hospitals keen to ensure normal strength during what used to be holiday season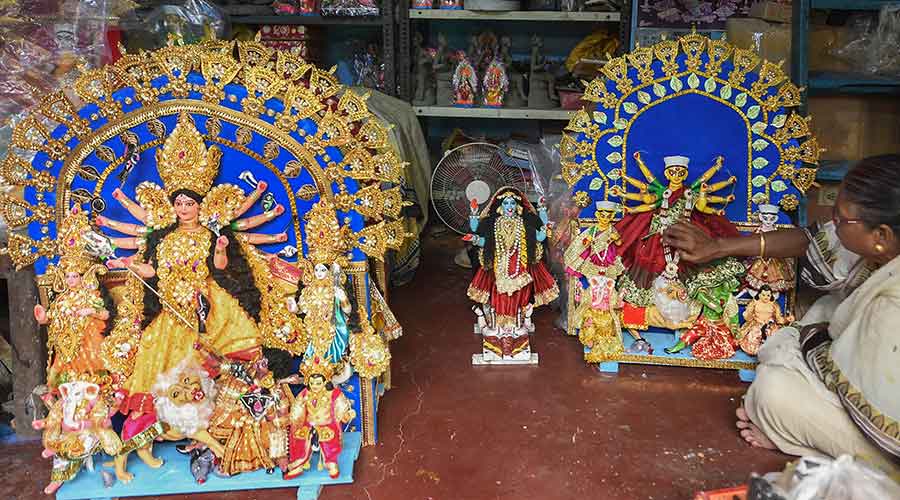 ---
|
Calcutta
|
Published 17.09.20, 02:31 AM
---
Puja holidays are likely to be scrapped for doctors and other employees at several of Calcutta's private hospitals in order to be prepared if the festival season records a spike in Covid-19 cases.
Usually, private hospitals in the city operate with around 40 per cent staff during Durga Puja, extending till Lakshmi Puja. Many doctors go on a holiday during the period.
Officials of several private hospitals said this time they were planning to ask all doctors, nurses, paramedics and other employees not to take leave for the entire festive season.
On Thursday, Bengal reported 3,237 Covid-19 cases. The number of cases till Thursday in the state touched 2,12,383.
Many private hospitals fear it would be a challenge to run hospitals like now during the Puja but their big hope is that most senior doctors would not go on a holiday because of safety issues and uncertainty over international flights.
Peerless Hospital this week sent a communication to all employees, appealing to them not to take leave during the Puja. The AMRI Hospitals authorities held a meeting with senior officials recently, asking them to be on duty for the entire festival week.
Others are trying to prepare rosters for the Puja with as many healthcare personnel as possible.
For the past several years, most private hospitals had 50 per cent occupancy during the festive period. Mostly emergency patients, including accident victims, would be admitted during the period.
Planned surgeries and procedures are not scheduled for the festive month as most doctors are not available and patients, too, want to enjoy the festive spirit without the worry of visiting hospital. Most hospitals keep their outpatient departments closed from Saptami till Lakshmi Puja.
But the Covid-19 pandemic has changed everything.
"Earlier, during the Puja, we would have less than 200 patients, This time, of the 350 beds, 150 have been reserved for Covid patients. On Thursday, all Covid beds were occupied," said Sudipta Mitra, the chief executive of Peerless Hospital.
The hospital has appealed to its 2,000-odd employees, including doctors on the payroll and 150 consultants, not to take leave during the Puja.
"We are fearing Covid-19 patients would need admission even during the Puja and we need to be prepared for that. Managing 200 patients in the pre-Covid times and treating 150 Covid patients are different," Mitra said.
One of the biggest problems is having separate teams of doctors, nurses and other personnel for Covid and non-Covid wards. "Even those washing linens cannot be spared. For Covid beds, fresh linens are needed every day to control infection," he said.
"We have held a meeting with officials and they have agreed to be on duty during the Puja. Now, we have to speak to the doctors and request them to be available during the festive period because of the pandemic," said Rupak Barua, group CEO, AMRI Hospitals. The hospital's Salt lake unit is now a Covid treatment centre.
The Narayana Health group, which runs the RN Tagore International Institute of Cardiac Sciences and two hospitals in Howrah, keeps its OPDs closed on the festive days. But this time they are planning to keep them open.
"It is our endeavour to keep our OPDs and fever clinics open and perform planned procedures/ surgeries, apart from emergency services during the Puja. We will meet our doctors, nurses and support service team…" said R. Venkatesh, director, eastern region, Narayana Health.
The CEO of a hospital said it would be difficult to keep the nurses from Bengal on duty during the festive season. Others are concerned, too.
"It will be tough to prepare the Puja roster keeping all operations like other times of the year, as well as giving leave to people," said Pradip Tondon, CEO, Belle Vue Clinic.
But officials of many hospitals said they were banking on the possibility that most senior doctors would be reluctant to go on a holiday during the festive period because of the Covid scare and uncertainty over international flights.
"I had plans to visit my daughter in the UK during the Puja. But now there is no question of going," said surgical oncologist Gautam Mukhopadhyay.