Calcutta hospitals prepare for rush
Private units fear surge in demand for critical-care beds during Durga Puja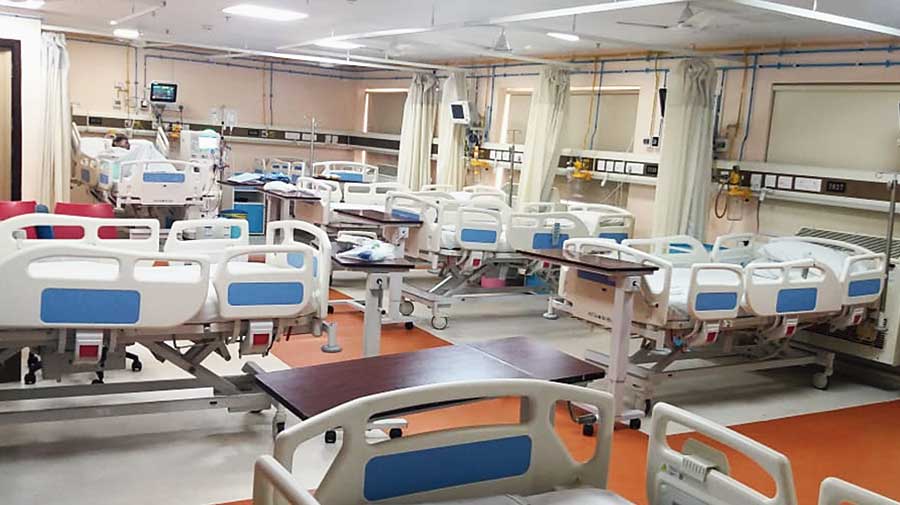 A critical care unit for Covid patients at a private hospital in the city.
Telegraph picture
---
Calcutta
|
Published 08.10.20, 02:06 AM
|
---
Private hospitals are recruiting medical officers, increasing critical-care beds, renewing contracts with hotels for satellite treatment centres, and tying up with ambulances, apprehending a surge in Covid-19 cases during and after Durga Puja.
These hospitals feel more critical care beds will be needed during the festive season, officials of several such hospitals said.
Hospitals are installing more monitors and ventilators at their units to convert general beds into ICU and HDU facilities.
AMRI Hospitals has 250 Covid beds at its three units, Salt Lake, Dhakuria and Mukundapur. Of these, 110 are critical care beds.
"We plan to convert 20 general beds into ICU and HDU beds, thus increasing the total number of critical-care beds to 130. We are going to compensate for the decrease in general beds through our satellite units," Rupak Barua, group CEO, AMRI, said.
The hospital has tied up with two hotels and has the capacity of keeping 48 Covid patients with mild or no symptoms, he said. At the moment, barely 20 patients are there.
Barua said the demand was more for critical care beds. In September, the group's hospitals had to refuse admission to 87 critical Covid patients for want of beds, he said.
"We will need more machines, trained nurses and doctors for augmenting the number of critical-care beds. We are recruiting junior doctors. At present, we need 20 more junior doctors," Barua said.
ILS Hospital Dum Dum has increased the number of critical-care beds. The hospital has 60 Covid beds, of which 27 are for critical patients.
"We plan to increase it to 35… we need more equipment and we are recruiting junior doctors," Debasish Dhar, group vice president, ILS Hospitals, said.
RN Tagore International Institute of Cardiac Sciences plans to increase its critical-care facilities.
"Since more Covid patients are willing to go for home isolation, we feel the pressure on hospitals will be from critical patients who require ICU care, which we are fully prepared for," R. Venkatesh, regional director, east, Narayana Health, said.
The RN Tagore is its flagship hospital.
"We now have growing experience in treating such patients and there has been a corresponding decrease in hospital length of stay. We feel confident we will overcome any surge in numbers," Venkatesh said.
Peerless Hospital plans to convert one more ward for treating Covid patients, expecting a rush during Durga Puja.
Hospitals expect satellite units to have more occupancy during the festive season when many people will reach Calcutta from other cities.
So, there can be a problem in home isolation in crowded households, officials of several hospitals said.
At present, most hospitals have low occupancy at their satellite units and some have already terminated the contracts.
"But we have again asked hotels to keep rooms available for any mild or asymptomatic Covid patient who might need isolation during Durga Puja," Dhar of ILS said.
The hospital is tying up with private ambulances during the festive season because Covid patients might find it difficult to reach hospital at that time, he said. These ambulances belong to private agencies but the hospital will operate them.