The seventh edition of the Tata Steel Kolkata 25K, partnered by The Telegraph, saw Leonard Barsoton and Desi Jisa top the men's and women's elite international categories, respectively. Both of them also rewrote the record books. A list of the winners and the time each took to complete the course.
International men
Leonard Barsoton (Kenya): 1:12:49
Birhanu Legese (Ethiopia): 1:12:54
Victor Kiplangat (Uganda): 1:12:56
"I know the course. I knew exactly when to pick up pace. I had been preparing for the last two months. I had some niggles but despite that, I am happy to have won here and with a course record," said Barsoton, who will take home a $7,500 (around Rs 6.5 lakh) winner's cheque, along with an event record bonus of $3,000 (around Rs 2.48 lakh).
International women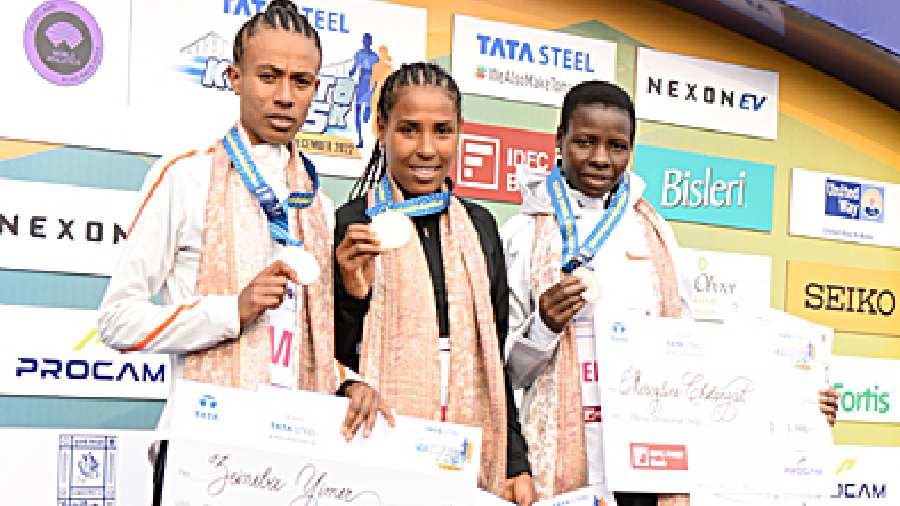 (From left) Zeineba Yimer, Desi Jisa and Mercyline Chelangat
Desi Jisa (Bahrain) 1:21:04
Zeineba Yimer (Ethiopia) 1:21:18
Mercyline Chelangat (Uganda) 1:21:31
"I thank Kolkata for such a warm welcome. I wanted to win the race and I'm thrilled to have done it with a course record. Now my target will be to participate in Paris (2024 Olympics), a dream for all.... I loved running here," said Jisa, who was runner-up here in 2019.
Indian men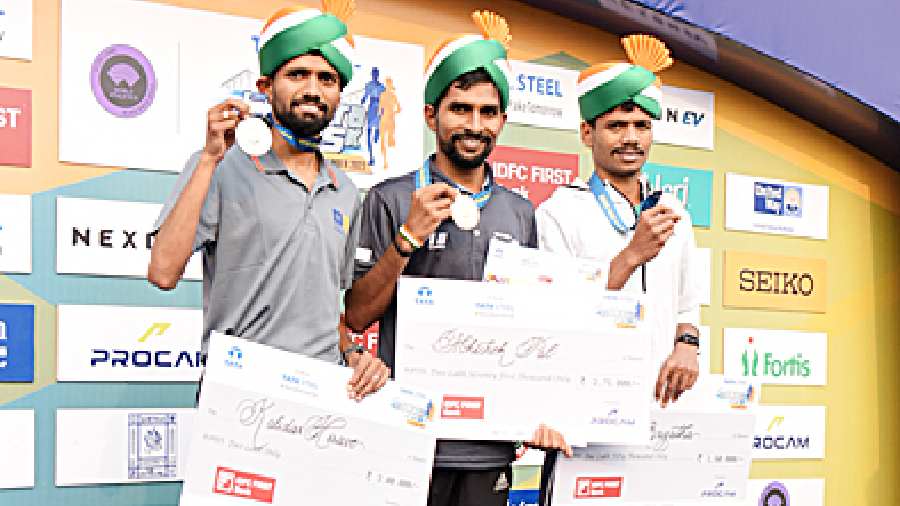 (From left) Kalidas Hirave, Abhishek Pal and Srinu Bugatha
Abhishek Pal 1:17:52
Kalidas Hirave 1:17:57
Srinu Bugatha 1:18:25
"Till the 20km mark we were neck and neck, but after that I picked up pace. Last time, I failed to win here, so I was determined," Pal said.
Indian women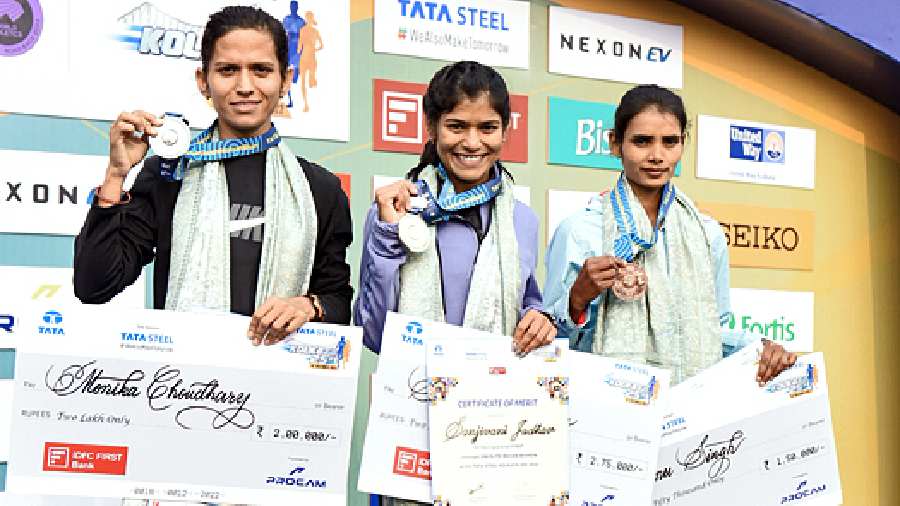 (From left) Monika Choudhary, Sanjivani Jadhav and Reenu Singh
Sanjivani Jadhav 1:34:23
Monika Choudhary 1:37:00
Reenu Singh (India) 1:39:11
"I am very happy to have won. I wanted to keep the winning momentum going. I wanted to maintain the tempo, remain in the mix, and set the pace in the end," said Jadhav.