Vision gone, not will
Mohammed Asif Iqbal, an associate director with PricewaterhouseCoopers (PwC) in Kolkata who lost his sight completely before he was 16, participated in the 25K category without any physical support during the entire course.
Iqbal depended on colleagues Prakash Singh and Dibyendu Mondal, who ran alongside him and gave him voice commands about the changing terrain of the course, including the presence of speed breakers, undulations on the road surface and turns. The entire group in turn was assisted by bicycle Marshall Anuradha Pathak, a resident of Salt Lake's AE block.
Iqbal, who has participated in several runs, said this was the first time he did it based on voice commands. The general practice is to be attached to a buddy runner with a rope or pole.
"I enjoyed this run the most, although this was the most difficult as I did not have any buddy runner guiding me through a rope or pole. Hearing to the instructions required utmost concentration because of the sound of the running shoes of other runners hitting the asphalt and other noise elements, but I managed and I am elated," Iqbal told The Telegraph. Iqbal will now prepare for the Tata Steel Mumbai Marathon, set to be held in January, and his eyes are set on completing a full marathon next year.
Officers set the tone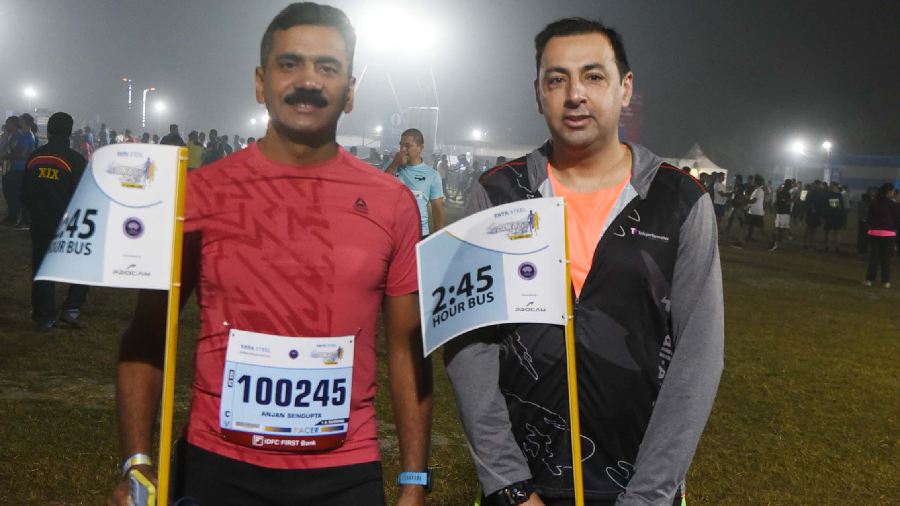 Arjan Sengupta (left) and Abhijit Singh, pacers from the Indian Army
Arjan Sengupta, a colonel in the Indian Army posted in Varanasi, and his colleague, Colonel Abhijit Singh from Delhi, were pacers who guided other runners in the 25K category of The Tata Steel Kolkata 25K. The officers were pacing the "02:45 bus" — the duration set for their group to finish the run — denoted by the time written on flags attached to their backpacks.
Sengupta, a triathlete and a veteran of many runs said, the course was well-thoughtof and they thoroughly enjoyed the run. "Our bus reached on time and we were quite happy to see the number of people who have taken up running here in the city," said Sengupta.
From the hills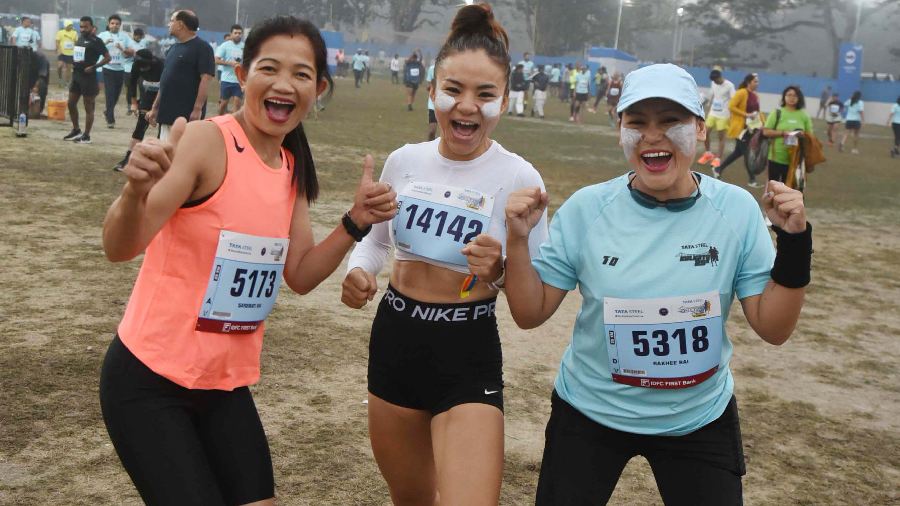 (From left) Saraswati Rai, Samjana Nischal and Rakhee Rai from Darjeeling
Three women from the hills were at the starting block of the 25km race.
Samjana Nischal (centre) took part in the 25K category of the race, with her friends Rakhee Rai (right) and Saraswati Rai (left). All three women are from Darjeeling and their regular practice runs comprise a lap to Ghoom or Batasia loop from Bhanu Bhavan or the Darjeeling Mall.
Nischal, a yoga instructor, said they wanted to get a feel of running "with so many people together", while Rakhee, who teaches at a government-run private school, said the experience was exhilarating. "We had a lot of fun and running alongside so many people was a once-in-a-lifetime experience," Nischal told The Telegraph on Sunday.
All three women said the course was "extremely pretty" and offered stunning views of landmarks, including the Victoria Memorial.
A veteran of more than 40 runs across the globe, Shivanand Shetty, who works in a Mumbai hotel, has been running for 18 years.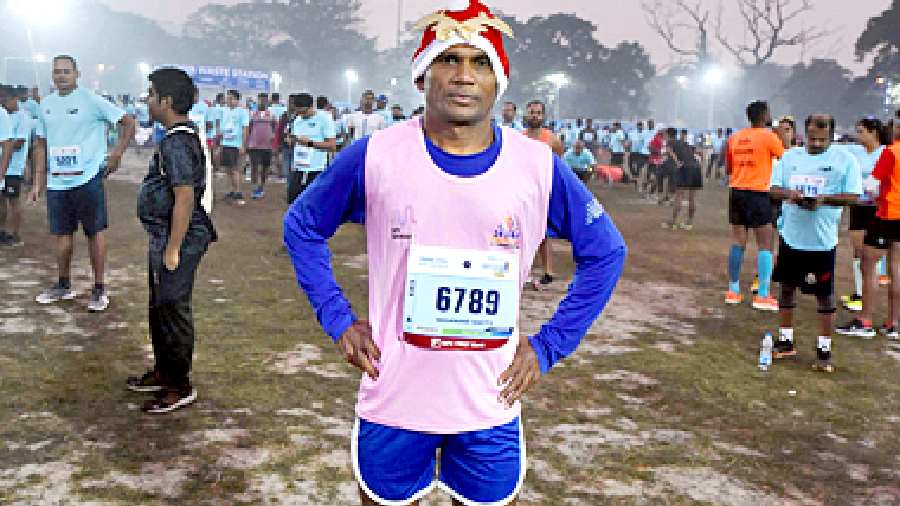 Shivanand Shetty
On Sunday, he made his TSK debut.
Shetty, who has taken part in runs in New Zealand, Australa, Indonesia, Sri Lanka and Brunei, terms running as "therapeutic and spiritual" and said he took it up not only to keep himself fit, but to constantly challenge himself on an everyday basis.
Shetty, who had turned up in a Santa cap, said he wanted to cheer people around him while running and had even formed a small running group of complete strangers who ran with him throughout the 25km.
"I came here wearing a Santa Cap as Christmas is around the corner and wanted to give something to the other runners to smile about," said Shetty.
Shetty will also take part in the Tata Steel Mumbai Marathon, scheduled for January.
One step up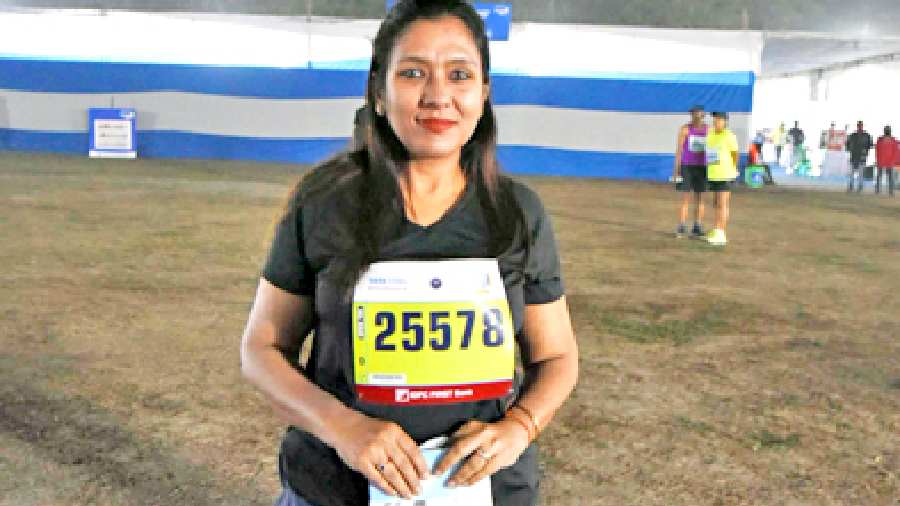 Sukanya Majumder
Salt Lake resident Sukanya Majumder is a TSK veteran, having participated twice before, albeit in the 5K category.
Majumder, who works for HDFC Limited, said this time she took part in the longer and more gruelling 10K category as she wanted to test herself and also time her run.
Majumder runs regularly for at least 4km and had been preparing for the TSK run for at least three weeks.
"Running grows on you. Once it does, you cannot stop. I want to run 25K some day," she said.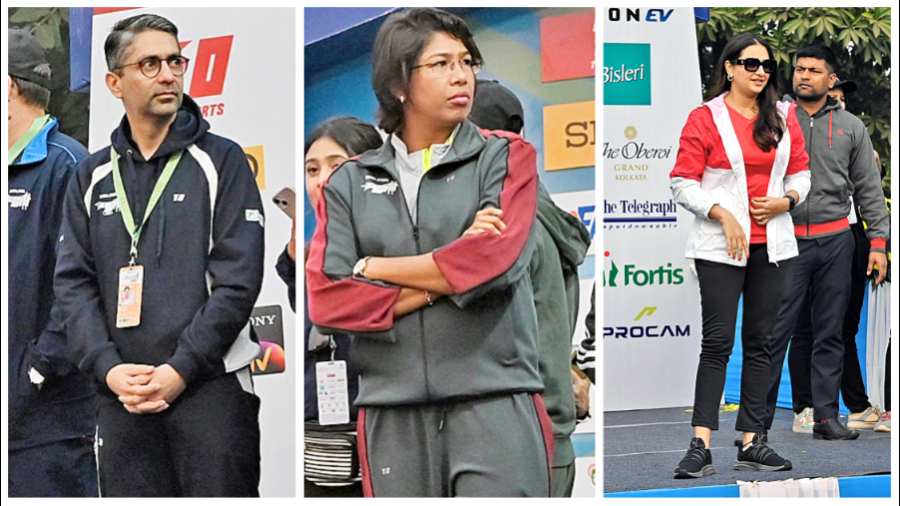 (Left to right) Abhinav Brinda, Jhulan Goswami, Actress Subhashree at the TSK 25K run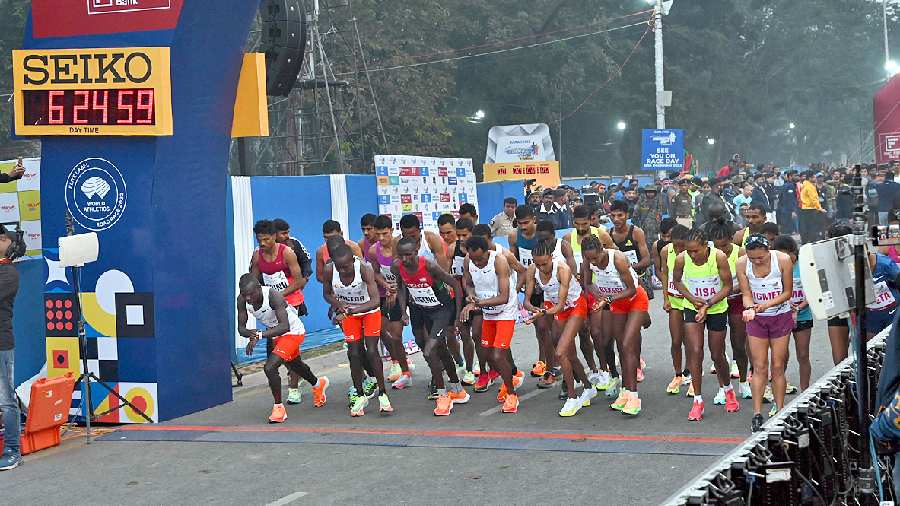 25k Elite athletes at Tata Steel Kolkata 25K run on Red Road on Sunday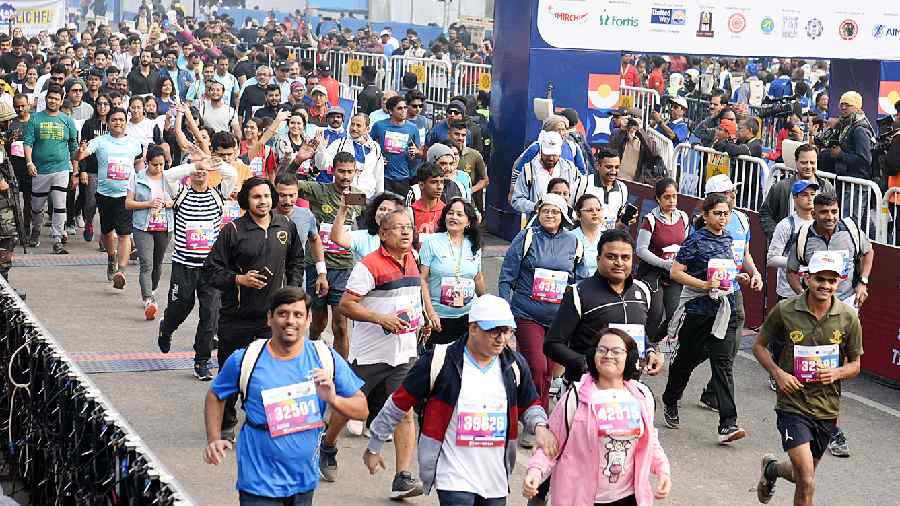 Ananda Run participants on Red Road on Sunday morning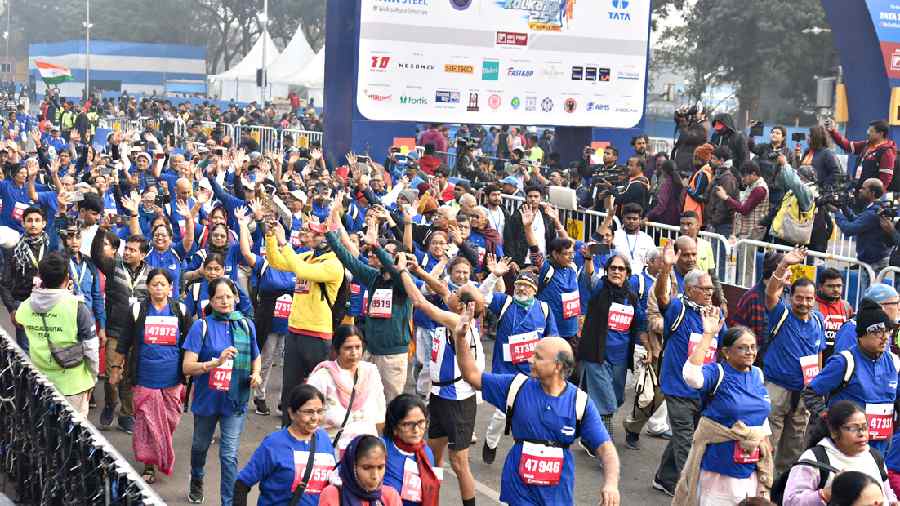 The Senior Citizens' Run on Red Road on Sunday morning
Back to normal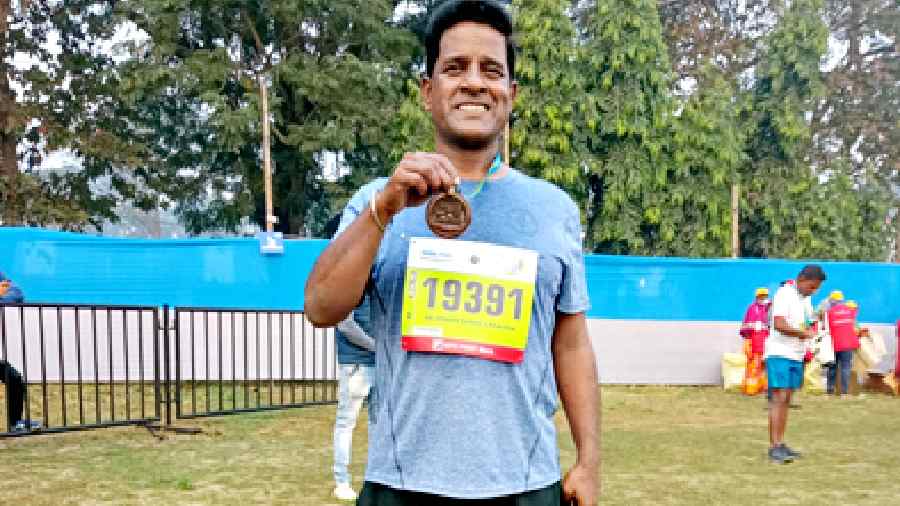 Rajender Singh Lahauria
Rajender Singh Lahauria, a Dum Dum resident, has been a part of TSK 25K since its inception. He was a relieved man on Sunday.
"The race has become a part of my winter calendar. I had been missing it terribly over the past two years. The pandemic had stalled almost everything. Things are gradually getting back to normal now. The resumption of TSK is a big confirmation of the world coming back to normal," said Lahauria, in his late 50s. On Sunday, he took part in the 10K run, completing the distance in an hour and one minute. It was a couple of minutes more than what he had clocked in 2019. "But that is all right. The race is back, that is the biggest thing. Running, in my view, is the best exercise for physical fitness, longevity and a glow on the face," he said.
Born and brought up in Shillong, Lahauria was a frequent winner of races in college. He makes it a point to run five to six days a week. He runs on a ground near the Dum Dum airport, where he is the general manager of the air traffic control.