A 16-year-old started teaching students in her locality because her father, the owner of a small eatery, met with an accident that confined him to bed. His dhaba on the highway had to shut down. Rajanya Saha and her mother make Rs 8,000 a month between them. It takes care of their living, educational and medical expenses.
A 10-year-old boy is fighting duchenne muscular dystrophy, a medical condition that has him confined to a wheelchair. Despite this, Yuvaan Singh, in Class V, attends school regularly. His mother waits outside the classroom to take care of him so he does not fall.
Students whose courage and conviction triumphed over their circumstances took the centre stage at the inaugural ceremony of IIHM presents The Telegraph School Awards for Excellence 2022 on Saturday.
Over 700 students received certificates in 14 categories in the 27th edition of the awards, in association with The Bhawanipur Education Society College, held at South City International School.
Both Rajanya and Yuvaan received The Surrendra Paul Memorial Award for Courage.
"Doctors had said that my father would take six months to recover but it is close to a year and he is still on bed rest. The dhaba shut down because neither my mother nor me could run it on the highway. Both of us started giving tuitions," said Rajanya, the Class XI student, who also received The Shyamal Basu Scholarship.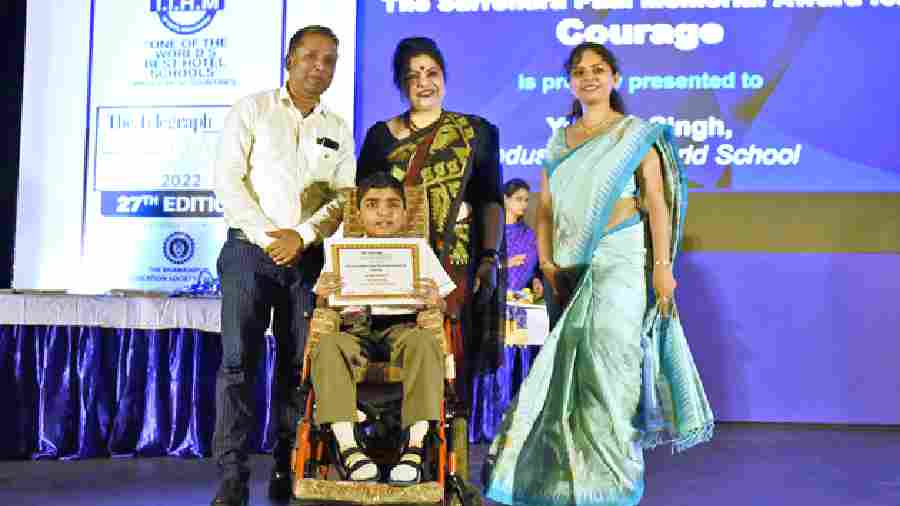 Yuvaan Singh who received The Surrendra Paul Memorial Award for Courage
Rajanya Saha who received The Surrendra Paul Memorial Award for Courage
It is difficult to take classes and attend school. Online classes in the interim made life more difficult.
"My phone had stopped working for a few months last year and we could not afford to buy one, so I used my mother's phone (that is not a smartphone) to call up my teachers and friends to understand what was taught online," said the student of Holy Child Institute Girls' Higher Secondary School.
For Yuvaan to continue his studies, his mother gave up her career. If he falls, it could lead to further complications in his existing medical condition.
"He is a positive boy and loves cricket," said his father Dilip.
For the first time this year, the inaugural award ceremony was not just an in-person event but also live streamed for people to view from different parts of the world.
In the past two years, the award ceremony was conducted online because of the Covid pandemic. The Telegraph Education Foundation received applications for scholarships from the Dooars to the Sunderbans and the Foundation is striving towards handing over Rs 60 lakh this year. Last year, Rs 50 lakh was handed out to students through scholarships instituted by individuals and institutions. The scholarships help many to continue their studies and inch closer to their dreams.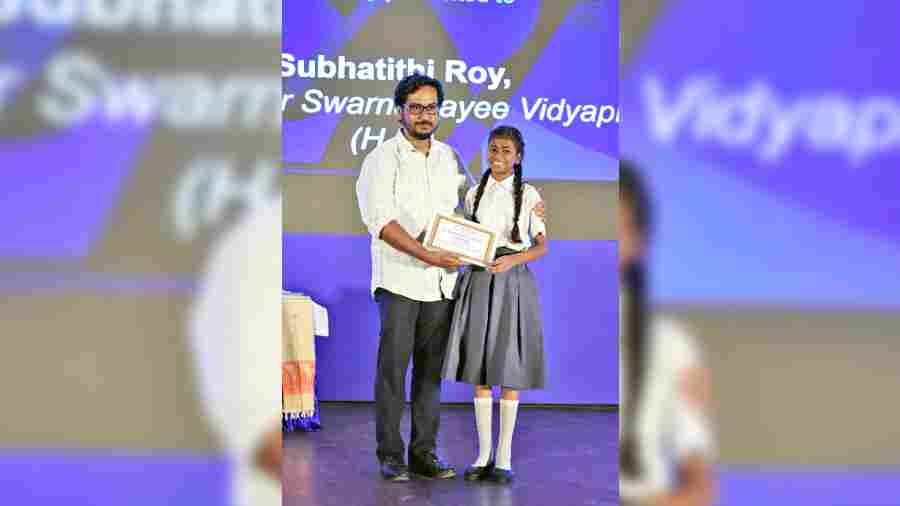 Subhatithi Roy who received The DPS Megacity Scholarship
It helps the likes of Class VII student Subhatithi Roy, of Katjunagar Swarnamayee Vidyapith (HS), whose father has a tea stall but wants his daughter to become a bank manager, and Roji Das, a Class XI student of Rishi Aurobindo Memorial Academy, whose left hand is only up to her elbow but she is determined to become a make-up artist.
Roji Das who received The Purushottam Bhagchandka School Scholarship
Subatithi received The DPS Megacity Scholarship and Roji received The Purushottam Bhagchandka School Scholarship.
Such is the pull of the award show that Roji wrote her political science exam in her school in Dum Dum and took a bus with her mother to reach the venue minutes before the ceremony ended.
"Despite having one hand, my daughter can tie her own hair or shoe laces and I know she will be independent enough to sustain herself," said her mother Chandrani.
As the young girls and boys walked up and down the stage, their stories moved some in the audience to do more than just sit.
Abira Das, principal of Agrasain Boys' School, wrote an email to the foundation during the event saying she wants to institute scholarships — one individually and the other on behalf of the school.
Girls, boys and schools received certificates for their academic excellence, talent in sports, ecofriendly initiatives and social service.
Carrying placards and posters, children from Ankur, an NGO-run school, came to collect The Caring Minds Awards for A School that Cares.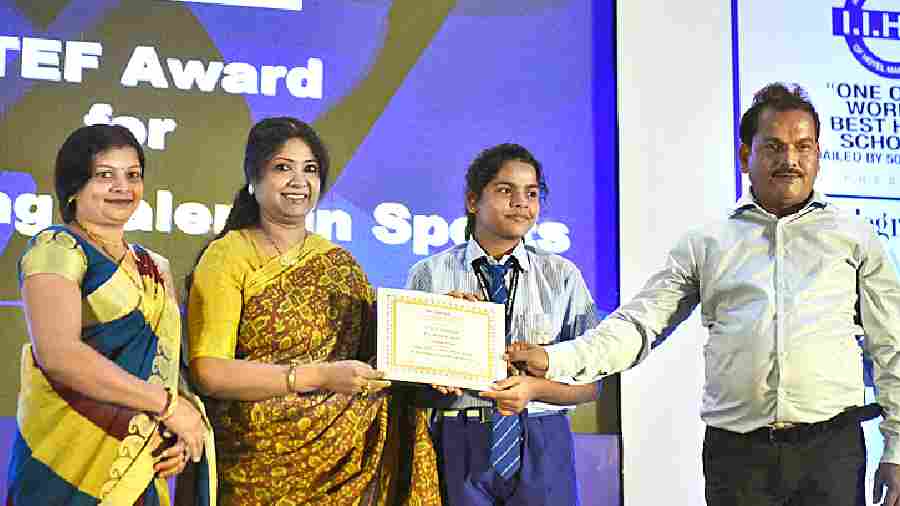 Ragini Tiwari who received the certificate of merit for TTEF award for Outstanding Talent in Sports
Ragini Tiwari, a black belt in taekwondo, received a certificate of merit for TTEF award for Outstanding Talent in Sports.
"I am doing taekwondo since I was four and it is as important to me as my studies or my parents. It gives me a psychological advantage when travelling alone," said the Class XII student of Salt Lake Siksha Niketan.
The stories do not end here. Many more heroes will walk up to the stage next Saturday (September 3) at St James' School for the concluding part of the awards.