Several roads in the city have been repaired after being in a battered state for a long time. However, many stretches still are riddled with potholes and need urgent repairs.
Mayor Firhad Hakim has set a deadline that all roads must be repaired by September 20.
Hakim has said he will inspect roads in the city on the evening of September 20.
An official of the Kolkata Municipal Corporation (KMC) said every year roads undergo temporary, or patchwork, repairs before the Puja.
On Sunday, The Telegraph found a stretch of Jessore Road, under the Patipukur railway bridge, in a poor condition. The top bitumen layer has worn off from a portion of the road, creating a narrow pit.
Earlier attempts to repair the stretch had left it undulating. Bricks placed under the top bituminous layer were exposed.
A little distance away, on the same road, there is hardly a lane that is not broken. Most vehicles try to ply thorough an unbroken narrow strip of the road. Others have no option but to brace for a bumpy ride.
Kasturi Choudhury, chairperson of South Dum Dum Municipality, said they had informed the public works department (PWD), the custodian of the road, about its condition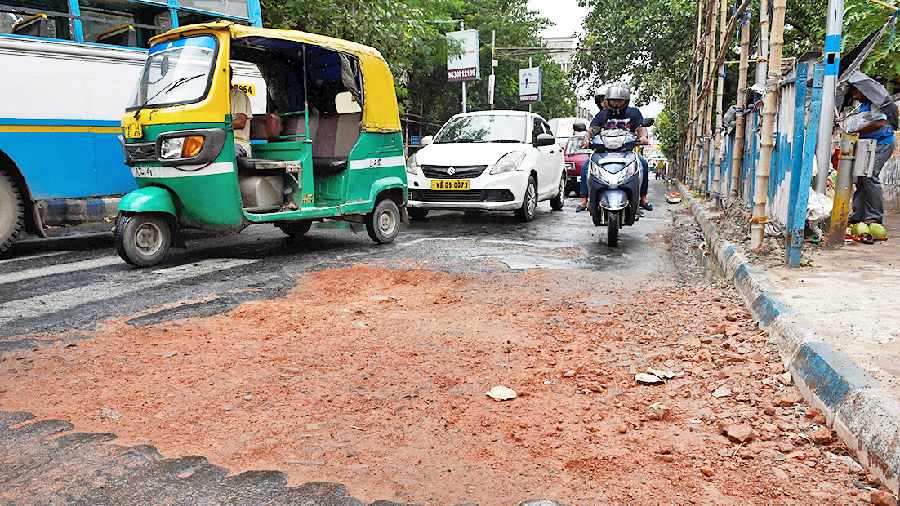 Poor condition of the Kasba end of Bijon Setu on Sunday.
"We have already spoken with the PWD and they have assured us that the stretch will be repaired before the Puja," said Choudhury.
A large circular portion of the road on the Kasba end of Bijon Setu, too, needs repairs. Crushed bricks have been used to fill the broken portion.
A senior engineer of the KMC said the stretch had to be dug up to repair a leak in the underground water line.
"The leak has been repaired. We have covered the area with crushed bricks. We have left it like that so that the section settles under the weight of vehicles moving over it. We could not have laid a layer of bitumen on it immediately after the dug-up stretch was flattened," said the KMC engineer.
"We will lay a coat of bitumen on that section by September 20," said the engineer.
Among the roads that have been repaired are Shyama Prasad Mookerjee Road and Southern Avenue, where potholes have been covered by a layer of bitumen. But Southern Avenue has become more undulated because of repairs.
Repairs are also underway on several stretches of EM Bypass, including at VIP Bazaar and in front of Metro Cash and Carry.
Potholes on service roads along the EM Bypass were also under repairs, said an official of the Kolkata Metropolitan Development Authority (KMDA), custodian of the Bypass.