Three years ago, a homemaker would spend around Rs 550 for an LPG cylinder. Now, she spends Rs 1,000.
If the price of diesel four years ago burnt a hole in the pocket of a taxi driver, it has now pushed him to the brink of penury.
The spiralling fuel prices have scalded millions. But the worst affected are people who have already been hit hardest financially by the pandemic.
With the Covid threat perception at its lowest, now could have been the time for a turnaround for these people. But the latest rise in petrol, diesel and cooking gas seems to have put paid to such hopes.
The Telegraph spoke to three Kolkatans on how they were coping.
Shyamali Dutta
Domestic help, who lives off Swinhoe Lane near Kasba, south Kolkata
• Price of a domestic LPG cylinder in 2019: Rs 550 (approx.)
• Price of a domestic LPG cylinder in 2022: Rs 1,000 (approx.)
Rs 450, the amount by which the price of a domestic LPG cylinder has risen since 2019, is a large sum for a family with a fixed monthly income of Rs 5,000.
Dutta's husband, an electrician, has been hit hard by the pandemic. He was "without work" for most of the past couple of years, forcing his wife to take the job of a domestic help two years ago.
The family of eight now barely manages to get two square meals a day.
Dutta uses wood and cow dung cakes as cooking fuel though she has an LPG connection.
Cooking with wood entails a lot of time, smoke, incessant coughing and breathing problems. "But I don't have any other option. I cannot afford two cylinders a month," she said.
More than anything, the cooking eats up into the time Dutta would otherwise spend with her daughter, a Class II student at a government school in south Kolkata.
The last time she had gone for a picnic or a short trip was "years ago".
A feast at home means 1kg of chicken (Rs 240) divided among eight people.
Dutta rides a cycle to her employers' homes and walks, even to places "over 5km" away, to save on transport expenses.
"We can scrape through. But I feel so helpless that I cannot give basic joys to my daughter," she said.
Anurag Chauhan
Sells vadas in front of Vardaan market, on Camac Street, central business district
• Monthly expense on cooking gas in 2019: Rs 4,500 (approx.)
• Monthly expense on cooking gas now: Rs 8,500 (approx.)
Chauhan's stall — Victoria Vada, which had grabbed eyeballs in November 2013 when visiting British Prime Minister David Cameron dropped in — needs four cylinders every month.
The price of one 19kg commercial LPG cylinder is around Rs 2,100 in Kolkata. In the latest price revision in March, it became costlier by more than Rs 100.
Fuel is not the only adversary for Chauhan.
The price of edible oil was around Rs 90 just before Covid. It has since gone up to around Rs 175 a litre now.
"Sometimes, I feel like selling everything here and going back to the village and starting farming," said Chauhan.
Chauhan's family home is in Jaunpur in Uttar Pradesh.
Earlier, he used to send home around Rs 12,000 a month. Now, he can send barely Rs 7,000.
In Kolkata, he lives in a rented accommodation in Janbazar, which he shares with a couple of others.
The summer nights often get unbearable and a lone ceiling fan is not of any use.
"We had thought of buying a pedestal fan but any additional expense now is out of the question," he said.
While visiting home in the past, Chauhan would buy bags of gifts. Now, he takes only "some cheap toys from Burrabazar" for children in the family.
What angers Chauhan the most is the general lack of concern around the rise in prices.
"The message is very clear, that we have to fend for ourselves. Whether we sleep hungry or not nobody cares," he said on Tuesday afternoon.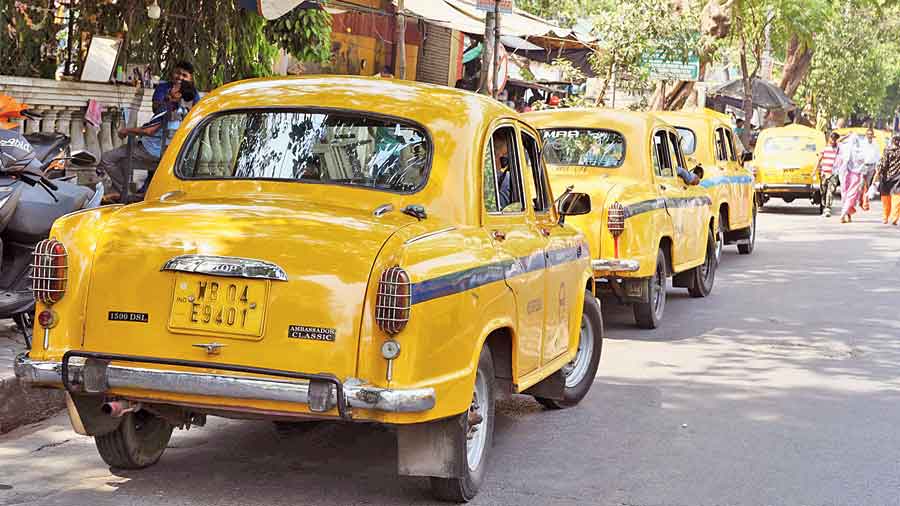 A taxi stand near New Market on Tuesday
Surajit Chowdhury
Taxi driver who lives in Shakuntala Park in Behala, southwest Kolkata
• Daily diesel expense in 2019: Rs 700 (approx.)
• Daily diesel expense in 2022: Rs 1,000 (approx.)
Chowdhury owns the car. But he does not take it out every day because of the rising fuel prices.
"The price of everything, from insurance to spares, has gone up. Only our fares haven't. I have to take care of insurance, permits and taxes. The relief is that I have cleared my EMI," he said.
Chowdhury is not married. He lives with his elder brother and his family. His brother owns, and drives, an app cab.
If Chowdhury is hungry in the evening, he sips tea and eats a biscuit. Even an egg roll costs Rs 30, an amount that seems "too much" for him.
In Kolkata, the base fare for a metered taxi is Rs 25 for 2km and thereafter Rs 12 for every kilometre. Chowdhury travels around 110km a day and goes without any passenger for at least 20km.
In the metered fare, Chowdhury earns around Rs 1,200 for 90km and needs about 11 litres of diesel to run 110km.
"I have thought of selling the car. But I will have to sell it as scrap," said Chowdhury.