Shundori Komola
Profiteroles with craquelin, Komola kheer cream, Pepe-r plastic chutney &White chocolate ganache
Choux pastry
Ingredients
½ cup Milk
½ cup Water
6 tbsp Butter
½ tsp Salt
128 g Flour
½ tsp Sugar
4 Eggs
Method
1. In a saucepan heat together milk , water & butter.
2. Once its boiled , add in the flour and cook it for 15 seconds.
3. Take it out on a bowl and add in eggs and mix using the whisk.
4. Bake it at 170 º C for 30-40 mins.
Craquelin
50 g All Purpose flour
50 g Butter
50 g Caster Sugar
Method
1. In a bowl mix together everything, make a dough, roll it thin and freeze it and cut small discs.
Komola Kheer
500 g Milk
100 g Khoya
50 g Sugar
2 pinch Cardamom Powder
Juice of 1 orange
2-3 Orange segment pulpl1 tsp Orange zestlAs required Whipped creamMethod
1. Boil the milk till its reduced to 50 per cent
2. Add the khoya and cook it further till its thick.
3. Add in cardamom powder and cook it.
4. Once the desired consistency is achieved, let it cool down, add in orange juice, zest and segments and fold in whipped cream.
White Chocolate Ganache
30 g Cream
90 g White compound
Few drops Orange colour
Zest Fresh Orange
Method
1 . In a pan heat the cream, pour over chopped chocolate, add in zest and colour, and mix it.
Pepe-r plastic chutney
¼ Raw Papaya
2-3 tbsp Sugar
Mustard Seeds
1 tbsp Lime Juice
1 tsp Lime zest
Method
1. Thinly slice the papaya and cut it further into square slices.
2. In a pan , heat little bit oil, add in the mustard seeds till it started to crackle.
3. Add in the papaya and salt, and cook it till its soft.
4. Add in sugar and water and cook till its thick.
5. Switch off the flame and add in lemon juice and zest.
Gondhoraj Chicken with Anaras Kasundi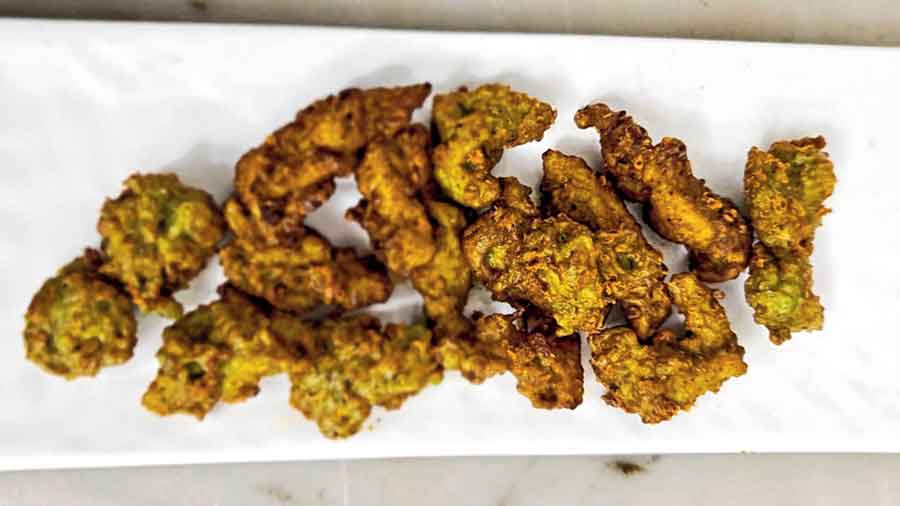 Gondhoraj Chicken
Ingredients
300 g Chicken breast Boneless
Salt to taste
Zest of 2 Gondhoraj Lime
Juice of 1 Gondhoraj Lime
1tsp Pepper Powder
2 tbsp Fresh Coriander paste
2 tbsp Grated Processed Cheese
1 Eggl3 tbsp Maidal3 tbsp Cornflour
For frying Oil
Method
1 . Cut the Chicken breast into strips and marinate it with salt, fresh Coriander leaf paste, pepper powder, Gondhoraj Lime Juice and Zest and cover it and keep it for 1 hour.
2. Now add in 1 egg, maida and cornflour and mix it together and add the grated cheese at end and mix it .
3. In a pan, heat oil on low medium flame and fry all the chicken strips and enjoy it as it is or with Anaras Kasundi.
Anaras Kasundi
Ingredients
200g Pineapple Slices
1 Jalapenos or 2 Green chilli
3-4 garlic cloves
4 tbsp Mustard Seeds
½ tsp Turmeric Powder
Salt to taste
2 tbsp Vinegar
Method
1. Dry grind the Mustard seeds and sieve it and blend it with vinegar.
2. In a open fire gas flame, roast the Pineapple, Jalapeno and Garlic cloves and once its done blend it with the Mustard vinegar paste.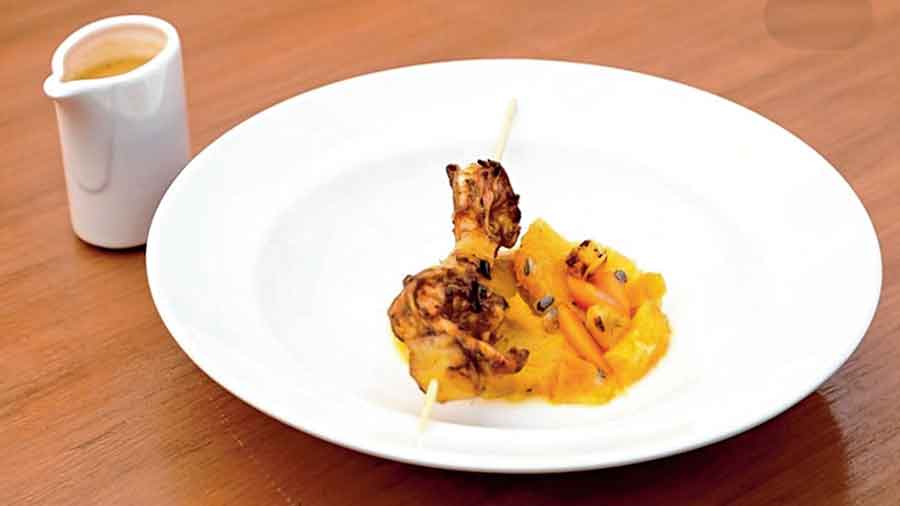 Kumro Chingri
Chargrilled Prawns
Ingredients
6-7 Prawns
As required Salt
½ tsp Red Chilli Powder
1 tbsp Mustard Oil
¼ tsp onion powder
½ tsp garlic powder
Method
1 . In a bowl mix together everything and marinate it for 30 mins then in a grill pan, chargrill it.
Kumro Mash
½ Pumpkin
To taste Saltl1 tsp Kalonji seeds
2tbsp Mustard Oil
½ tsp Sugar
½ tsp Chilli Powder
Method
1. In a pressure cooker, cook the pumpkin with little water till its soft and mushy.
2. In another pan roast the kalonji seeds, and add it in a bowl with Other ingredients and mix ittogether.3. Blend it using a hand blender.
Anarasher Dal
½ cup Chopped pineapples
1tsp chilli powderl¼ cup soaked Red lentil
To taste salt
2 tbsp Jaggery
Method
1. In a cooker, cook the dal for 2 whistles.
2. In a pan add oil, add mustard seeds , Pineapple and cook it.
3. Add in cooked dal, salt and jaggery.
4. Strain it using a sieve.
Fruit Salad
¼ cup Thinly slices Persimon
¼ cup Thinly sliced Orange
¼ cup Thinly sliced Peaches
Salt to tastel½ tsp Pepper
2 tbsp Orange juice
Method
1. In a bowl mix together everything.
Nolen Gur Flan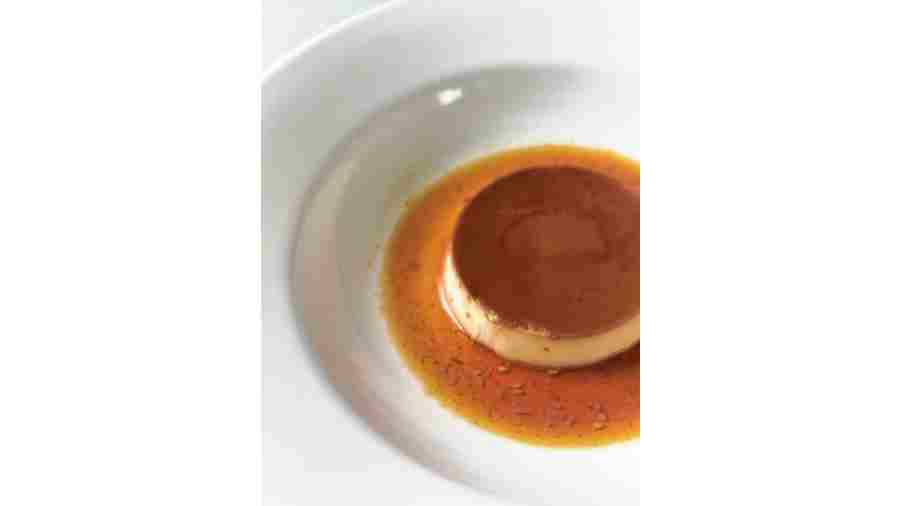 Ingredients
100 g Nolen Gur
2 Eggs
1 Egg yolk
250 g Milk
40 g Icing Sugar
For greasing Oil
Method
1 . Preheat the oven to 170ºC, grease 4 Ramekins of 3 inch diameter with oil .
2. In a pan make dry caramel using the nolen gur and pour it into ramekins & let it cool for 5-7 mins.
3. In a pan heat the 250 ml milk .
4. In another bowl, beat together in 2 eggs and 1 egg yolk and add in slowly the eggs and add in vanilla and icing sugar.
5. Strain it and pour it in the ramekins and put the ramekins in the oven tray creating a water bath for 35-40 mins.
6. Once its done, cool it on a room temperature and then put it in the freezer for 8-10 hours.
7. Run a knife through the edges and invert it and enjoy your Nolen Gur Flan.
Basanti Pulao with Orange Blossom Water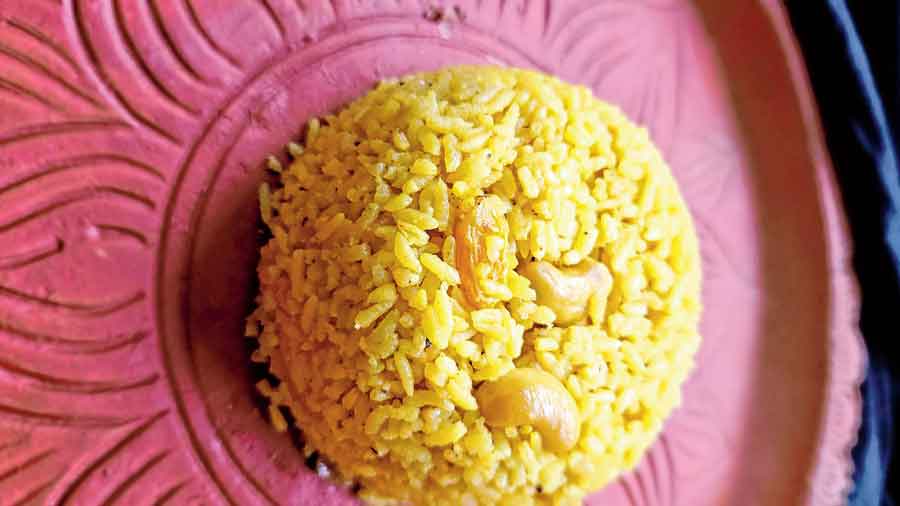 Ingredients
1 cup basmati rice, washed and soaked in water for 15 minutes
3 tbsp ghee or clarified butter
1 tsp turmeric powder
1 tbsp sugar
1 tsp ginger paste
Salt to taste
3 cloves
1-inch cinnamon stick
2 small bay leaves
4 green cardamoms
3 cups water
2 tbsp raisins
3 tbsp cashews
2 tbsp Orange Blossom Water
Method
1. In a bowl add the soaked rice, pour 1.5 tbsp ghee, turmeric powder, ginger paste, sugar and salt. Combine everything together. Keep it aside for 15-20 mins to marinate.
1. Heat 1.5 tbsp ghee in a non-stick pot over medium flame and fry the cashew till it become golden and keep it aside.
2. In the same pot add in cloves, cinnamon stick, bay leaves and green cardamoms. Cook for a minute until they become fragrant.
1. Then add the rice mixture to the pot. Stir gently to combine everything together. Cook the rice, stirring frequently, for about 2 minutes.
1. Pour water and bring it to a boil over a high flame.1. Cover it with a lid and lower the flame to medium. Cook for about 10-15 minutes until all the water has evaporated and the rice is fully cooked.1. Turn the flame off. Add the fried cashews and raisins and the Orange Blossom water. Mix everything lightly. 1. Serve this fluffy basanti pulao with Kosha Mangsho or enjoy it as it is with some Gondhoraj Chicken.
Kacha Aam diye Coconut Chicken with Mango Ginger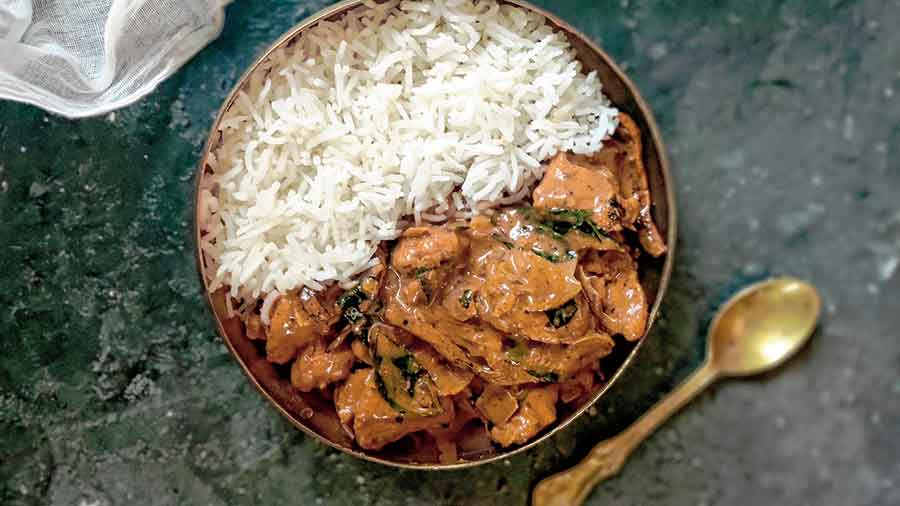 Ingredients
1 tablespoon Oil
3 Garlic Cloves (minced)
½ teaspoon Mango Ginger finely chopped
1 teaspoon Chopped Green chilli
2 Medium Onion (sliced)
500 g Chicken Thigh Fillets (or breast, cut into bite size pieces)
1 tbsp Ginger Garlic paste
¼ cup Grated Raw Mango
1 tsp Mustard seeds
¼ tsp Hing
1 tbsp Kasmiri Red chilli powder
4-5 Peppercorns
100 ml Coconut Milk
1 sprig curry leaves
Salt to taste
Add
Steamed Rice
Method
1. In a bowl marinate the chicken pieces with salt, grated mango, ginger garlic paste, Kashmiri red chilli powder and 1 tbsp oil for 30 mins.
2. In a pan heat oil, add in mustard seed let it splutter, add in hing, peppercorns and curry leaves.
3. Add in chopped garlic and mango ginger and saute it for 30 seconds.
4. Add in the sliced onions and cook it till its translucent.
5. Once the onions are cooked , add in the chicken pieces and saute it till it is done.Add salt to taste.
6. Add in the green chilli and saute it.
7. Add coconut milk and cook for 2-3 mins .
8. Serve with fresh steamed rice.