The fear of Covid and the curbs enforced to slow the spread of infections had in the past two years crippled many activities considered synonymous with Durga Puja. 
In 2022, they were back in full bloom. The Telegraph toured puja pandals and spoke to people to understand what "return to normal" meant for them. 
Balloon-popping stall
The owner of a balloon-shooting stall near Mudiali and Shibmandir pandals was taking a quick nap on Dashami morning.
"For the past four days, I have barely been able to get three or four hours of sleep. Dashami morning is relatively empty," Sintu Kazi, 26, said.
Kazi lives in Joynagar in South 24-Parganas. Started by his father, the stall has been coming up on Lake Temple Road during Durga Puja for over a decade now. Kazi did not set up the stall in 2020. In 2021, he did but business was "bhishon, bhishon kharap (very, very bad)".
This year, the stall made around Rs 50,000 from Chaturthi to Dashami. After paying the puja committee and bearing other expenses — like paying his staff and transport costs — he would take home around Rs 30,000.
"The amount is still lesser than what we would earn in the pre-Covid years. But being able to see the crowd back in full swing is a big relief," said Kazi, who works as a contractor for labourers who paint houses. 
Para programme 
Cultural programmes, which had either been stalled or shifted to the online mode, were back, too. Para, or neighbourhood, programmes included plays and song-and-dance recitals by residents as well as performances by professional artistes.
At Golf Green Phase 1 and Shoroshi Durga Puja, which turned 43, musical evenings from Saptami to Navami were a ritual disrupted by the pandemic. This year, the organisers staged a drama on Saptami evening. An antakshari happened on Navami. Professional singers performed on all three evenings. Rehearsals for the drama started two months ago. Samir Raychaudhuri, 74, and his granddaughter, Aarini Bannerji,14, acted together in the play. 
"The play was a moment of freedom for all of us. It was a symbol of breaking free from the shackles of Covid," said Raychaudhuri, who is also president of the puja committee.
The stage was named after an organiser who died of Covid. Many pujas opened just before or after Mahalaya, paving the way for programmes from Chaturthi and Panchami. Korak Basu, a public relations professional and an elocutionist, performed at a session on aagomani songs at Singhi Park on Chaturthi.
"Stage performances had totally stopped in the past two years. I did some virtual programmes.This year, I had a packed schedule of stage performances," said Basu.
Neighbourhood feast
Hundreds of people were back eating together, at pujas organised by clubs as well as gated communities.
In the past two years, some organisers had distributed food in containers. Some others did not organise community lunches at all. Mudiali Club was back to organising the traditional Ashtami lunch, hosting over 2,000 people — residents of the locality and their guests. 
The parking lots of two apartment complexes were turned into dining spaces."This lunch is like a union. There are many people who only meet once a year, during this lunch. Not being able to host it for the past two years was painful," said Santanu Banerjee, one of the organisers. 
At the Simla Byayam Samity puja, in its 97th year, community lunches were organised on Saptami, Ashtami and Navami. Between 800 and 1,000 people ate every day, said Sohini Roy, an organiser. 
"Last two years, we had just cooked some basic bhog for the goddess. We distributed the bhog as prasad among members," she said.
An organiser of the puja at Urbana, a housing complex near Ruby hospital, said: "Around 800 people ate on Saptami, Ashtami and Navami."
In the past two years, residents either had their food delivered at the doorstep or collected thalis from a specific point. 
Whole-night adda
The puja adda at Maddox Square, an intrinsic part of the Ballygunge puja, came back after two years of Covid-induced curbs. Around 4am on Ashtami, the ground looked like the packed stands of the Eden Gardens during an India-Pakistan match.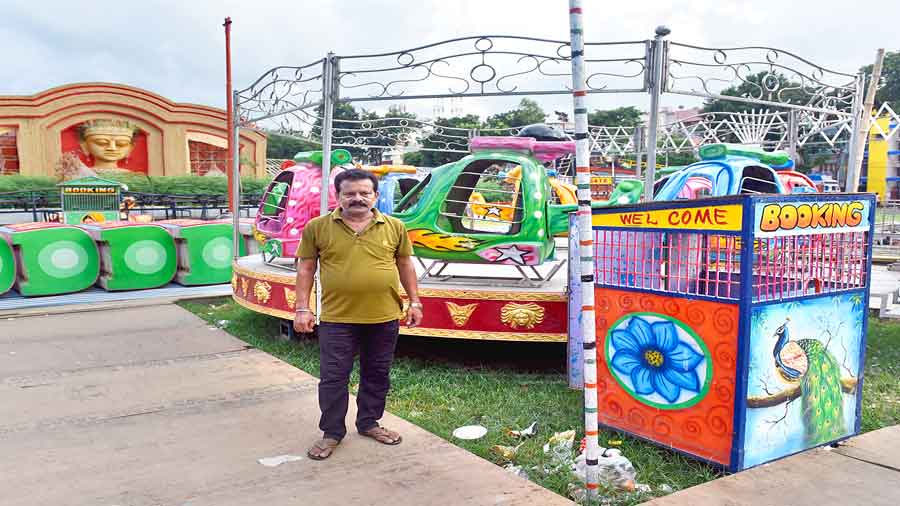 Ashok Ghosh, from Chandrakona, Paschim Medinipur, who brought a Ferris wheel and other rides to the fair at the FD Block Durga Puja ground in Salt Lake.
Bishwarup Dutta
Snigdhendu Mitra, 22, was with his friends at Maddox Square. The group reached the ground around midnight and left around 5.30am.
"We did a bit of pandal-hopping in south Kolkata before reaching Maddox. The time just flew by. Durga Puja is incomplete without Maddox adda," said Mitra, who is pursuing a business management course from a private institute.
"Barring the rainy phases, we have always had a full house. At any given time between Sashthi and Navami, there were over 2,500 people on the ground," said Amalendu Sarkar, one of the organisers.
Ferris wheel
As many puja committees were back hosting sprawling fairs, Ferris wheels and merry-go-rounds did brisk business.
At FD Block in Salt Lake, the fair was back after 2019. Ashok Ghosh, from Chandrakona in Paschim Medinipur, had brought a Ferris wheel and a dozen other rides to the fair. "The past two years have been very punishing. In 2020, there was almost nothing. In 2021, we went to a handful of village fairs. But the earnings were half of that in Kolkata during Durga Puja," said Ghosh.
A ticket for six rounds on the Ferris wheel came at Rs 100 at the FD Block fair. There was a constant demand for tickets. This year, Ghosh already has bookings for Lakshmi Puja and Kali Puja. The Ferris wheel was one of the main attractions at Bagbazar Sarbojonin.
"The collective screaming as the wheel moves up is my thrill. I missed it badly for the past two years," said a 17-year-old girl from Ballygunge after a ride at Hatibagan.
(Additional reporting by Monalisa Chaudhuri and Snehal Sengupta)