Reduced carbon footprint, use of scrap, recycled items and biodegradable material and an eco-friendly idol — the six pujas that the Serader Sera Nirmal Pujo Puroskar 2022 judges visited on Saptami had much to show for their environment-friendly aproach.
Seven regional toppers and four Hall of Fame pujas are vying for the top honours in the Green Puja awards sponsored by The Bengal in association with Climate Action Network South Asia (CANSA), a globally known environment outfit, and My Kolkata.
The awards were launched by Environment Governed Integrated Organisation (EnGIO), a non-profit outfit, in 2007 to help reduce environmental pollution during Puja and promote green awareness using the festival as a medium.
My Kolkata joined the judges as they toured the pandals:
Manicktalla Chaltabagan Lohapatty Durga Puja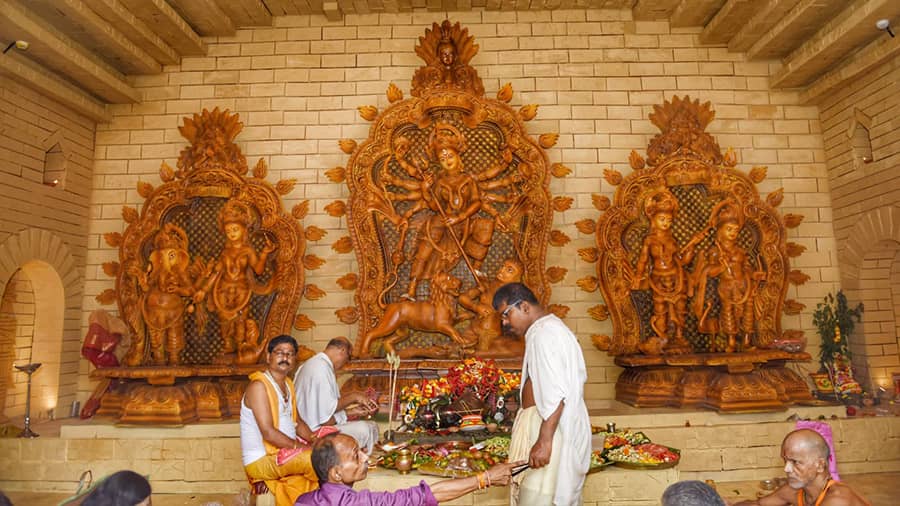 The pandal is modelled after the temples made during the Chola dynasty's reign. It depicts how huge stones were transported by elephants and men and how they were carved into intricate artwork. The club uses solar power, wind power and LED lights to reduce carbon footprint.
What the judges said:
Krishnajyoti Goswami, director, National Referral Center for Lead Poisoning in India:
The use of lead-free colours for making the idols and the use of renewable energy are what make this puja truly different.
Dulal Bose, physician and former sheriff of Kolkata:
This is a great initiative, especially the way green and sustainable energy has been used to reduce dependence on fossil fuels is commendable.
Hatibagan Nabin Pally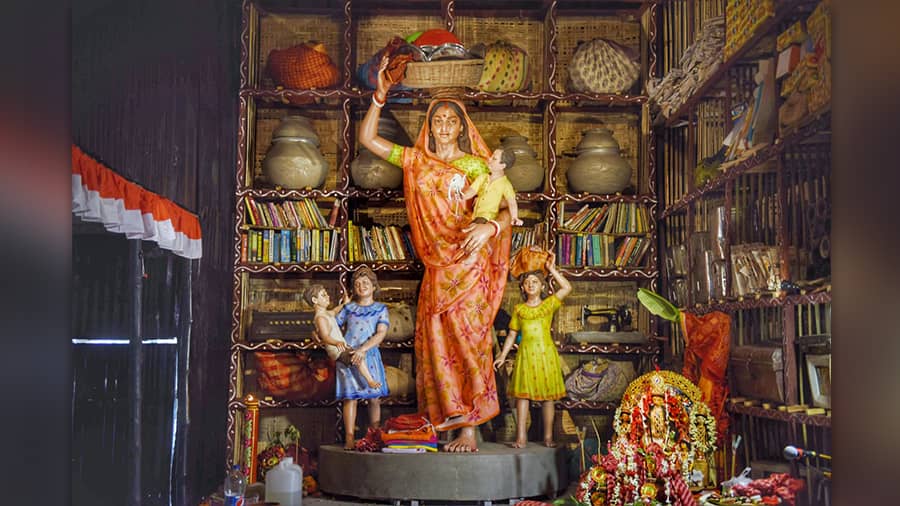 At this puja, Shiva and Durga have been portrayed as a couple who collect and sell old and discarded products, working tirelessly and unknowingly to save the environment. The entire pandal has been made with scrap material like wood, iron and clothes and it resembles the house of a lower-middle-class family with four children. The puja, with its theme, promotes recycling and sustainability.
What the judges said:
Naba Dutta, secretary, Sabuj Mancha:
I simply love the idea and the presentation. According to a 2016 law, scrap collectors or kabadiwallahs have been mentioned as climate volunteers and the way the family has been portrayed is really nice.
Bhargab Maitra, professor of Civil Engineering, IIT Kharagpur:
Along with sustainability, I love the way this puja has involved young people. Fifteen or 16-year-old boys are explaining the concept and it shows how enthusiastic they are about recycling.
Aswininagar Bandhumahal Club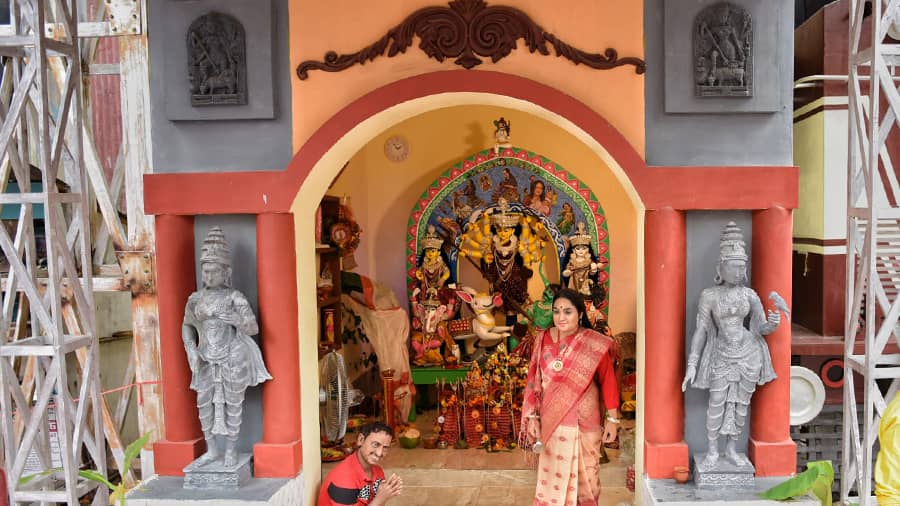 Papiya Kar, a Nadia-based homemaker, would feed hundreds of people every day at Ranaghat station. On Sundays, she would go to Esplanade in Kolkata to run a school for street children. Few helped her but Kar continued her endeavour without any expectation of recognition. The theme of this puja revolves around her. Along with an eco-friendly wooden idol, a silicone statue of Kar also finds place in the pandal that has been made to look like Ranaghat station.
What the judges said:
Andalib Elias, deputy high commissioner, Bangladesh:
I am really surprised by the way the pujas have addressed social and environmental issues with their themes. This is beautiful.
Sujata Sen, CEO of Future Hope:
I am touched. I work with street children and I know what it takes to do what Papiya has been doing for so long. I respect the club for recognising her work.
Salt Lake EE Block Puja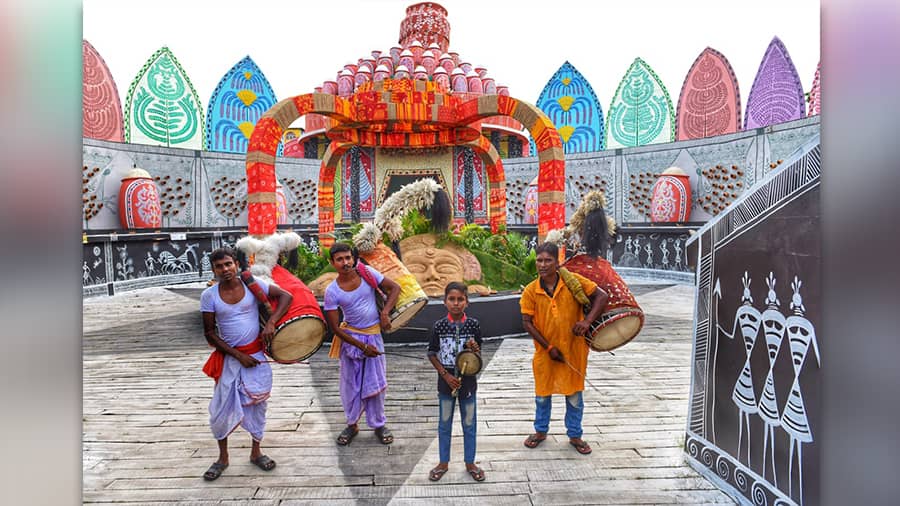 Nature gives us food and we need to protect nature. The puja depicts how the Saura tribe from the Odisha-Telangana border has reformed local land and made it fertile to sustain livelihood. Several pats symbolising Jagannath have also been placed.
What the judges said:
Swati Maitra, Assistant professor, Ranbir & Chitra Gupta School of Infrastructure Design and Management, IIT Kharagpur:
I loved the concept and the theme. It is original and promotes sustainability in a traditional way, which is close to our soil.
Subhrojyoti Bhowmick, clinical director, Peerless Hospital:
I loved this puja because of the open space. Especially after COVID, we all should promote such open spaces.
Suruchi Sangha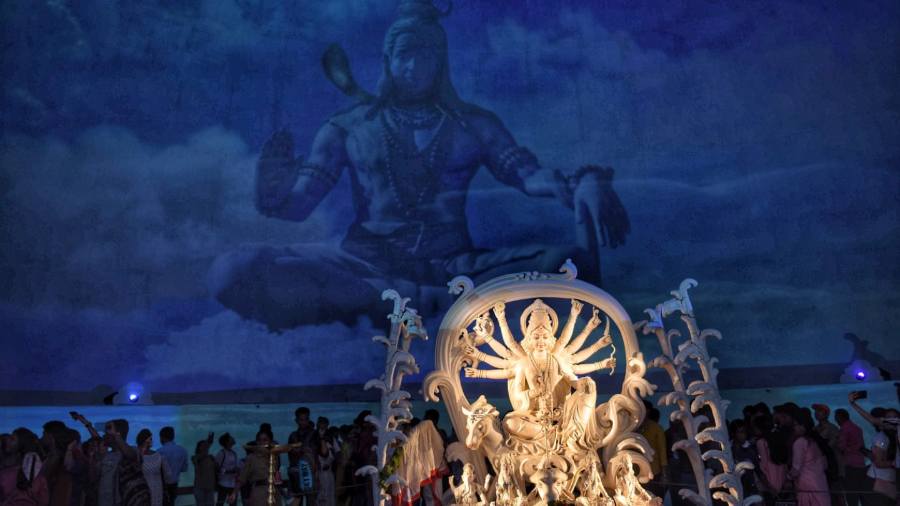 During the pandemic, there was a general feeling of helplessness and despair all around. We desperately wanted to go out and live the life we were used to but could not. After two years, things seem to be returning to normal. The club has shown this positive feeling and energy with a massive digital projection. The pandal has been made out of scrap iron and other recycled material.
What the judges said:
Ratna Chattopadhyay, ART specialist:
It is a very unique concept. The theme is really interesting. Technology has been used to show how the world is going to be normal after the pandemic.
Dhrubajyoti Chattopadhyay, vice-chancellor, Sister Nivedita University:
They have allocated a special space to honour COVID warriors. More than the puja, I love that approach.
Shiv Mandir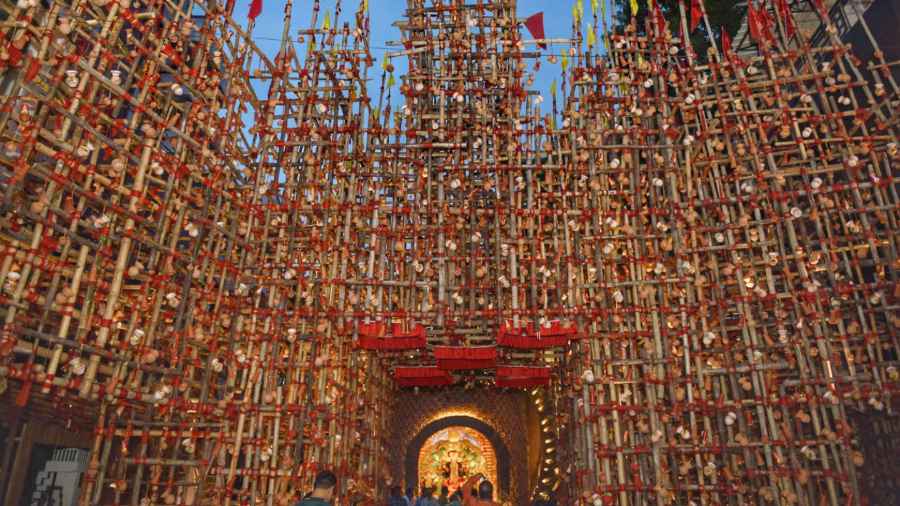 The entire pandal is made of biodegradable material with intricate artwork. The extensive use of bamboo, earthen pots, tree bark, cane and hay makes the pandal interior extremely beautiful.
What the judges said:
Arunabha Majumder, former director, All India Institute of Hygiene & Public Health, Kolkata:
This is one of the most popular pujas in south Kolkata and is known for its crowd-pulling capacity. This year, they have done something even more beautiful. The beautiful craftsmanship is what makes this puja unique.