Discarded cycle parts, old clothes, banana fibre, dried leaves and scrap material were used to decorate the three regional toppers and two Hall of Fame pujas of Serader Sera Nirmal Pujo Puroskar 2022 that the 12 jury members visited on Sashthi morning.
Seven regional toppers and four Hall of Fame pujas are vying for the top honours in the Green Puja awards sponsored by The Bengal in association with Climate Action Network South Asia (CANSA), a globally known environment outfit, and My Kolkata.
The awards were launched by Environment Governed Integrated Organisation (EnGIO), a non-profit outfit, in 2007 to help reduce environmental pollution during Puja and promote green awareness using the festival as a medium. "More than 250 pujas submitted applications this year and we shortlisted 75 pujas. Eleven of the shortlisted pujas have made it to the final round. The last leg of judging is now on," said a senior member of EnGIO.
My Kolkata joined the judges as they went pandal-hopping:
Tridhara Sammilani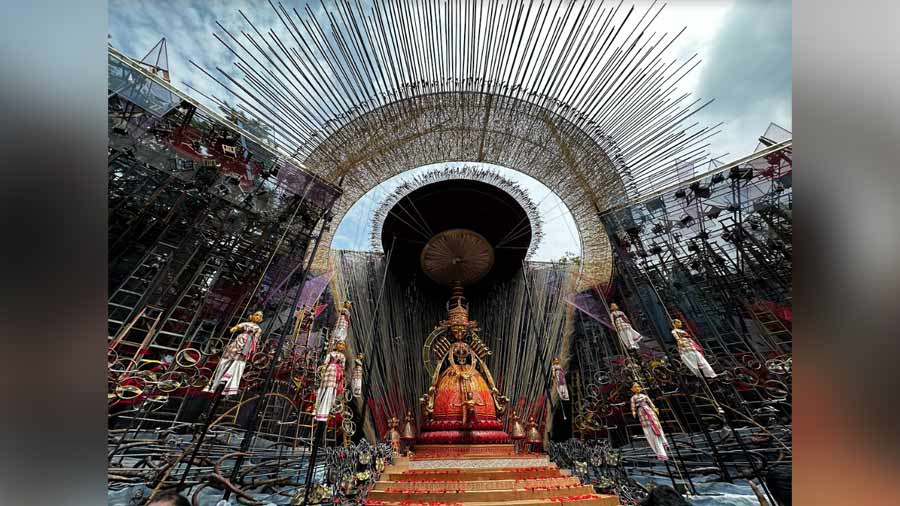 Photograph: Ritagnik Bhattacharya
One of the most popular pujas in south Kolkata, it is known for its intricate decoration and artistic work. What sets this puja apart is also its concern for environmental issues and initiative to take appropriate steps to reduce carbon footprint. This year the theme of the puja is 'Dour', which means run. The pandal depicts the daily struggle of common people.
What the judges said:
Abhijit Mukherjee, professor
It's a very interesting pandal. There is a lot of intricate work showing human emotions and feelings.
Anirudhha Mukhopadhyay, professor
I love this pandal. Several different articles such as anchors, chains and cycle wheels have been used to tell a unique story.
Hindustan Park Sarbojonin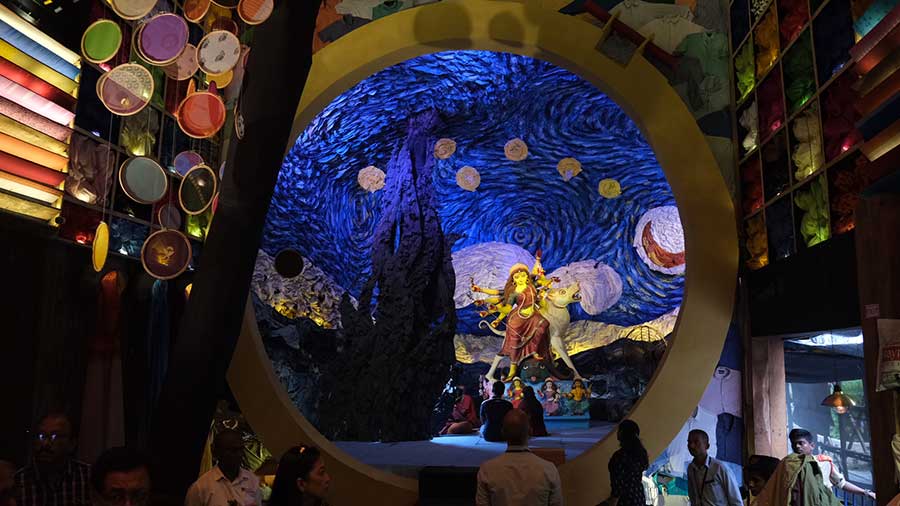 Photograph: Ritagnik Bhattacharya
This puja is dedicated to tailors. New clothes are synonymous with Puja and we often tend to forget those who make our celebrations colourful. So, this puja, the committee members have collected hundreds of discarded clothes and decorated the pandal with them. The mandap, where the idol has been placed, draws inspiration from Vincent van Gogh's Starry Night.
What the judges said:
Arup Halder, pulmonologist
Not many pandals think about these people. I am really touched by the way the organisers and the artists have created the pandal.
Isolde Aust, German deputy consul general
I did not get a chance to see many pujas last year because of COVID. But this year, I am enjoying it a lot. This pandal is so colourful and I must say the theme is really thought-provoking.  
Suksita Bhattacharya, special secretary, panchayat and rural development
I love this pandal because they have used discarded clothes. This is a beautiful and sustainable attempt.
Chetla Agrani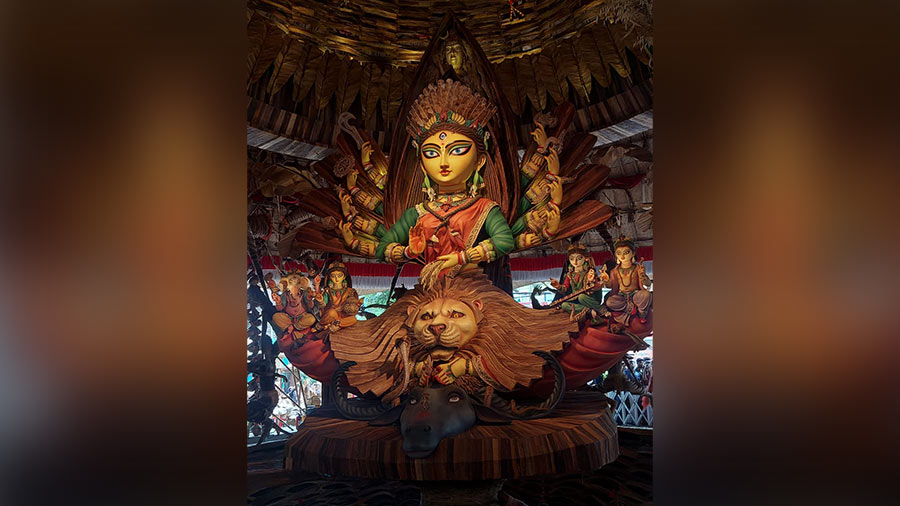 Photograph: Avik Dey
More than 300 people worked for 18 months to extract fibre from banana trees for this pandal. Firhad Hakim, Kolkata mayor and the main organiser of the puja, said banana trees are cut down after a year's crop. The club collected hundreds of such trees and extracted the fibre. "It is very delicate work and needed immense manpower. In terms of money, the process was not very expensive but required huge manpower," Hakim said.
What the judges said:
Didier Talpain, French consul general
For me the best part is that hundreds of people got employment because of this puja. It's a very unique concept and theme.
T.K. Mukherjee, adviser, health department, Kolkata Municipal Corporation
This is the height of innovation and creativity. The way the pandal has been decorated and the material has been used, I have not seen anything like this before.
Pally Unnayan Samity, Paschim Putiari Club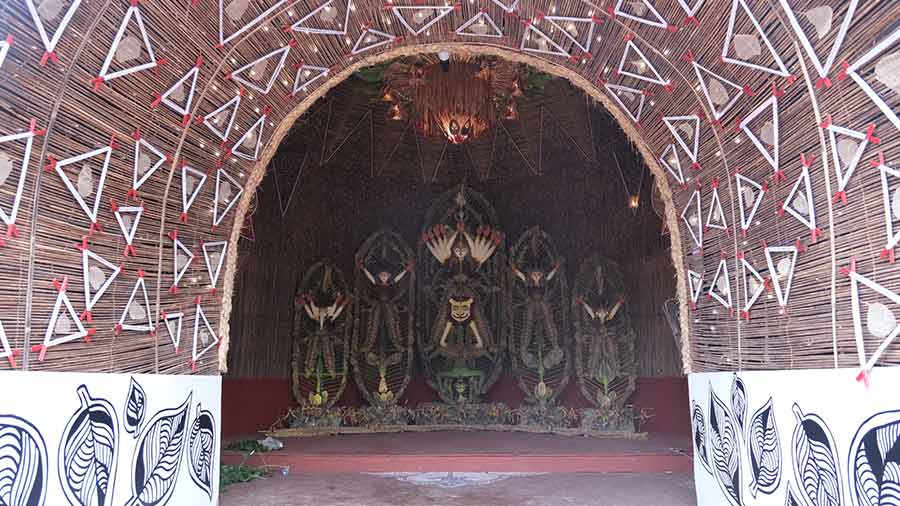 Photograph: Ritagnik Bhattacharya
Leaf art is one of the most delicate artworks and this puja has used it to decorate the pandal. More than 12 types of leaves and several styles of art like cutting and painting have been used. Leaf art was initiated in China in the mid-90s and from there it spread across the world, the organisers said. The intricate work on dried leaves and delicate craftsmanship on bamboo make this puja different.
What the judges said:
S.P. Gon Chaudhuri, solar power activist
The entire pandal has been made with biodegradable material and the concept is very unique.
Nicholas Fascino, director of Alliance Francaise du Bengal
Leaf art is something really special and the use of natural colours makes this pandal unique.
New Santoshpur Adi Durgotsav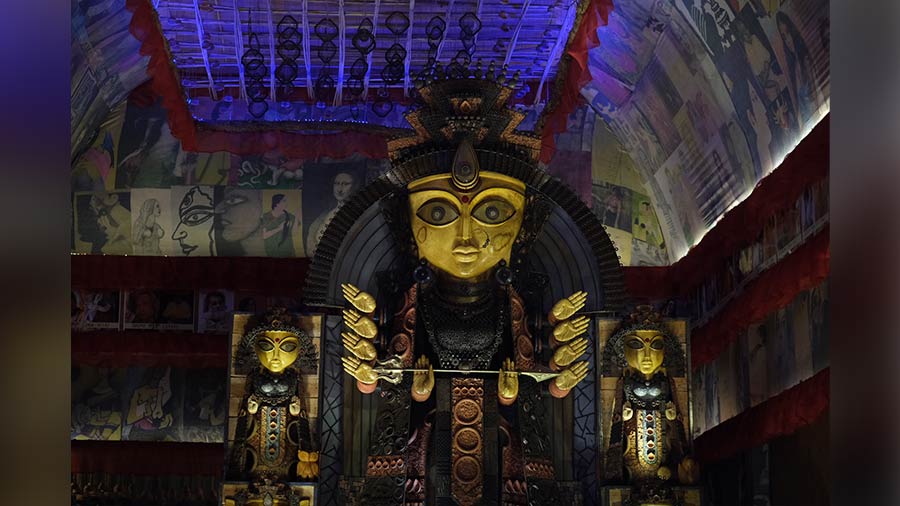 Photograph: Ritagnik Bhattacharya
The entire pandal and the idol are made of scrap material. Wood, iron and paper, which usually end up in the dump yard, have been collected and used to make several of the installations inside the pandal.
What the judges said:
Ranjan Sen, first secretary of Bangladesh Deputy High Commission
Theme pujas are rare in Bangladesh and I am enjoying every bit of it in Kolkata.
Esha Dutta, committee member of The Bengal
This is outstanding work they have done with scrap material. The purpose of the award is to make people aware of sustainable and eco-friendly pujas and this club has done everything perfectly.