Two colleagues who taught in the same school connected over their love for food. Over time, one got into web designing and another became an MBA teacher. But the pandemic has reignited their passion to the extent that they have partnered to open a restaurant in HB Block.
"When Covid hit, we opened a food delivery service. Reema (Basu) used to come over from Kankurgachhi to my place and we cooked together," recalled Bipasha Majumdar, a Girish Park resident, whose gulab jamun is a favourite among friends. Reema is known for her paneer items.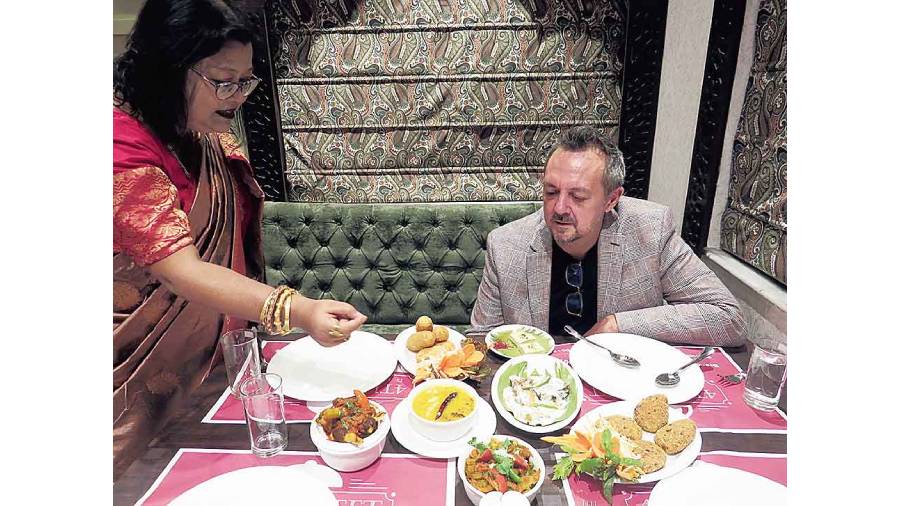 Then started a cloud kitchen in DLF Galleria Mall in New Town from where a home delivery business started.
They took the next leap of faith when word reached them that a cafe in HB Block had shut down and they were offered the use of the space. "It was at a prime location — close to Big Bazaar and Carnival cinema. So we took up the challenge," said Reema.
Thus was born 4th Street Dining Hall. "We were searching for a name when we came across this option. My son's birthday is on the fourth of a month. So I opted for this name," said Bipasha.
The 40-seater Bengali speciality restaurant started operation at the start of the festive season and has got robust response both during Durga puja and Kali puja.  "We even catered to an aiburo bhaat and have a booking for a sadh bhokkhon. For such occasions, though we do not have a thali on the menu yet, we offer them an option," said Reema.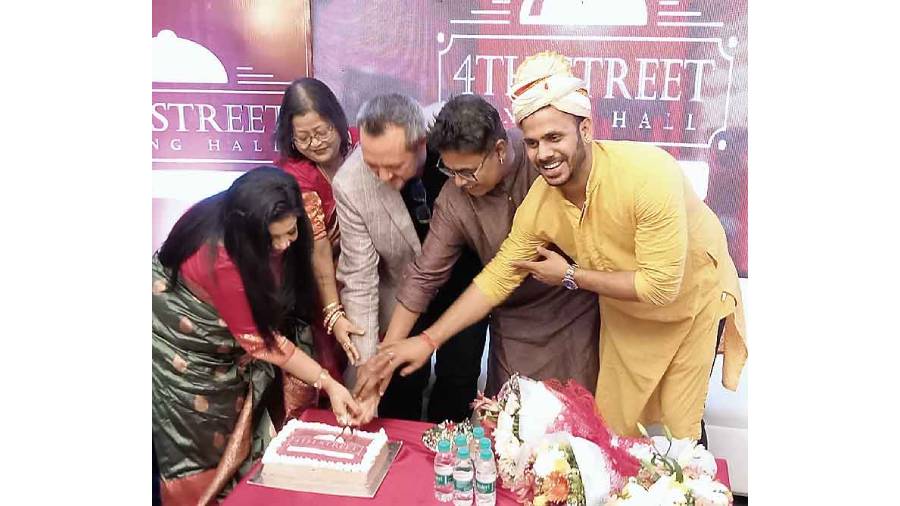 Guests Shaun Kenworthy, Mir and Manoj Tiwary cut a cake at the inauguration of the restaurant along with the two partners Reema Basu and Bipasha Majumdar
According to chef Bijay Ghosh, the most popular dishes so far are his signature items Dab Bhapa Chingri (Rs 595), Murgh Pulao, Kancha Lonka Dhonepata Murgi (Rs 360), Mochar Cutlet (Rs 185) and Roybahadur Mangsho (Rs 425), in which mutton is fried with spices in its own juice to form a thick gravy. There are some uncommon items on the menu too, like Rui Machher Roast (Rs 335), which has a tangy taste, being roasted after marination with spices. Dry shutki, an east Bengal favourite, is also served. "The trick is to kill the odour," he said. Kankrar Shell Pethechhi (Rs 395), another dish from east Bengal in which minced crab meat is stuffed back into the shell with spices and khoa kheer and baked, is another interesting item.
At the inauguration, cricketer Manoj Tiwary, comedian and radio jockey Mir and chef Shaun Kenworthy were in attendance.
The base kitchen in New Town, which caters to the home delivery and take-away segments, is under renovation. "Our focus is on our Salt Lake restaurant now," they said.