While the chill of winter is still here, it is time for some hiss and smoke on the hot plate. Orko'ss, the restaurant in City Centre that serves Oriental, Indian and Continental cuisines, has lined up a sizzler festival from January 15.
The classic sizzlers would be there in all four varieties — prawn, chicken, fish and cottage cheese (priced Rs 944, Rs 891, Rs 839 and Rs 734 respectively).
But the stress is clearly on the fusion items. "We have created seven non-vegetarian and two vegetarian fusion sizzlers," said Sudipto Hore, general manager of Regenta Orko's, that is run by the hospitality group that owns Orko'ss. "People associate sizzlers with Continental cuisine. But Orko'ss is best known for its Tandoori dishes. So what we have done is created a menu out of a melange of any two of the three cuisines that we serve."
Thus Tandoori Jhinga and Prawn Nuggets (priced Rs 944) brings Tandoori and Continental on the same sizzling plate just as Fusion Chinese Veg Sizzler (Rs 787) does so with Oriental and Continental cuisines.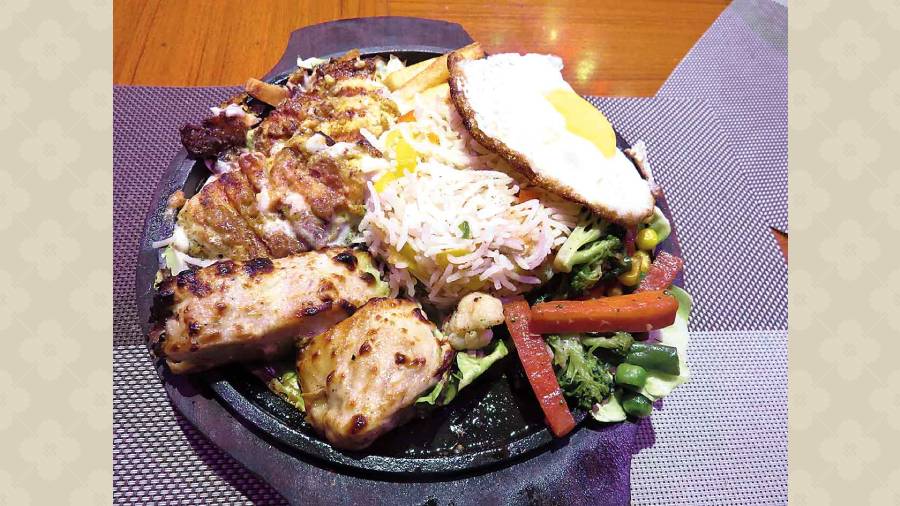 Barbecued chicken winglets.
Sudeshna Banerjee
While some are charcoal grilled in a tandoor, like Tangri Kebab and Chicken Sausages (at Rs 891), others are fried, like Fried Fish on a Sizzler or Panko Fried Prawn that is served on a sizzler with grilled prawn (at Rs 944). Panko is kind of breadcrumb made from crustless white bread that absorbs less oil but makes for lighter and crunchier tasting fries when used for coating.
Those who prefer lamb can go for Sizzling Lamb Tikki with roasted lamb (Rs 891) where the minced lamb is shallow fried while the lamb slices are roasted in rosemary sauce.
Each dish comes with bell pepper rice, daal makhni and a baby naan, making for a full meal.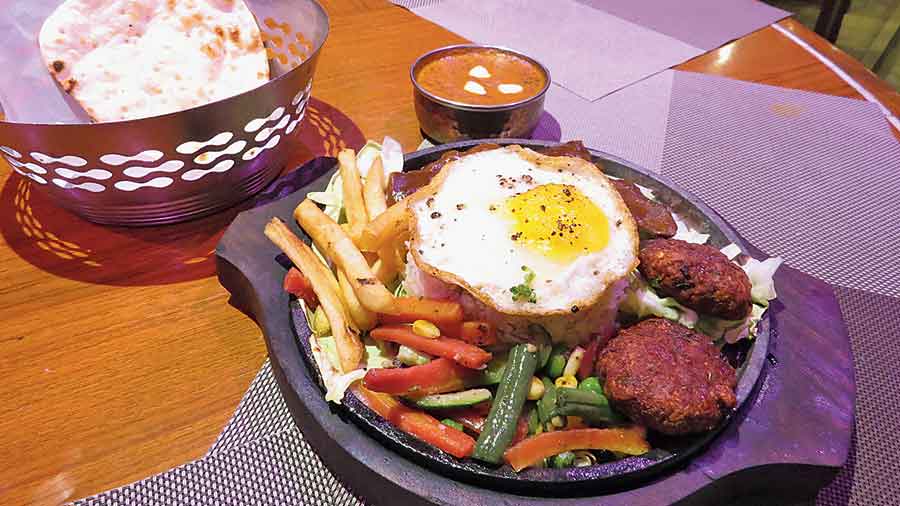 Tandoori Jhinga and Prawn Nuggets served on a sizzler with the glass and teakwood decor of the seating area of Orko'ss in the backdrop.
Sudeshna Banerjee
The 18-year-old restaurant has its own home delivery mechanism, other than being on app-based delivery platforms, but the restaurant authorities insist on the dine-in experience. "The hissing sound, the smell of butter, the presentation on the hot plate — all that drama is an integral part of ordering a sizzler," Hore said.
In case you are worried about stepping out at this point, you can take your time as the festival will be on till the end of February.