Five Indians, including three students of a maritime university, are stranded in Kherson, a city in southern Ukraine, for the last two weeks, waiting for help to arrive.
Two girls from Haryana and a boy from Tamil Nadu are the three students of Kherson State Maritime Academy. The other two stranded Indians are businessmen from Gujarat who went to Ukraine on work.
The group had apparently been told by the Indian embassy to "somehow reach the border" but they have failed to get a taxi in the last two weeks and had once been cheated into paying for a cab that did not turn up at all.
The two girls in the group said the embassy told them they would send a taxi on Wednesday, but no vehicle was arranged till The Telegraph spoke with them on Wednesday evening (Kherson time).
The girls have been living in a Ukrainian friend's house in a village near Kherson and the three men have taken shelter in the basement of a house owned by a Ukrainian on Hvardiiskoi Dyvizii Street, near the Youth Residential Complex, they said.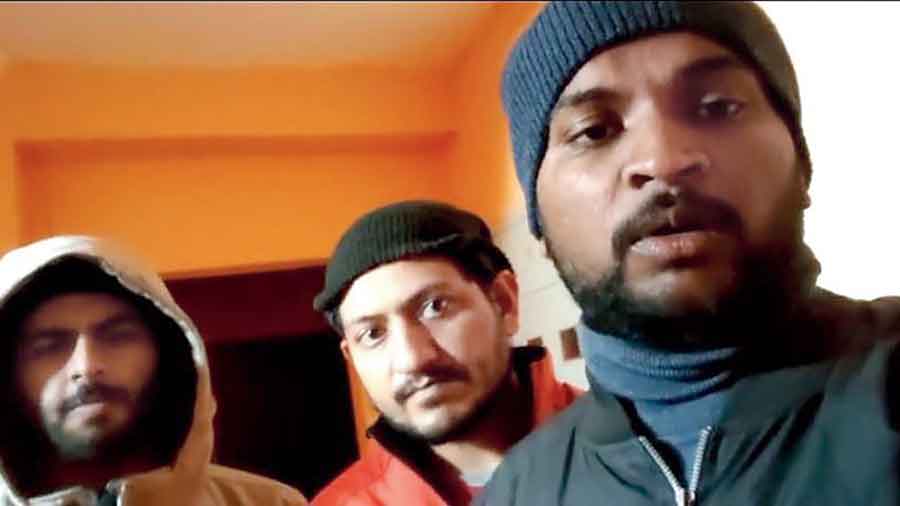 (From left) Arokia Raj, the student from Tamil Nadu, businessmen Milan Damodiya and Vadi Vivek
Sourced by the correspondent
The businessmen - Milan Damodiya and Vadi Vivek - who had come to Ukraine on February 15, were staying in a hotel but were thrown out once the war started.
"We are eating once a day because our supplies are almost exhausted," said Domadiya, who runs a sanitaryware business in Gujarat.
The two met an Indian student, Arokia Raj, in the basement and started sharing their resources, he said. Raj is a third-year student of the maritime academy.
"We have no cash left and there is no money in the banks or ATMs. We have no food here. We are appealing to the Indian government to rescue us from here," Raj appealed through this newspaper.
The three men stepped out of the basement for the first time in 14 days to buy some food on Wednesday but found the mall empty. "We are too afraid to go out. We are scared that we will get shot or robbed. The Indian embassy is asking us to reach the border by any means. Today, we tried to arrange for a cab but the rate was $1,200 for each. We do not have that much money," Damodiya said.
He said he had earlier been cheated once by a taxi who had asked for payment but did not turn up at all.
Raj, who was earlier in a private hostel, said the roads were no longer safe. "I see Russian troops moving here and there. It is peaceful only till any Ukrainian waved a Ukrainian flag at them," he said.
Two girl students who are juniors at Raj's university, who were earlier in a hostel, had run away to a friend's house in a village when the war had started.
"All students from Sumy, Kyiv and Kharkiv have been rescued but we have not received any help till now. The embassy people were initially asking us to wait. Now, they are saying they are trying to arrange something. But we have not received any help till now," said Simran Kaur, a first-year student, who is from Haryana.
Her friend Tannu (who does not use her surname) said they returned to their hostel on Wednesday to collect all their belongings and documents after they were assured that the embassy would arrange a taxi for them, but apparently there was none.
"We returned to our hostel today thinking that the embassy was sending a taxi for us. But we have received no further communication till now (5pm, Kherson time)," Tannu said.