The re-affirmation of the spirit of Kolkata is evident in the scent of sewai and sheermal on Zakaria Street, the venue of Kolkata's biggest Ramazan market.
People from all over the city, many of them non-Muslims, were spotted when this newspaper visited Zakaria Street and neighbouring Colootola Street on Tuesday, the fourth day of Ramazan.
From Ramazan till Id, the neighbourhood around the majestic Nakhoda mosque is dotted with stalls that sell everything — haleem, kebabs, sewai, bakarkhani (a type of bun), sheermal (a type of sweet bread), dry fruits, attar, kurta-pyjamas, abayas and skullcaps.
Food is the top draw.
On Tuesday, Anik Das and wife Bidisha Choudhury were waiting outside Dilli 6 as their food was being packed. They had ordered sheermal and Afghani chicken.
The residents Baghajatin in south Kolkata described themselves as "food lovers always keen on exploring new joints". It was their first visit to the Ramazan market on Zakaria Street.
Mohammad Raza, one of the owners of Dilli 6, said two in five customers they had during Ramazan were non-Muslims. "Social media has made Zakaria Street more popular," he said.
Bashir Hotel, on neighbouring Colootola Street, had two giant cauldrons of haleem and at least 20 people waiting for parcels around 3.30pm, when the afternoon sun was blazing.
Waiting in the queue was Gopal Mitra, a middle-aged man who works at a nearby transport office.
"I don't bring food from home during Ramazan. I come here instead," said Mitra.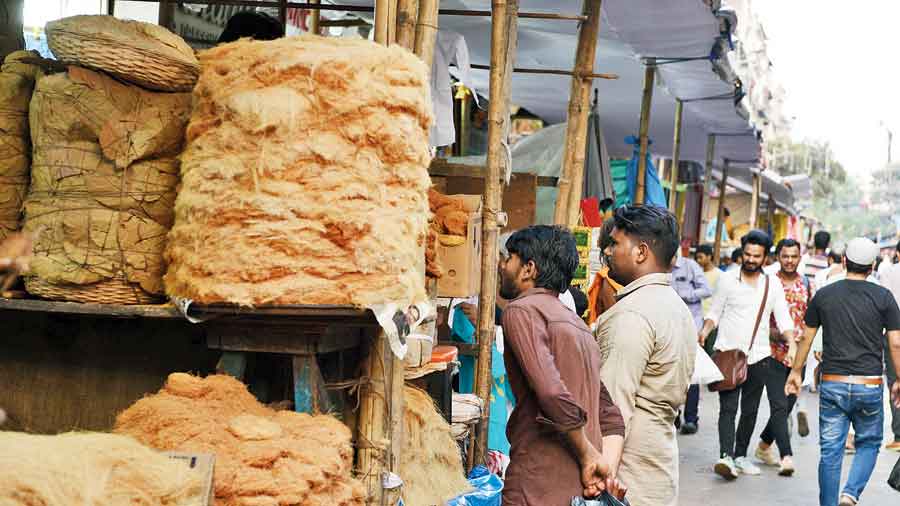 People buy sewai from a stall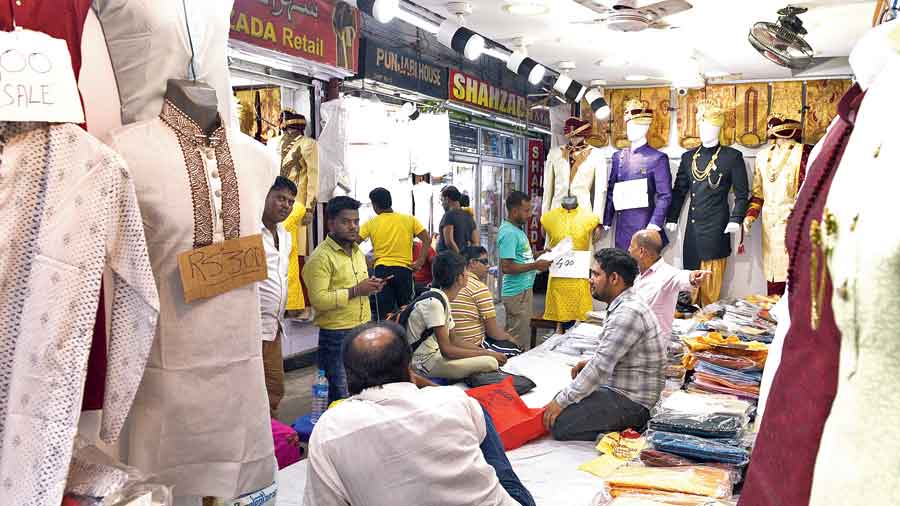 Shoppers at a garments store on Zakaria Street
Anurita Halder, Debkanya Sengupta and Nilotpal Sarkar, all pursuing master's in life science at Presidency University, also had haleem on their minds.
"I have been coming here almost every year since 2017. I have always felt at home here," said Debkanya, who lives in Bansdroni.
This time last year, The Telegraph had made multiple visits to Zakaria Street and neighbouring areas. It was election season and the high-pitched Hindutva campaign had not escaped the attention of residents of the area.
But many of them had told this newspaper that they were banking on "Hindus of Bengal" to halt the marauding Hindutva juggernaut.
Ravi Chourasia, 38, a resident, was an embodiment of that spirit of inclusiveness.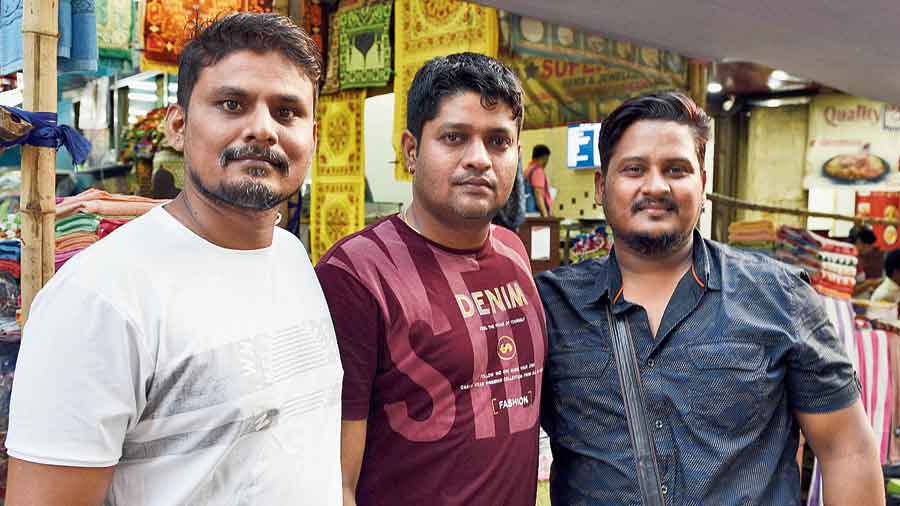 (From left) Afzal Khan, Ravi Chourasia and Faisal Ali on Zakaria Street on Tuesday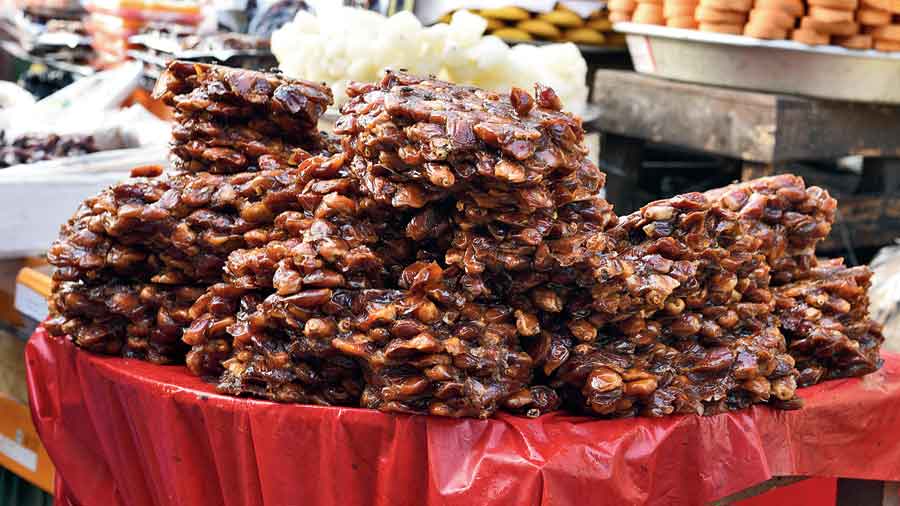 Dates being sold on Zakaria Street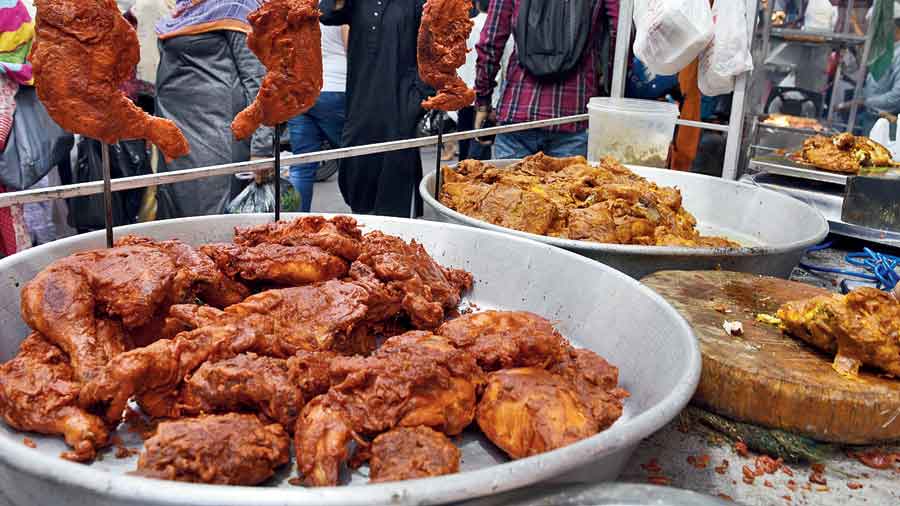 Chicken dishes being sold on Zakaria Street
On Wednesday, Chourasia was chatting with Faisal Ali and Afzal Khan outside Nakhoda mosque. The three are childhood friends.
Chourasia is observing Navratri till April 11.
His family members are strict vegetarians. Chourasia has just returned from Ujjain, where the Mahakaleshwar temple is an annual destination for his family members at the start of Chaitra (the first month of the Hindu calendar) Navratri.
But his religion has never stood in the way of his friendship with Ali and Khan.
"We have grown up together. I have eaten at their places and they have eaten at mine. Nothing can change that relationship," said Chourasia, whose family owns a "pure veg" eatery on Tarachand Dutta Street in the same neighbourhood.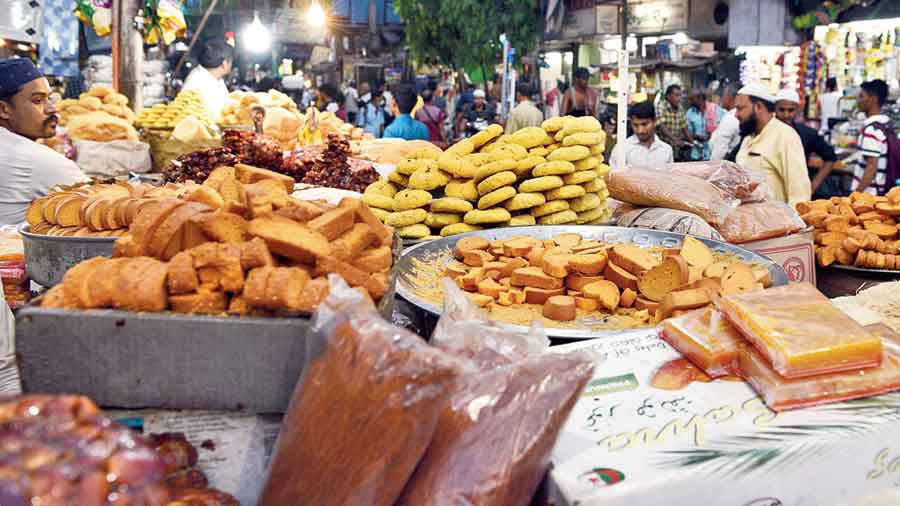 An array of sweets and savouries being sold at Zakaria Street on Wednesday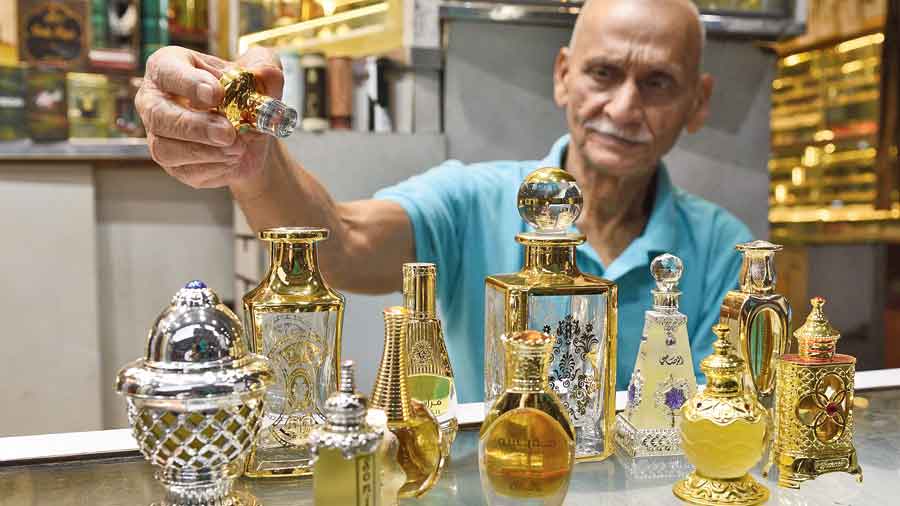 A man displays a variety of attar at his store in the neighbourhood.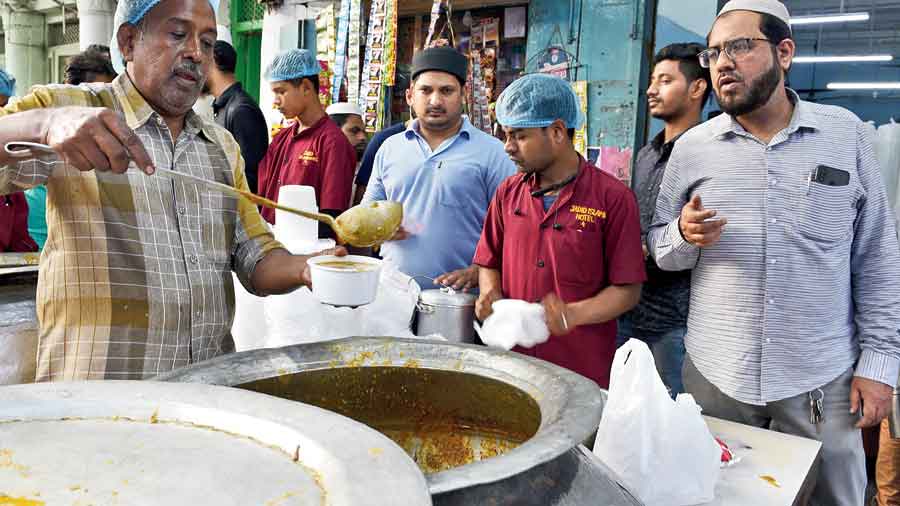 Haleem being sold at an eatery on Colootola Street.
The imam of Nakhoda mosque, Shafique Qasmi, said the message of Ramazan, universal brotherhood, was the need of the hour in India and all over the world.
"The spirit of Zakaria Street or Kolkata should spread across the country and the world. People from all faiths come here and take part in iftar, including people who have not fasted. Rich and poor break bread together. Many of our non-Muslim friends distribute fruits and sherbet," said Qasmi.
Imran Zaki, a social entrepreneur who is attached to various NGOs, has been organising interfaith iftars and Id get-togethers for many years now. Leaders of different communities and ordinary people from all faiths and walks of life are part of the gatherings.
"Ramazan is a time for spiritual connection with Allah. It is a time for abstinence and patience, to ask Allah for forgiveness, an opportunity for redemption. These are what we need right now," said Zaki, who lives in Park Circus. "It is extremely important that we continue meeting people and having dialogues," he said.