If Durga Puja is all about pandal-hopping, new clothes and happy faces, it's also about blaring loudspeakers, dazzling lights run on diesel generators and idols painted with toxic colours being immersed in the river. But puja organisers are gradually realising the need to make the festival environment-friendly and Serader Sera Nirmal Pujo Puroskar, sponsored by The Bengal in association with Climate Action Network South Asia (CANSA), a globally known environment outfit, and My Kolkata, is here to laud such initiatives.
The awards were launched in 2007 by Environment Governed Integrated Organisation (EnGIO), a non-profit outfit, with the dual objectives of reducing environmental stress during Puja as well as promoting green awareness using the festival as a medium.
"This year we have received about 250 applications, out of which 75 have been shortlisted for jury visits. Seven jury teams will physically visit these pandals and, based on their assessment, seven regional toppers will be selected. The final judgement will be on October 1 and 2 (Sashthi and Saptami) and the results are expected to be announced on Saptami evening," said Sujata Basu of EnGIO.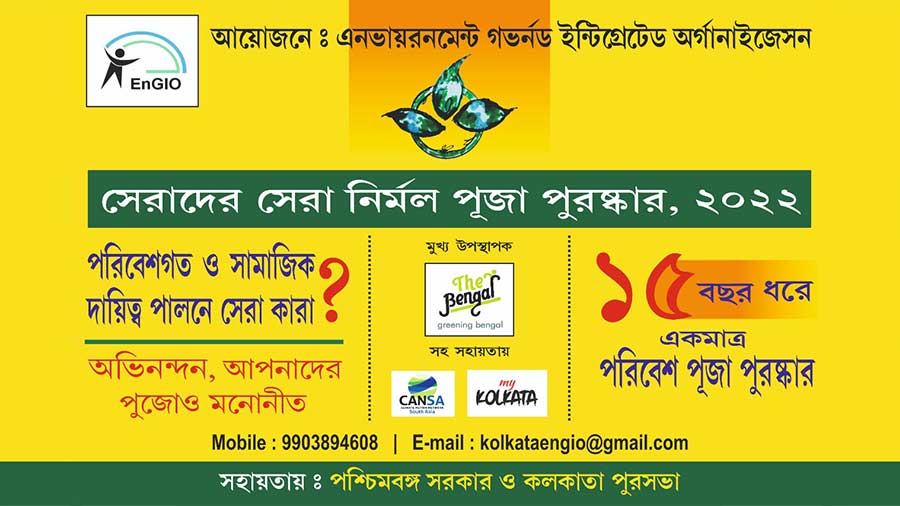 Around 40 judges, including French consul general Didier Talpain, Bangladesh deputy high commissioner Andalib Elias, German deputy consul general Isolde Aust, Sister Nivedita University vice-chancellor Dhrubajyoti Chattopadhyay, physician and former sheriff of Kolkata Dulal Bose and Future Hope CEO and former head of British Council Sujata Sen, will assess how green the pujas are.
"Apart from the physical judging, there will also be an online global judgement this year involving well-known environmental experts from outside Kolkata and from other countries. These results are expected to be announced later," Basu said.
H.M. Bangur, the president of The Bengal, said Durga Puja is not just another festival of Bengal. "It's an emotion, this time all the more so because of the two-year pandemic gap. I wish it is a safe Puja for everyone and all environmental concerns are adequately taken care of," he said.
H.M. Bangur, the president of The Bengal, shares his thoughts on Durga Puja and Sera Nirmal Pujo Puroskar
Dulal Bose, adviser to EnGIO, has been involved with the awards since its inception. "It is more of a movement than an award. Be it use of less use of toxic paint, green immersion, less energy use in decoration and environment-related themes for pujas, this award has played a key role in evolution of the city's pujas," Bose said.
When the award was initiated in 2007, there was only one environment-themed puja in the entire city, now almost one in every four pujas is themed on environment, an expert associated with the award said. He also pointed out that the award was acclaimed by the Union government, when Jairam Ramesh was the environment minister, and also by an international organisation working on environmental stress during socio-religious mega events.
Here are the 75 shortlisted pujas:
1 20-Er Pally Sarbojanin Durgotsav Committee
2 Abasar Sarbojanin Durgotsab Samity
3 AD Block Residents Club Durgotsab Committee
4 Ahiritola Jubak Brinda
5 Alipore Sarbojanin
6 Aswininagar Bandhu Mahal Club
7 Aurobinda Setu Sarbojanin Durga Puja Samiti
8 Baghajatin Tarun Sangha
9 Ballygunge Durga Puja Samity
10 Barisha Club
11 Barisha Netaji Sangha
12 Barisha Sabuj Sathi Club
13 Behala Friends
14 Behala Nutan Dal
15 Beleghata Sarkar Bazar Milan Sangha
16 Beleghata Sarkar Bazar Vivekananda Sangha
17 Bose Pukur Sitala Mandir Committee Durgotsab
18 Brahmapur Sanmilani Sangha
19 Chaltabagan Sarbojanin Durgotsav Committee
20 Chaulpatty National Sporting Club
21 Chetla Agrani Club
22 Dakshinpara Durgotsab Committee
23 Darjeepara Sarbojanin Durgotsav Samity
24 Darpanarayan Tagore Street Pally Samity
25 Dhakuria Sarbojanin Durgotsab
26 Dum Dum Park Tarun Sangha Puja Committee
27 Dum Dum Tarun Dal
28 Dumdum Park Bharat Chakra
29 Dumdum Park Sarbojanin Durga Puja Committee
30 E Block Sarbojanin Durgotsav Committee
31 EE Block Saradotsav Committee
32 FD Block Sarbojanin Puja Committee
33 Golf Green Sarosdotsava Committee
34 Gouriberia Sarbojanin Durgotsab O Pradarshani
35 Haridevpur Adarsha Samity
36 Hatibagan Nabin Pally
37 Hatibagan Sarbojanin Durgotsav Committee
38 Hazra Park Durgotsab
39 Hindusthan Park Durgotsab Committee
40 Hindusthan Park Sarbojanin Durgotsab Committee
41 Jorabagan Chhatra Sanghati
42 Judge Bagan Sarbojanin Durgotsav
43 Kalighat Milan Sangha
44 Kalighat Nepal Bhattacharjee Street Club
45 Kalighat Sree Sangha
46 Kankurgachi Milan Mela Samity
47 Lalabagan Nabankur
48 Manicktalla Chaltabagan Lohapatty Durgapuja Committee
49 Mukundapur Sarbojanin Durgotsav committee
50 NSC Sports Club
51 Nabapalli Sarbojonin Durgotsav
52 Nalin Sarkar Street Sarbojanin Durgotsab
53 New Santoshpur Adi Durgotsab
54 Nimtala Sarbojanin Durgotsab Committee
55 Nirvik Sangha Puja Committee
56 Pally Unnayan Samity, Paschim Putiary
57 Prafulla Kanan Sarbajanin Durgotsav
58 Purbachal Sakti Sangha
59 Putiary Club Sarbojanin Durgotsab
60 Rajdanga Naba Uday Sangha
61 Rammohan Sammilani
62 Rupchand Mukherjee Lane Sarbojanin Durgotsab
63 Samaj Sebi Sangha
64 Shastribagan Sporting Club
65 Shibmandir Sarbojanin Durgotsab Samiti
66 Shibrampur Yubashakti Club & Library
67 Suruchi Sangha
68 Swapnarbagan Yubak Brinda Purba Manicktala Sarbojanin Durgotsav Samity
69 Tala Barowari Durgotsav Samity
70 Taltala Sarbajanin Saradiya Puja Committee
71 Tridhara Akalbodhan
72 Ultadanga Pallyshree
73 Uttar Kolkata Sanhati Sporting Club
74 Ward No. 1 Sadharan Durgotsav O Pradarshani (Jagat Mukherjee Park)
75 Welington Nagarik Kalyan Samity