Winter is here and so is the time for the colourful feathered guests to come from far-off places to our township. New Town, as also other fringes of Kolkata like Santragachhi, have been very significant resident and stopover zones for the winter migrants since long.
Not only migrants, Salt Lake and New Town have always amazed us with their wide range of resident biodiversity. But on the other hand, New Town is losing its unaltered patches of natural habitat at a very rapid rate. Wetlands, grasslands, green patches are being converted into human habitats mostly by rapidly developing highrises.
The link between urban development and its impact on the environment is always debatable. The effects of urbanisation on Indian cities have mostly resulted in the loss of natural ecosystems and deterioration of the urban environment and the same happened for New Town as well. Even the outskirts of Kolkata have rapidly developed in the last 15 years and as a result, the local biodiversity is gradually deteriorating and urban ecology is getting completely disrupted.
Biodiversity, as a significant parameter of an urban ecosystem, is essential for human society because of the goods and services it provides. Even 10 years back, the eastern side of Kolkata, especially New Town, had an abundance of undisturbed landscape, long stretches of grasslands and a healthy number of small but contiguous marshlands and wetlands (mostly lowlands filled by rainwater). This entire area was home to uncountable wild fauna of different taxa that includes birds like munias, parakeets, starlings, owls, a healthy population of different butterflies, reptiles like yellow monitor lizard, painted keelback snake, mammals like jackals, jungle cats and so on. The adjacent East Calcutta Wetlands were even declared as the first Ramsar Site of the state on August 19, 2002, which prominently indicates the ecological importance of the area. But over the years, the area started to change drastically with little time for the existing biodiversity to adapt to the changes. As a result, the area started to become one of the most ecologically disturbed places in the city and the population of these beautiful creatures started to shrink at an alarming rate.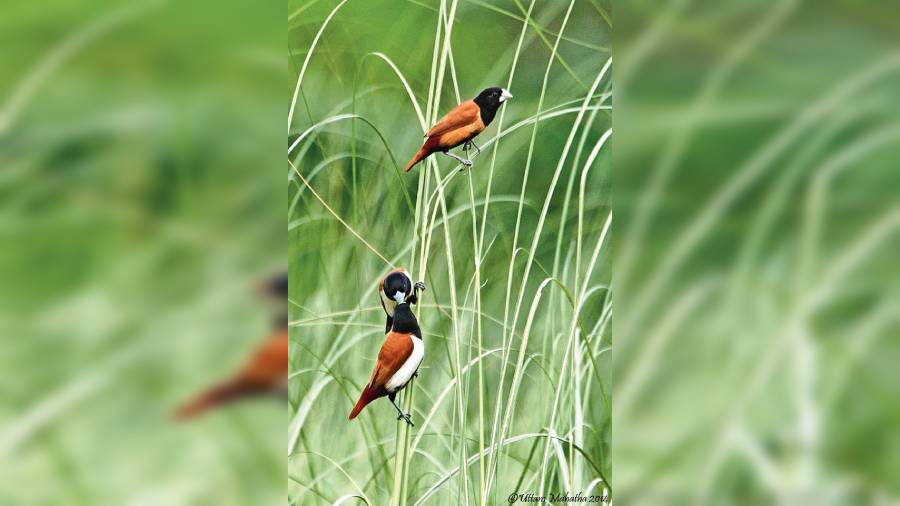 Chestnut munias in grassland
While efforts are globally on to address this problem of habitat alteration, the most urgent and the pertinent question in this scenario is what are we doing for the environment surrounding us? Many parks and modified green habitats have been created in New Town and Salt Lake to increase the green cover of the city, but the services provided by natural habitats can't be substituted by artificial patch of greeneries and making local people understand the importance of the natural habitat is the need of the hour. Otherwise, problems like grassland burning in New Town cannot be tackled with vigil alone.
Unfortunately, we have a very superficial understanding of what value these grasslands have and mostly neglect them, treating them as wasteland. But these lands provide shelter to thousands of terrestrial birds, butterflies, mammals and many other natural components which have significant contribution in maintaining the balance of our ecosystem.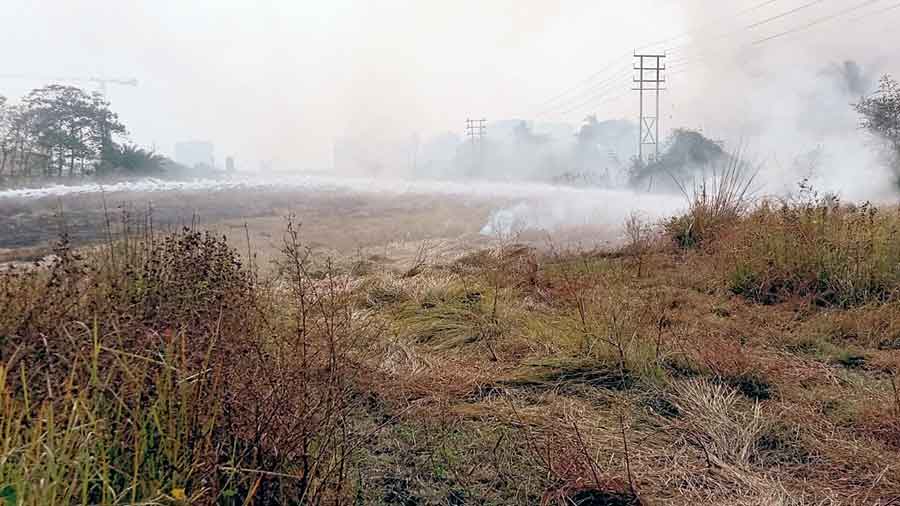 Stepping in
Given the scenario, with the help of local administrative bodies, our organisation Nature Mates is wholeheartedly trying to restore vital habitat patches and create newer green corners for the local urban biodiversity since 2010. After 11 long years, finally this effort is now reaping rewards.
Working as an expert of the work to the forest department, Nature Mates executed the development of the Banabitan Butterfly Conservatory in the Salt Lake Central Park premises. A significant area of land was scientifically converted into butterfly habitat with plantation of basic host nectaring and roosting plant which would help the local butterfly population regenerate and prosper. Eventually, Banabitan was the first open-air butterfly conservatory in India. After 11 years of continuous monitoring, at present it is home to over 70 species of butterflies.
After the success of Banabitan, the Housing Infrastructure Development Corporation (Hidco) appointed Nature Mates as experts for the development of a butterfly garden in Eco Park. At the inception of the effort, around 25-30 species of butterflies were commonly seen in that area. After seven years of tireless effort, now the place hosts over 100 species.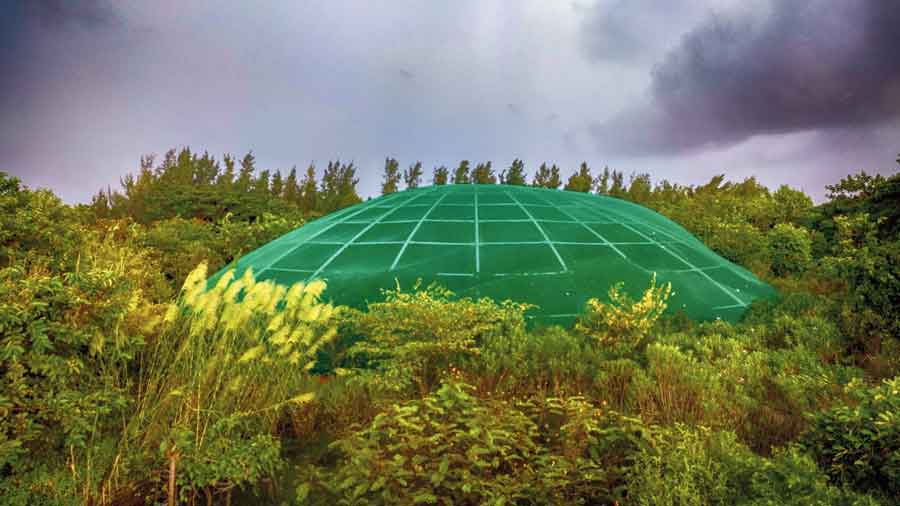 These places have now turned into significant safehouses of the local biodiversity which was the main model that Nature Mates wanted to establish. At present, not only butterflies but also a healthy population of birds, small mammals, reptiles and amphibians are resident in these places.
Similarly, within Eco Park, a bird habitat has been created out of a patch of unused land. Pakhibitan, as the place is known, is a reflection of how actually the New Town landscape used to be. Undisturbed patches of reed beds, stretches of bamboos, intermittent patches of grasses have been kept intact and with a proper management plan the entire place has been converted into a very small sanctuary for birds. Out of around 200 species recorded from the New Town landscape over the years, Pakhibitan, within its first two years of activity, has recorded around 140 bird species. Most importantly, this patch of green is now being preferred by different bird species for nesting.
A healthy variety of terrestrial migratory birds was also found in the last two winters in Pakhibitan.
Small efforts collectively bring the larger changes in the long run and in the field of environment this principle is even more accurate. The idea of scientifically developing a butterfly garden actually has now resulted in generation of a peaceful ecosystem where birds are coming in search of food; mammals, reptiles, amphibians and many other insects have settled in permanently. These conservatories are now also being operated as research stations where young researchers and observers are successfully studying life cycles and behaviours of certain species and interesting observations are also being regularly published in scientific journals. Butterflies like common mormon, common rose, peacock pansy, commaneder, painted lady and black rajah are being seen in these conservatories and the most important part is, apart from the regeneration of the population of locally common butterflies, some very rare and first records of butterfly species in Calcutta have also been reported from here.
Pakhibitan success
Pakhibitan, on the other hand, is much more a story of restoring a habitat to its natural self with minimum modification. This place has also bounced back to support a significant amount of biodiversity that includes snakes, civets, jungle cats, jackals etc. Painted keelback, a snake which was found only in New Town previously in the whole of Calcutta, has been recorded after a long time from the Pakhibitan premises. This gives us hope that the declining ecology is again gaining some sort of stability and regenerating towards a sustainable future.
Three species of bitterns and herons, egrets, lesser whistling ducks and owls are observed to have created nests in this area. The place has turned into a significant foraging site for a healthy number of munias, barbets and parakeets which were prominent bird species of Rajarhat. Winter migrants like verditer flycatcher, Siberian rubythroat, common stonechat and black redstart are also visiting this place regularly and spending a significant time of their migration in this habitat for the last two winters.
Interestingly this place is significantly contributing in observation of birds and their migration cycle by the researchers of Nature Mates and a greater understanding of the habitat and its attributes is properly being developed and incorporated to the local bodies for generation of an ecologically balanced management plan.
Nature Mates believes in a bottom-up conservation model where butterflies are the priority species for conservation.
Butterflies like plain tigers, striped tiger and blue tiger, birds like common myna and black kite, the common and long-persisting species in the locality, are getting equal importance to any other iconic species in our model where a habitat on the whole of various common species is taken care of. In order to save the majestic tigers in forests, the commonly seen tiger butterflies should be given enough importance. That way we can save an entire habitat and these small conservation efforts will collectively contribute to the survival of bigger ecosystems like forests.
Besides thinking of any specific species, the importance of habitat should also be given equal priority. We should remember wildlife won't survive without a proper habitat and we all should play our part to contribute to save natural habitats.
Today when the Rajarhat-New Town area is day by day becoming more ecologically vulnerable, grasslands are being burnt, trees felled, wetlands filled, these butterfly conservatories and Pakhibitan have their own importance in compensating the loss to an extent. The Green Verges being created will also serve as the lungs for the neighbourhood in future.
Basing on this principle, we are trying to generate, restore and enhance natural green corners in the twin townships and bring back some joy to the city with the colours of butterflies, melodies of birds and refreshing clean air.
Write to saltlake@abp.in