Google "red munia zone" and the results will take you to some grasslands near the Owl More in New Town. For several months a year, these beautiful birds come nest in nooks and corners of this region and birders from near and far come over to watch and click them.
"My friends and I came from Bankura yesterday and have put up at a hotel nearby. We love birds as well as photography and this is a great spot for both," said Sudipta Dutta, who had reached the grassland next to Green Verge 3 at 6am on a Sunday morning. This spot is near Eco Urban Village. Another popular spot was where the high court is all set to come up but it has got fenced now and is out of bounds for visitors.
By about 7.30 that day, there were more than 30 birders waiting patiently at the spot armed with long-lensed cameras. "I've got a few shots of red munias but want better ones so am waiting for the birds to appear from behind the grass again," whispered Kaushik Pal, who had come from Hooghly. 
Despite the plethora of visitors, there was no chaos at the site. People were disciplined and quiet, even sipping tea from the hawkers quietly, and so the birds, feeling undisturbed, were going about their business without a worry. "Sometimes the excitement among birders can have a negative impact. At times in villages the locals get so curious about so many birders visiting that they catch the birds and take home," said Lina Chatterjee of Nature Mates, who was guiding The Telegraph Salt Lake on the trail. 
A few novice birders were hoping the authorities would "clean up" the space by clearing out the grasslands but Lina interrupted them. "One must look at it from the birds' point of view. People don't like unkempt masrshes as they don't make good selfie backgrounds but this is the natural environment of birds. At times the authorities are pressured to clear off aquatic plants from water bodies but even this has terrible repercussions. Birds eat their roots, shoots, draw nesting materials from them and hide within them. Where else will they lay their eggs?"
One such man-made zone is at Eco Park's Pakhi Bitan that Nature Mates looks after. It has a combination of grassland and waterbodies with 6ft tall hogla leaves on either side of a walkway. It attracts red munias and many other birds.
Despite the camaraderie among birders, some can get cruel in their hunt for their money shot. "I know of people who destroy nests after clicking pictures so no else gets shots as good as them," said Ashish Ghosh, a birder who lives in Action Area 2B. "Sometimes neighbouring houses chop off the grass or set them ablaze, destroying the habitat and sometimes even killing fledglings in nests there."
The crowd of birders is also controversial. While some say it disturbs the birds, others say it shows strength in numbers. "It makes it difficult for the authorities to clear off these lands as they know they will face resistance from that many of them," says Lina.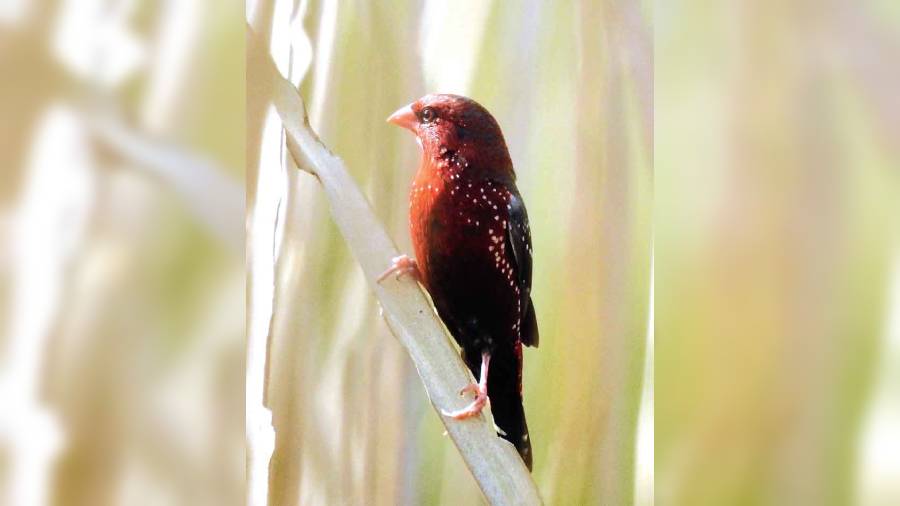 Red munia fact file
Appearance: the birds are about the size of sparrows. The female is earth-coloured and in males, the colour red is so deep that when flying, the shade almost looks black.
Nature: This south Asian bird stays in groups of four or five and usually comes to New Town towards the end of monsoon and stay till early winter.
For bird watchers
lDress in matt colours. Even if not earth colours, ensure your clothes are not flashy or distracting. You'll be walking into grasslands that can have snakes and leeches as well as water bodies so wear closed shoes. You may carry a hat, sunglasses, binoculars and cameras if you wish.
• Study the calls of the birds before heading out so you know which birds are nearby
• Don't get too close to the birds lest they get uncomfortable
• The best time for bird watching is when the birds are active feeding or collecting nesting material — at about 5am and 4pm