Pally Unnayan Samity in Paschim Putiari, undeterred by a relatively small budget of Rs 7.5 lakh in its 68th year, has won the first prize at the Serader Sera Nirmal Puja Puroskar 2022 with a theme that brilliantly depicts leaf art and embraces nature.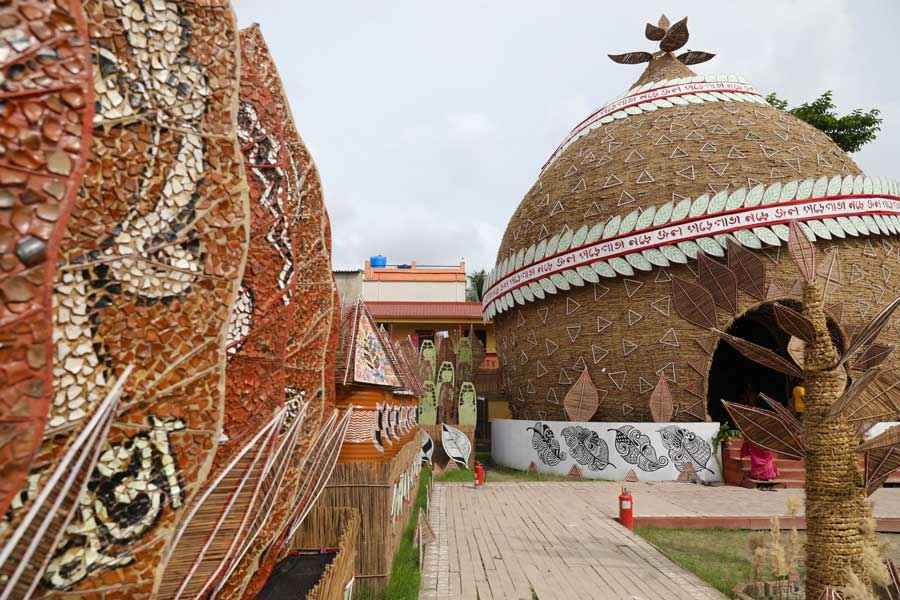 Pally Unnayan Samity's pandal, which showcases leaf art
Arijit Sen
Chetla Agrani won the best green theme award for a mega pandal that has used nature-friendly products, particularly unused and peeled off banana leaves, setting an example of "green industry".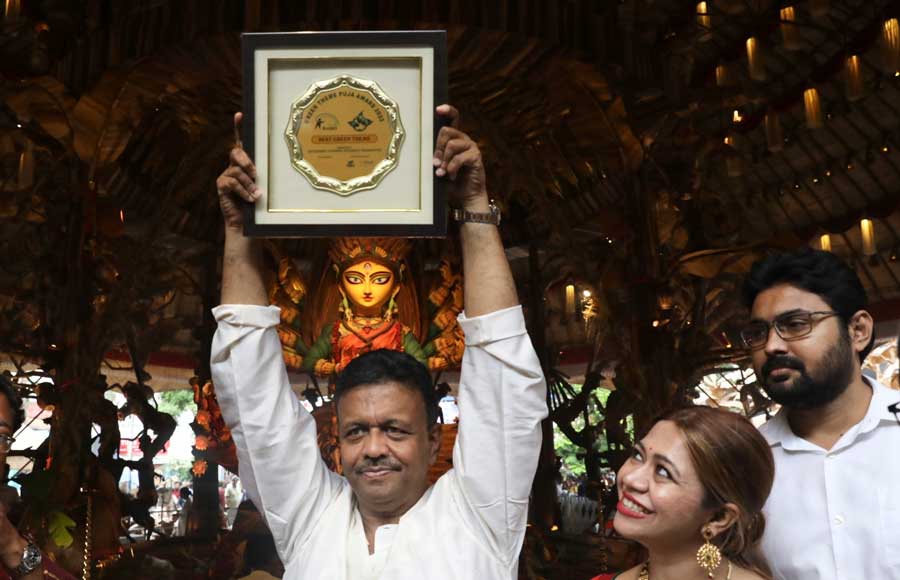 Kolkata mayor Firhad Hakim, the mainstay behind Chetla Agrani, with the Nirmal Puja plaque
Arijit Sen
The Green Puja award, sponsored by The Bengal in association with Climate Action Network South Asia (CANSA), a globally known environment outfit, and My Kolkata, was launched by the non-profit Environment Governed Integrated Organisation (EnGIO) in 2007 to help reduce environmental pollution and promote green awareness during Puja.
Other Winners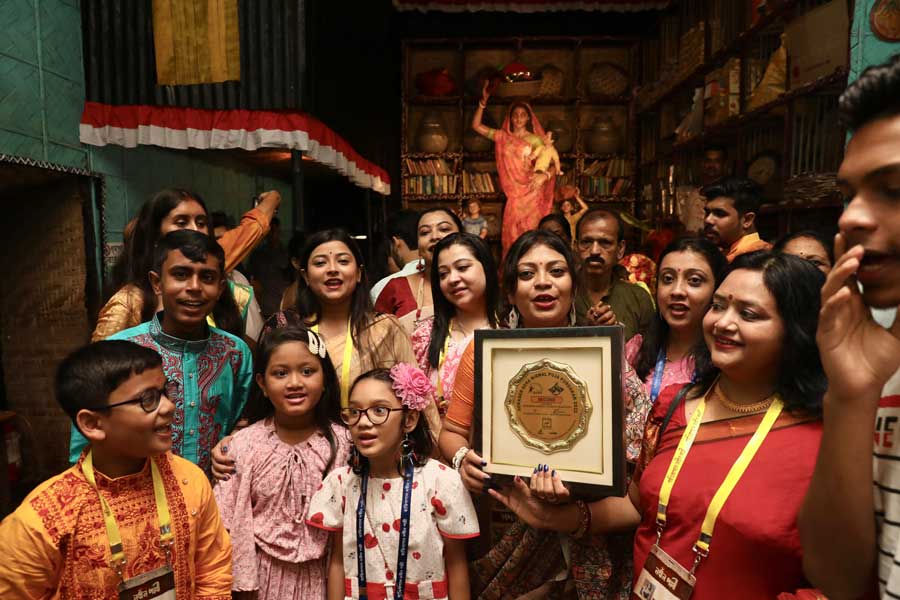 Organisers of the Hatibagan Nabin Pally puja with the Nirmal Puja plaque
Arijit Sen
Hatibagan Nabin Pally, in a narrow bylane in north Kolkata, won the second prize for showcasing the journey of a waste-collector couple to highlight the value of discarded objects and recycling.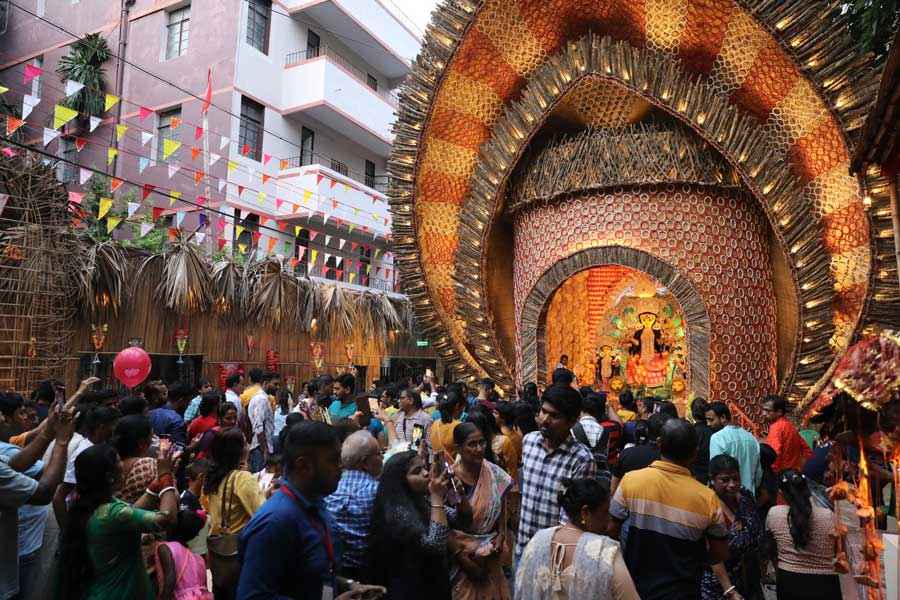 The Shiv Mandir pandal and pratima
Arijit Sen
Shiv Mandir, in south Kolkata, won the third prize by ticking most boxes on environment consciousness as well as safety of the visitors.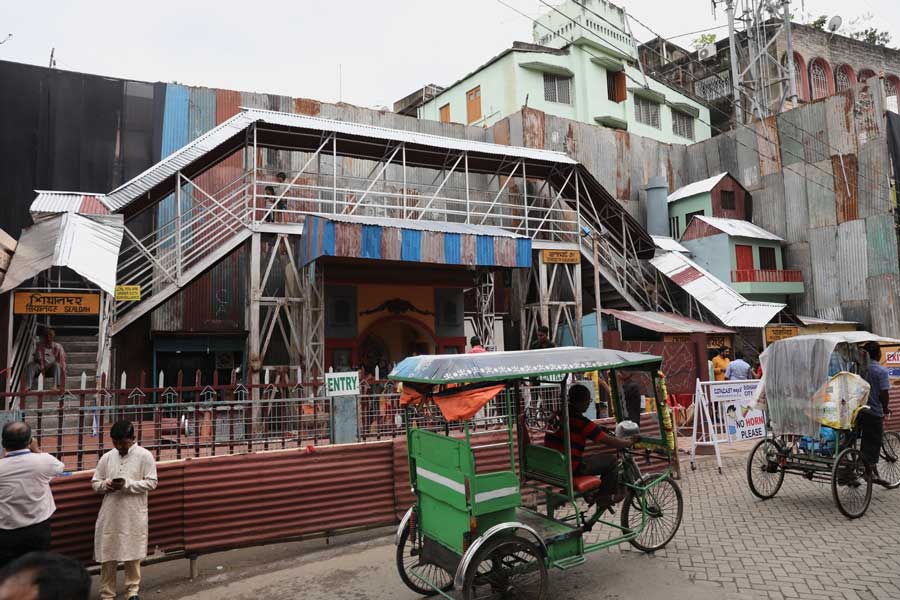 The Aswininagar Bandhu Mahal puja
Arijit Sen
Aswininagar Bandhu Mahal, a 41-year-old puja near Baguiati, won the award for the 'best social theme' by documenting the journey of a woman — from a lower-economic class and married off early — who had fed about 100 helpless people regularly at Ranaghat station for eight years, including a part of the pandemic, and worked tirelessly to protect young people from drug addiction and other problems.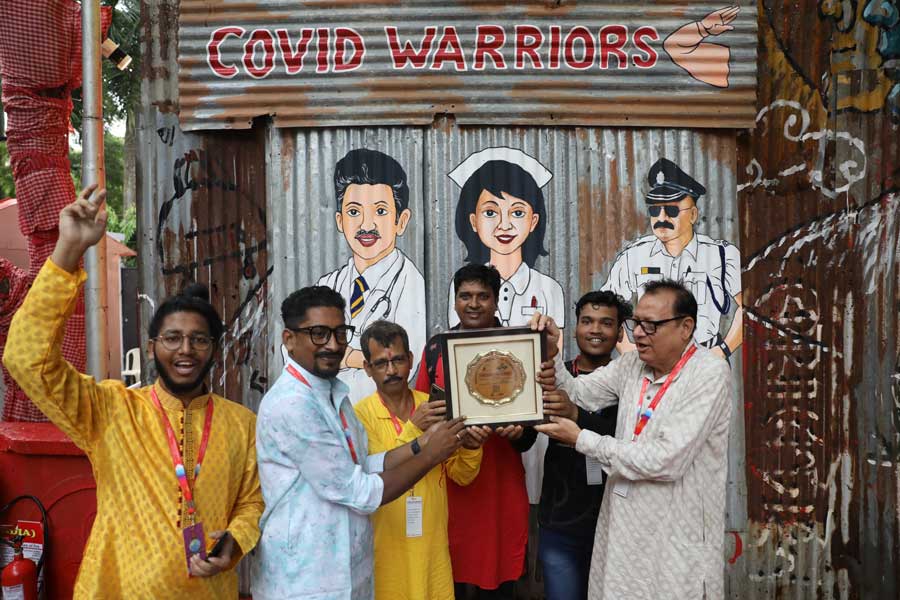 Organisers of the Suruchi Sangha puja with the Nirmal Puja plaque
Arijit Sen
Suruchi Sangha won in the 'best public health' category for a theme that focuses on the impact of Covid on society, especially those who fought the disease first hand.
Recycling Dominates Themes
"We have been organising this award for a decade and a half but this year we have still been bowled over by the wide range of well-executed themes on social issues, including the environment. We perhaps need to spread environmental awareness and good practices throughout the year in association with the organisers of these pujas," said Sujata Basu of EnGIO.
"What is interesting this year is that less-known clubs with small budgets have won awards because of the originality of their themes despite bigger pujas being in the fray. It is heartening that bigger pujas are also showcasing environmental and critical social issues," said Dulal Bose, former Kolkata sheriff and a well-known doctor who has been associated with the award from its inception.
The 40-strong list of judges this year included French consul general Didier Talpain, German deputy consul general Isolde Aust, Bangladesh deputy high commissioner Andalib Elias, Alliance Francaise du Bengal director Nicholas Fascino, noted academicians, environmentalists and green activists. They helped shortlist 75 pujas from the 250-plus that were in contention for the award. The best of the 75 shortlisted won awards.
Committed To The Cause
"We are very happy to get the best green theme award. This award is actually for those 300-odd nameless people who worked for months to make our puja possible. We all need to promote the green economy and encourage these efforts to add value to recycling," said Kolkata mayor Firhad Hakim, the mainstay behind Chetla Agrani, after receiving the award.
"We thank the jury for choosing us. We commit to work harder for environmental causes," said a representative of Pally Unnayan. The commitment to work harder to spread awareness about the environment was echoed by the other winners.