A day after chief minister Mamata Banerjee asked officers from Bidhannagar commissionerate why accidents were happening regularly at the Chingrighata intersection in east Kolkata, there were visible changes at the crossing. 
The intersection — where roads from Sector V, Beleghata and Chaulpatty meet — is one of the busiest on the 29km-long Bypass. The Telegraph drove down to the crossing on Thursday. This is what we saw
More police
At least 40 cops and civic police volunteers were seen managing traffic at the crossing.
There were men and women constables and civic police personnel stationed at every pedestrian crossover point.
At the Beleghata Canal bank side, there were at least seven police personnel.
A similar number was spotted in front of the Jal Vayu Vihar Housing Complex on the Salt Lake-end.
Senior police officers from Kolkata police and Bidhannagar commissionerate's traffic wing visited the intersection at regular intervals on Thursday.
The maximum number of traffic cops were stationed at the Sukantanagar side where many pedestrians and cyclists cross over to Beleghata to fetch drinking water.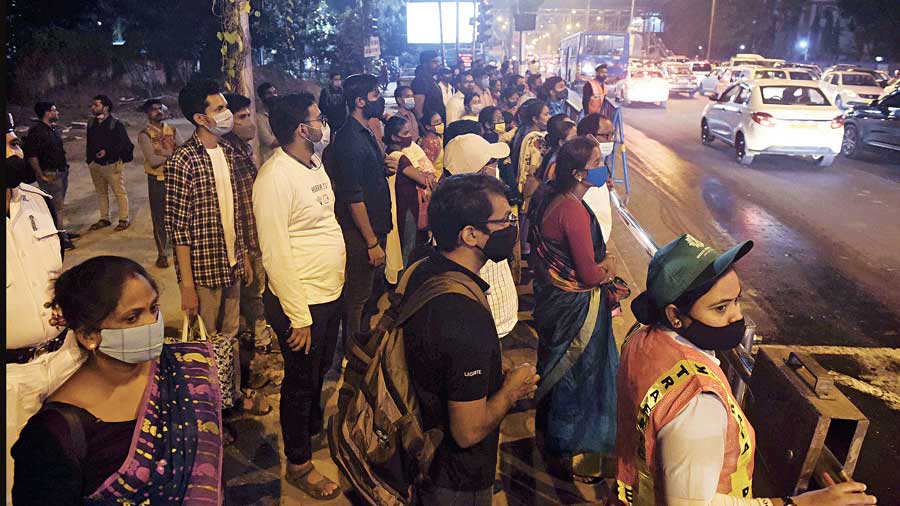 Pedestrians wait at the Chingrighata-EM Bypass crossing on Thursday evening.
Sanat Kr Sinha
Pedestrians regulated
Apart from ensuring that no vehicle violated the stop line or tried to speed away as the signal turned amber, most traffic personnel were spotted stopping pedestrians from crossing over to Beleghata from Salt Lake and vice-versa when the signal for vehicles was green or amber. 
This was being done on both the Science City-bound as well as the airport-bound flanks of EM Bypass.
Pedestrians and cyclists are barred at the crossing and yet there is a constant stream of people crossing over on foot or on cycles to fetch water. 
The crossover point for pedestrians and cyclists is around 50m towards Science City from the intersection. 
On Thursday, personnel from Kolkata police and Bidhannagar commissionerate were seen guiding pedestrians to the designated crossover point. Those on foot were only allowed to cross the Bypass when the signal was red for vehicles.
Bicycle menace
Despite cops asking cyclists not to cross EM Bypass on Thursday, those on bicycles flouted traffic rules and crossed the road as cars, bikes and buses whizzed past. 
Most cyclists ignored the bay created for them and crossed the road while the signal was green for vehicles. Several cyclists zig-zagged on the road dodging moving vehicles. 
Many motorists braked at the last moment to avoid hitting bicycles. Most on cycles were spotted with empty or filled jars of water. 
"We tried telling them not to cross but most cyclists ignored our warning," said a traffic sergeant at the crossing.