"Why is there an accident at Chingrighata every day?" Mamata Banerjee asked, blaming police's tendency to pass the blame for deaths.
Addressing an administrative review meeting for North 24-Parganas, the chief minister called out for police from Bidhannagar. When the officers stood up, she said: "Why is there an accident at Chingrighata every day? Kolkata police say this place is not ours and Bidhannagar police say only this much is ours and that part belongs to Kolkata police. Why would common people suffer because of your ego?"
"Human lives are very important. I do not want to see a single accident more at Chingrighata," a visibly angry Mamata said at a programme that was broadcast live.
At least three people have died in accidents at or near the prime crossing along the EM Bypass in a little over a month.
"I have noticed accidents one after another, accidents which should not have happened. They were not supposed to happen. Kolkata police and Bidhannagar police have to sit down together and do something about this," the chief minister said.
Within hours of Mamata's public rebuke, senior police officers from Kolkata and Bidhannagar sat in a meeting to discuss Chingrighata.
Since Chingrighata is the border between Kolkata and Salt Lake, after an accident happens at or near the crossing, there is always confusion about whether Bidhannagar police will start a probe or Kolkata.
At the administrative review meeting, Mamata said that she had already raised the issue of Chingrighata with the commissioner of police (Kolkata) and the state's director-general of police (DGP).
The chief minister stopped at Chingrighata while returning from the meeting.
She asked the state's DGP, who was with her, to look for a solution.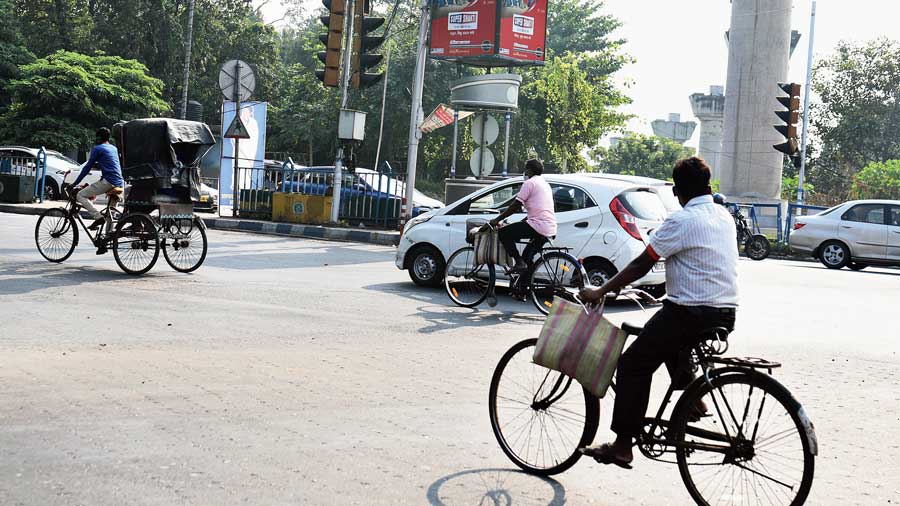 The Chingrighata-EM Bypass crossing. At least three people have died in accidents at or near the crossing in a little over a month.
File picture
The DGP went around the crossing to try and understand the problems after Mamata left, said police officers managing the crossing.
A 26-year-old man riding pillion on a motorcycle died after a truck allegedly hit the two-wheeler on a road leading to the Chingrighata crossing from Salt Lake on Tuesday morning.
One person died and six were injured, one of whom was a cyclist, after being hit by an allegedly speeding car that flouted a traffic signal at the intersection on November 6.
In early-October, a motorcyclist died and his head was severed when his two-wheeler collided with the median divider on EM Bypass near Chingrighata crossing.
In February 2018, two students were killed while crossing the Bypass at the Chingrighata crossing. The mob fury that had followed left five buses torched and several cars damaged.
The intersection is a messy crossroad for anyone tryingto cross it. There are cars, pedestrians, buses and bicycles crossing from various sides. Often many of thosetrying to cross on foot or on bicycles try to jump the traffic signal.
The Chingrighata crossing — where roads from Sector V, Beleghata and Chaulpatty meet — is one of the busier intersections on the 29km-long Bypass.
The foot overbridge at Chingrighata, which Mamata referred to on Wednesday, will be ready for use in another ten days, said an official of the Kolkata Metropolitan Development Authority (KMDA).
Pedestrians would be able to cross from Jal Vayu Bihar on the east to Chaulpatty Road on the west and vice-versa on the overbridge.
It promises an alternative for pedestrians trying to cut across the Bypass without having to cross amidst vehicles on the road.